In and Around Our Homes:
In 2019 Nepal Orphans Home (NOH) began its fifteenth year of operations, providing for 47 children in Papa's House, as well as supporting 18 adolescents attending college preparatory classes and funding the higher education of 39 young adults enrolled in grades 12–16. Nearly half of the children are former Kamlari girls rescued from past indentured servitude.
Below are some of the ways you might support NOH's mission.
Support for a Child:
When children arrive at Papa's House, NOH commits to providing for their shelter, nutrition, education, and health care until they reach adulthood and are ready to live independently in Nepali society. The annual cost per child averages nearly $2,200.
Papa's House children are very busy during the school year, six days a week attending Skylark School from 9:30 a.m. to 3:30 p.m. and then the Chelsea Center in the afternoons for academic enrichment sessions. Some of the children practice basketball every day from 6:00–7:15 a.m. at Skylark School. Others take Taekwondo classes in the early mornings. All the children enjoy their Saturdays off from school, breaks in the school year, and holidays, when they can relax and partake in fun activities at the Chelsea Center, such as book clubs and art classes.
Saturday experiential learning excursions for NOH children have become a regular occurrence. Each Saturday, two to five mentors take a group of children into Kathmandu to attend, as an example, farmers markets. The children learn which busses to flag, how to pay the fees, and where to get off. They speak with vendors about their products and their business strategies. They learn to negotiate price and buy products, and they return home, once again acting independently, albeit under the watch of the mentors. Trip costs vary, but average $35 for one Saturday's outing.
| | |
| --- | --- |
| Crossing a busy street in Kathmandu | Visiting farmers' markets |
Support for Education:
Of paramount importance is providing our children with good education. Through grade ten, Papa's House children attend the Skylark English School, a local private school with over six hundred students.  Upon completing grade 10, students take a Secondary Education Examination (SEE), and after passing it, they may enroll in Plus 2 (grades 11 and 12). After successfully finishing Plus 2, students may advance to undergraduate programs at the university level. 

​Ranjita of Papa's House addressing her fellow students in the morning assembly at Skylark
For the 2019–20 academic year, there are 46 Papa's House children enrolled at Skylark English School and one blind student attending a special school. Including tuition, uniforms, books, and other necessary educational supplies, the approximate school cost per child in the 2019 school year session is $360. 
In addition, NOH Outreach provides scholarships for local children from poor families to attend the Skylark English School.
There are currently 57 young adults from Papa's House are enrolled in higher education. Thirty-five are in college level study, a two-year program, where, depending upon the students' area of interest (generally Business, Science, Social Work, or Tourism Management), fees range between $400 and $700 per year. 
The other 22 young adults from Papa's House are enrolled in university study (four years of study following graduation from Class 12). Study at the university level becomes even more specialized and current university fees per student average $1,500 per year. 
"Bridge" courses help students solidify writing and study skills and extend background knowledge required for specific areas of study.  Successful completion of these useful courses may also help students become eligible for scholarships. Students applying to science programs and those planning to study outside of Nepal are required to take these. The cost of the average bridge course is $200. 
Intensive language courses are a visa requirement for students wishing to attend college in another country. The cost of the average language course is $200. 
The Chelsea Education and Community Center:
In 2019 NOH's Chelsea Education and Community Center (CECC) began its seventh year of academic enrichment and life skills training for the Papa's House children and its fifth year of free literacy classes to local women in the community of Dhapasi.
In the afternoons after Skylark school, Papa's House children go to the Chelsea Center for classes in math, science and computer, as well as study halls and tutoring. For the older children, there are also career workshops and vocational training. In addition, more than two hundred local women take English and Nepali literacy and basic math classes and participate in life skills workshops at the Center. The annual cost of operating the Chelsea Center, mainly for teacher salaries, is nearly $45,000 or approximately $125 a day.  
On Friday afternoons, workshops are held, where our students hear from professionals about different careers, practice public speaking, and learn about health care, personal empowerment, and other life skills. A donation of $30 would cover two workshops per month.
The Chelsea Education and Community Center has opened its doors to select other local school students, where our reputation for excellence in teaching math is well known. These earnest local students attend two-hour sessions six days a week. Individual CECC scholarships for deserving students cost $40 per month.
| | |
| --- | --- |
| Computer lab at the Chelsea Center | Math class at the Chelsea Center |
In addition to the free adult education classes and workshops for local women, the Chelsea Center helps build social capital in the community through special events and celebrations.
| | |
| --- | --- |
| A literacy class at the Chelsea Center | Quiz contest on Diversity Day at the Chelsea Center |
Support for Outreach Programs:
In addition to the care of the Nepal Orphans Home (NOH) children, our organization supports many other projects. A few of these projects are described briefly below.
Kanti Children's Hospital: With generous donations from the Healing Buddha Foundation, NOH supports terminally ill children in the cancer ward. Fresh fruit and food treats are supplied twice a week and birthdays of the children are celebrated, complete with birthday cake, candles, presents, balloons and sweets. Support (generally for pain medications) is provided for poor families who cannot afford the medical costs. 
Also, NOH has created a "Make A Wish"-type program for these well-deserving children. The  cost of fulfilling a wish often exceeds $100.  
Bal Mandir Baby Orphanage: Over the years NOH has also supported the baby orphanage at Bal Mandir, providing the children with food, health check-ups and other supplies. This past year, one of the older Papa's House children, Anisha, volunteered to help regularly with the infants. NOH has also been supplying infant formula and baby food and subsidizing the staff salaries. NOH monthly support for the baby orphanage averages over $650.
| | |
| --- | --- |
| Young patients at Kanti | Anisha of Papa's House helping at Bal Mandir |
Goldhunga Blind Children's Home: NOH supports the children of Goldhunga. A Papa's House young adult from NOH Outreach visits the home every Tuesday and Friday to help the children with homework. Our monthly support, which includes staff salaries, clothing, supplies, braille textbooks, food, and mentoring, averages $400.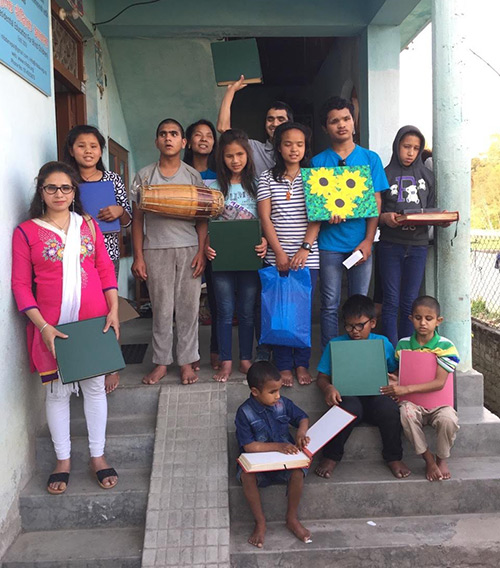 Goldhunga Blind Children's Home​
Answering the Call When Needed: When NOH learned of a remote village running out of rice and other staples and surviving on nettle soup, we responded. A delivery of rice, dhal, oil, flour, and salt enough for 24 families for a month costs $450.

The villagers of Brushwang arriving where the road ends to receive their food​
Dumrikharka: In addition to offering a nutritional hot lunch program at this school and paying a teacher's salary for the past eight years, NOH funded the construction of a new school following the devastation in the 2015 earthquake. In 2019, monthly support for the village school averages $325.
Bigu Monastery: In a remote Himalayan village, home to nearly a hundred Buddhist nuns of all ages, NOH has been supporting teacher salaries for the past six years. We invested in the support of the nuns and their temporary relocation after the earthquake in 2015 and helped fund the reconstruction of a house. 
| | |
| --- | --- |
| New Shree Sham Primary School in Dumrikharka | New house in Bigu |
When No One Else Will Help: Local families in need are frequently brought to our attention. While we try to provide temporary support to see a family through a crisis, occasionally we offer support over a longer term. For example, NOH Outreach gives one family enough funds to cover the costs of education for two of the children in addition to life-sustaining medicine for the father's illness. Another family of a crippled mother and three young children receives money to pay for food and other household needs. We have covered the cost for medical emergencies and even a kidney transplant for a local young man. In addition, we have provided the boarding fees of a young blind student at college for the past three years. Currently NOH local charity averages $250 per month.
Five Extraordinary Sisters: Nepal Orphans Home also supports the education of five sisters, extraordinary young women from a remote mountainous region. Their father, a math teacher, has instilled in his daughters a love of education and belief in themselves. The father's meager income supports his wife's costly health care, as well as that of his mother.

Yamuna, Alina, Namuna, Shruti, and Kriti
The girls currently share a single small windowless room, with one community-shared toilet and an outside water tap for bathing. They are focused on their education, helping each other with homework and chores. The eldest daughter, Shruti, 23, who has graduated university with a degree in Electrical Engineering, is the only female electrical engineer employed by the Nepal Electric Association. She studies at night at home for her Master's in Electrical Engineering. Her income covers rent and food for the family. The youngest daughter, Alina, 13, has ongoing health care costs associated with Turner's syndrome, and yet is a star student, who last summer won an invitational debate against students through class 12.
The girls are optimistic, appreciative, very hard-working, and never complaining. They all have won scholarships at some of the best Kathmandu schools, but their share for fees alone average between $450 to $1,000 per year for each of them. Any donation amount to help cover their education costs would be much appreciated.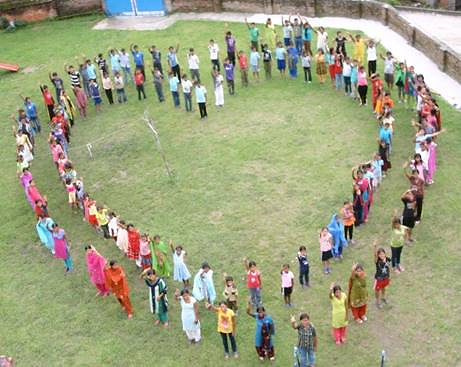 ​Thank You from Nepal Orphans Home