Nepal Orphans Home began in March of 2005 when a friend took Michael Hess to an 'orphanage' that needed help in Dhapasi, a village in the northern outskirts of Kathmandu district. He found a small, rundown house with two dozen destitute children. Malnourished, in poor health, and not attending school, the children were forced by the owners to beg on the streets. Michael assumed management of the home, renovated the building, and began Papa's House to care for the children.  
A carpenter from Florida, Michael had never traveled outside the United States until early 2004 when he volunteered with a nongovernmental organization in Nepal, restoring a school building outside of Kathmandu. Moved by the plight of the children, living in poverty, but rich in spirit, Michael vowed to return to help.  Within six months Michael did return to Nepal, having sold his home and business in Florida. Coming across the children living in the dilapidated house that day in March transformed his life. And Michael (Papa) has since transformed the lives of hundreds of poor children in Nepal.
In 2019 Nepal Orphans Home (NOH) began its fifteenth year of operations, providing for 47 children in Papa's House, as well as supporting 18 adolescents attending college preparatory classes and funding the higher education of 39  young adults enrolled in grades 12–16. Nearly half of the children are former Kamlari girls rescued from past indentured servitude.
The Chelsea Education and Community Center (CECC) began its seventh year of academic enrichment and life skills training for the Papa's House children and its fifth year of free literacy classes to local women in the community of Dhapasi. Volunteer Nepal (VN) last year hosted over eighty international volunteers, including two large groups of high school students from Australia and New York. NOH Outreach continued to provide assistance to the less fortunate throughout Nepal.   
Our Mission
Nepal Orphans Home attends to the welfare of children in Nepal who are orphaned, abandoned, or not supported by their parents. NOH provides for the children's basic needs of food, shelter, and clothing, as well as schooling and health care, and administers to their emotional needs with love and compassion, allowing them to grow up in a nurturing environment. Our mission is not just to rescue children from abject poverty, but to enable the children to develop and realize their potentials. 
Our Organization
Basic information about Nepal Orphans Home, a 501(c)(3) public charity incorporated in Davidson, North Carolina, can be found on this website.  Michael Hess, the founder and director of operations emeritus of NOH, provides periodic updates, and his accounts of Papa's House children best portray the implementation of our mission over the past 14 years.
Nepal Orphans Home is listed on Guidestar, a leading source of information on U.S.  non-profits, earning a GuideStar Exchange Seal, demonstrating its commitment to transparency. The NOH profile includes recent Annual Reports and 990 forms, available as public record. None of the members of the NOH Board of Directors receives compensation. 
Management
Nepal Orphans Home is fortunate to have good management of its operations in Nepal. Sunita Pandey begins her second year as the NOH Director of Operations. Educated in India and a teacher by profession, Sunita has been with NOH for seven years, serving effectively in several capacities — initially home schooling some of our new girls, then as an administrator for Volunteer Nepal, followed by Director of NOH Outreach.
In May of 2018, Hillary Bernhardt left Nepal as Director of the Chelsea Center to return to the United States, where she attends the Yale School of Management. For twenty months, Hillary had served NOH exceptionally well, establishing a climate of commitment, excellence, and enthusiasm among staff and students at the center.  Soon after leaving, Hillary joined the Nepal Orphans Home Board of Directors.
Prashanna Bista is the current Director of the Chelsea Center. He previously earned a Bachelor of Science degree in physics and has a post-graduate diploma in counseling. Prashanna began his service at the Chelsea Center as an 8th grade math teacher and leader of a series of workshops for the older children on self-awareness. In January 2018 he was appointed as the Assistant Director of the Center and then mentored by Hillary ensuring a smooth transition in leadership with her departure in May.
NOH Director of Operations, Sunita Pandey

Hillary turning over the keys to the Chelsea Center
to Prashanna in May 2018
Shreya Upadhyay, a graduate of Thames International College, with a degree in business administration, enters her third year as the Director of Volunteer Nepal. Michael Hess, Papa, who had been the onsite Director of Operations from the founding of NOH until 2017, is still involved in strategic planning, fundraising efforts, and advising the NOH Board of Directors. Michael also continues his parenting and counseling of Papa's House children and is available to Sunita Pandey for guidance.
| | |
| --- | --- |
| | |
| Shreya leading a workshop | Papa applying tika during Dashain |
Often our Papa's House children, upon becoming young adults, join the NOH staff.  In 2019 there are a total of thirteen Papa's House former children on the staff, several also continuing their schooling. They serve as managers and cooks at Papa's Houses, coordinators for Volunteer Nepal and NOH Outreach, managers of Papa's House Tailoring Shop, and instructors in the women's literacy classes at the Chelsea Center.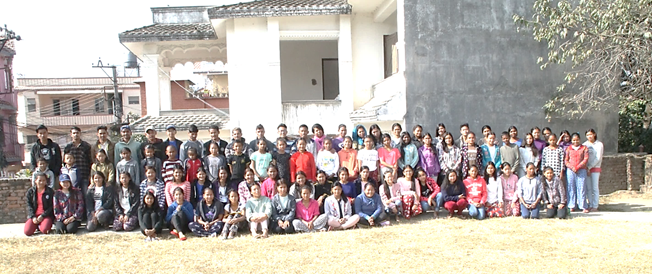 Papa's House children and young adults in 2018
The NOH Board of Directors works with the Director of Operations and the Papa's House Board in Nepal in determining the policy for the Papa's House NGO in Nepal. The president of the Papa's House Board is Santosh Pant, renowned in Nepal, who has been an advocate for Nepal Orphans Home for many years. Over half of the associated general members or advisers to the board are Papa's House young adults.
A Brief History
Over time our operations have expanded to help more children. In 2006 Papa's Harmony House moved to a new, larger building to accommodate the growing family.  NOH began supporting a school for the children, Papa's Trinity Academy, enabling more than 200 other children from the community to attend. In the first two years of operation, Nepal Orphans Home's expenses exceeded income, largely from donations, and Michael financed operations out of his own savings.
In 2007 NOH was asked to take over a nearby orphanage with a dozen children. Another building was leased in Dhapasi for a second Papa's House and additional staff were hired.  The enrollment at Papa's Trinity Academy grew to over 340 children, most attending for free. 
Early in 2008 NOH began collaboration with Society Welfare Action Nepal (SWAN), a Nepali nongovernmental organization operating in the Dang district to rescue Kamlari girls from their indentured servitudes. NOH renovated two buildings in Narti and opened the Lawajuni (New Beginning) Home, providing shelter, food, clothing, and health care for girls freed by SWAN.  During the year more than 60 girls who had been sold into servitude came to the Lawajuni Home, gaining their freedom, recovering their childhoods and attending school. NOH was able to bring 12 of these girls to Dhapasi, raising the number of children provided for in Papa's Houses to 70. 
In 2008 concerns with the management and direction of Papa's Trinity Academy compelled NOH to cease its support of the school. The children of Papa's House began to attend the Skylark School, an English-medium, private school in Dhapasi.  NOH also initiated support of two schools in remote villages in the Ramechhap district, the Shree Sham Primary School in Dumrikharka and the Mudkeswori Primary School in Votetar, funding hot lunch programs and contributing to teacher salaries and school supplies for over 140 children, most of whom were Dalits (untouchables).
In early 2009, NOH brought another 26 rescued Kamlari girls from Lawajuni to Dhapasi, where the education was significantly better, opening up a third home, known as Papa's Imagine House. The girls moved into the building formerly housing the boys, who relocated to a newly expanded and renovated home on the same grounds, Papa's Possibilities House. Later in the same year, 28 more girls came from Lawajuni to live in NOH's fifth and newest home, Papa's Sanctuary House. Over the next few years, the number of children in Papa's Houses rose to 135.
In 2013 the Chelsea Education Center opened, providing vocational training classes for the older children of Papa's House. In 2014 NOH opened a transition house for our college girls to allow them to begin living independently as young adults.
A devastating earthquake outside the Kathmandu Valley shook the nation on April 25, 2015 with the loss of thousands of lives and extensive damage, especially in remote villages. Fortunately, all of Papa's House children, staff, and Volunteer Nepal volunteers were safe. NOH quickly set up an earthquake relief fund and as donations from friends around the world poured in, NOH began rendering assistance. Volunteer Nepal sent out staff to villages where we had placements in order to assess the damage and to provide cash for food, as well as supplies (tents, tarps, and blankets). NOH also provided help to locals in Dhapasi, who lost family or suffered destruction of their homes or businesses. 
In the summer of 2015, the Chelsea Center offered adult literacy classes to local women in the community of Dhapasi, becoming the Chelsea Education and Community Center (CECC). Nepal Orphans Home purchased a home for our Papa's Possibilities House. In early fall of 2015, Nepal Orphans Home received a grant for a new building for the Chelsea Education and Community Center and began construction the following year on the grounds of Papa's Possibilities House. The new Chelsea Center was dedicated in April 2017.
In the summer of 2017, following board meetings in Dhapasi, the NOH Board of Directors approved the Strategic Vision of Nepal Orphans Home:
In the long run, Nepal Orphans Home would have one Papa's House for 40 children and transition housing for our young adults in college or finishing up their advanced vocational training; a robust Chelsea Center, with vocational training, academic enhancement classes and life skills workshops for Papa's House children, a business incubator program, and an adult literacy program for local community women; a vibrant Volunteer Nepal with annually up to 125 volunteers; and an active Outreach to provide assistance to the less fortunate in Nepal.
In the fall of 2017, the NOH Board of Directors officially approved that the in-country operations of Nepal Orphans Home in Nepal become the Papa's House Nongovernmental Organization (NGO), rather than an International Nongovernmental Organization (INGO).
In the spring of 2019, the NOH Board of Directors approved a transition plan whereby Nepal Orphans Home will evolve to a public charity with the primary purpose of advising and funding Papa's House NGO (which includes Papa's Houses, Chelsea Education and Community Center, Volunteer Nepal, and NOH Outreach) in Nepal. This will allow the Papa's House NGO to operate more independently and efficiently in Nepal. 
Papa's House
Papa's House is well managed by Nepali staff.  The home has a cook and a housekeeper who helps with the cleaning and laundry. In addition to attending to the children, house managers also assist with buying supplies, accompanying children to medical appointments and other errands.
NOH provides transition housing for the young adults who are attending the first year of college preparatory classes (grade 11). These young adults are responsible for taking care of themselves, living on a budget, maintaining good grades in college or developing their vocations. The young adults in grade 12 and university programs, whose higher education NOH is funding, live independently.  
Papa's Harmony House and the Chelsea Center are within ten-minute walks to the Skylark School, the English medium school attended by Papa's House children through grade ten. Papa's Harmony House and the college transition Papa's Sanctuary House, as well as the building for the Volunteer Nepal (which also includes the office for NOH Outreach), and the store front for Papa's House Tailoring Shops are all leased.  
When children arrive at Papa's House, NOH commits to providing for their shelter, clothing, nutrition, education and health care until they reach adulthood and are ready to live independently in Nepali society. To monitor the progress of the children, detailed files are kept, consisting of guardianship information from their villages and how the children came to Papa's House, school and health records, the vocational training and life skills workshops completed, as well as anecdotal information. Moreover, each child has an electronic portfolio of photos depicting them over the years, providing them with a visual history of their lives from the time of their arrival at Papa's House to the time of their final farewell.
Life at Papa's House
Papa's House children are very busy during the school year, six days a week attending Skylark School from 9:30 a.m. to 3:30 p.m. and then the Chelsea Center in the afternoons for academic enrichment sessions. Some of the children practice basketball every day from 6:00–7:15 a.m. at Skylark School. Others take Taekwondo classes in the early mornings. All the children enjoy their Saturdays off from school, breaks in the school year, and holidays, when they can relax and partake in fun activities at the Chelsea Center, such as book clubs and art classes.
| | |
| --- | --- |
| | |
| Valentine's Day at Papa's House | Celebrating Christmas 2018 at Papa's House |
A couple of years ago, a friend of NOH, the author Ann Mayer, asked our children to illustrate her second book on endemic and endangered wildlife in Nepal.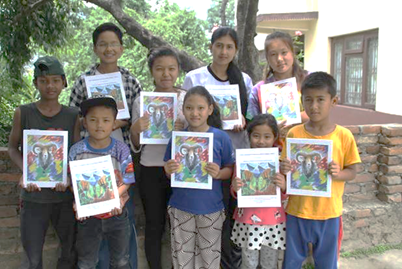 The Papa's House illustrators of Ann Mayer's newest book
On Saturdays, all the children gather at Papa's Harmony House for a common tiffin. During the year there are celebrations of birthdays and holidays, both Nepali (including Holi and Tihar) and American (including Valentine's Day and Thanksgiving). Occasionally traveling artists perform at Papa's House. Volunteers and visitors to Papa's House join the festivities. Often these special days are funded by the generosity of NOH board members and friends.
| | |
| --- | --- |
| | |
| Papa's House boys honoring their sisters | July 4th games organized by volunteers from New York |
Last year, during the month of Dashain-Tihar, when school was closed and many of Papa's House children returned to their home villages, Prashanna, the Director of the Chelsea Center described the programs for the children:
We developed a schedule for the vacation with a daily Zumba Dance Class (7 a.m.) and Computer Class (9 a.m.–10 a.m.). We organized other activities such as creative writing, Chelsea Ambiance (Decorating the Chelsea Center), Chelsea Tedx (a platform to share weekly experiences during the vacation), a tour with mentors (a day to explore the local market of Kathmandu Valley), professional exposure (an opportunity to visit real life work setting and interact with professionals), 108 Vocabulary (remembering and learning the use of 108 new English words), and a Let's Play Deusi program (an event to celebrate Tihar festival by singing and dancing).
In 2018, Saturday experiential learning excursions for Papa's House children became a regular occurrence. Each Saturday, several mentors took groups of children into Kathmandu to learn how to navigate the city.  The children learned which buses to flag, how to pay the fees, where to get off and how to return home. They spoke with vendors about their products and business strategies and learned how to negotiate prices.   
As Michael says, "We are a really big family, with each child's joys and fears, smiles, accomplishments, failures, anxieties and laughter, future plans and work to achieve them deeply felt by all."
| | |
| --- | --- |
| | |
| IT professional describing his work to Papa's House children | Practicing crossing busy streets in Kathmandu |
Education
Papa's House children are encouraged and supported to continue their schooling for as long as they are willing and able. In Nepal, upon completing grade 10, students take a Secondary Education Examination (SEE), and upon passing it, they may enroll in college preparatory programs, known as Plus 2 (grades 11 and 12). After successfully finishing Plus 2, students may advance to undergraduate programs at the university level. 
For the 2019–20 academic year, there are 46 Papa's House children enrolled at Skylark English School, the nearby private school with 650 children in grades Classes K–10.

Ranjita of Papa's House addressing her fellow students in the morning assembly at Skylark
Reflecting the aging of the children in Papa's House, twenty-eight are currently in the three upper grades 8–10. Another child attends a school for the blind. Including tuition, uniforms, books, and other necessary educational supplies, the approximate school cost per child at Skylark in the academic year is $300. 
Last year, in a first for Papa's House, Khusbu, a Class 10 student, was ranked number one at Skylark for the "Boost-up" exam given to the children in preparation for their school leaving exam. Other children also performed very well in their regular first term exams.

Mrs. Pandey, Director of NOH, with Manisha ranked 3rd; Samita ranked 1st; Mankumari ranked 3rd; Pushpa ranked 1st; Khusbu in rear, Sarita ranked 2nd; in their classes for their first term exam and Prashanna, the Director of the Chelsea Center. Missing is Kajul, who ranked 3rd in her class.
In 2017 five Papa's House young men earned scholarships to a college noted for its basketball program. One of our young women, Urmila, who came to Papa's House from Lawajuni a decade ago, placed first among hundreds taking an admission test to Kantipur Dental College, earning a full scholarship for her first year of study.
All seven of the children who entered college in the summer of 2018 had come to NOH in 2007, after being rescued from destitute homes or from indentured servitude. As Michael proudly noted, "… these children have worked very hard to achieve what they have earned. Each of them held a part- or full-time job, as well as attended college six days. They are responsible, loving, and sincere young adults, in possession of what it takes to lead a happy, purposeful, and productive life."
Young Urmila and Papa at Lawajuni
before coming to Papa's House

Accomplished Urmila with Papa after placing first 
on the admission test to Dental College
Nepal Orphans Home is grateful to Sanctuary for Kids Foundation and Possible Worlds Foundation for supporting the annual education costs of the Papa's House children at Skylark and to Life's Handy Work Foundation for supporting the higher education expenses of our older children in college and university.

Hari, Sumitra, Ramita, Aliza, Anisha, Bimala, and Rupa, at NOH's annual Puja for the new college students at 5:30am on their first day of school, July 25, 2018
Chelsea Education and Community Center
Under the direction of Hillary Bernhardt until May 2018, then Prashanna Bista, the Chelsea Center thrives, offering academic enrichment classes and life skills workshops to Papa's House children in the afternoons after school and literacy classes to local community women in the mornings. The formal mission statement is:
The Chelsea Education and Community Center supports Papa's House children and young adults in their transition to adulthood, empowering each individual to create and lead a uniquely meaningful and productive life. The Chelsea Center also promotes the empowerment, personal growth, and social connection of local Dhapasi women. 
The campus, funded by a Swiss foundation grant includes: Chelsea Education and Community Center, a three-story new building, with a spacious community room and library, five classrooms for computer labs, math and science classes, and a large balcony on the roof with ample space for workshops, gatherings, and exercise classes; Chelsea Center Annex, also three stories, with a conference room, kitchen, and dining room, three classrooms and residence rooms; and the Chelsea Center Office, a smaller two-story building for offices.   

The New Chelsea Center Building with Annex on the left
and Office on the right 
​
​Along the Carola Drosdeck Garden Path 
of the Chelsea Center
Chelsea Center Programs
In the afternoons, Sunday through Friday, the Chelsea Center holds classes in math, science and computer, as well as study halls with tutoring, for the Papa's House children attending Skylark. For the older children, there are also career workshops and vocational training. In addition, more than two hundred women from the local community take English and Nepali literacy and basic math classes and participate in life skills workshops at the Center.
| | |
| --- | --- |
| After-school academic work at the Chelsea Annex | Chelsea Center computer lab |
Life Skills Training is an important part of our overall effort to effectively prepare our children for their lives after Papa's House and help community women lead healthier and more productive lives. Last year there were over two dozen workshops at the Chelsea Center for Papa's House children and young adults, ranging in topics from creative writing, public speaking, sex education, excel spreadsheets, female empowerment, health and personal fitness. Many of the workshops were led by CECC staff, volunteers from NOH's Volunteer Nepal, and members of the Nepal Orphans Home board of advisers. For a list of the workshops, please see http://www.nepalorphanshome.org/chelsea-center/news.
CECC teacher Waro Basnet
in the creative writing workshop
NOH board adviser Laura Handy-Nimick
in the leadership workshop
The Chelsea Center helps build social capital in the community through special events and celebrations. The Chelsea Center Women's Council, made up of select leaders among the adult women, serves as an advisory group to the Director and assists the Chelsea staff in organizing the community celebrations. 
| | |
| --- | --- |
| Literacy class for community women | Meditation workshop for community women |
Last year there were several special events including: the Center's second annual International Women's Day (March 8), where two hundred and fifty local women and the Papa's House children attended a program held at the nearby Skylark School; Diversity Day (May 21), where twenty-seven groups—each group preparing their traditional food and dressing in their cultural costume—assembled at the Chelsea Center; and Teej (September 8), one of the most important festivals for Nepali women, where they come together to dance. As Prashanna reports, "The Chelsea Center has become the platform for the women of Dhapasi community."
Diversity Day Celebration at the Chelsea Center

Led by young Sarita of Papa's House, community women
practice for Teej
Vocational Training
Most of our current vocational training now involves apprenticeships and placements, rather than formal classes at the Chelsea Center. Among the priorities for the Chelsea Center have been developing a business incubator program and encouraging entrepreneurship in the young adults of Papa's House.
In 2017 the business incubator program began, enabling nine young adults from Papa's House to attend a six-month long culinary arts program and funding the start-up of the Brother's Café, an initiative of two of our young men, who came to Papa's House ten years ago.
Another two young women, having finished their formal schooling at Skylark and not interested in continuing higher education, completed a six-month course in a local beauty salon, while working part-time after their daily classes ended.  Upon graduation, they were eligible for funding to open beauty shops in their home villages.  Two of our young men have started their own trekking businesses.
Several of our older girls, also finished with their formal education, continued their work in our Papa's House Tailoring Shop (located on the ground floor of the Volunteer Nepal building), making the school uniforms for Papa's House children and the Goldhunga Blind Children's Home, as well as filling other customer orders. 
| | |
| --- | --- |
| Tailoring girls in their shop | Making momos at the Brothers' Café |
A new venture, Papa's House Pies Bakery, began in the fall off 2018 at the Chelsea Center.  Pies are made by the bakery-trained college students and sold through the Brothers' Café and local restaurants and coffee shops. In the future other baked goods such as muffins and cookies may be offered. The Papa's House young adults working here receive salaries, while learning about operating a business. Profits from this business will go into a special fund to provide support for rent and food so that the university students from Papa's House will be able to focus on their demanding studies.
During the fall month of Dashain/Tihar holidays, the Chelsea Center arranged for some of our young adults to apprentice for 1–2 days a week in a field of their choice. These included either working or shadowing professionals at the Kathmandu Theater Company, Kanti Children's Hospital, local banks, and a software development company.
| | |
| --- | --- |
| | |
| IT workshop in the CECC Community Room | Papa's House Bakery on Chelsea Center campus |
Papa's House Magazine and CECC Videos
In March 2018, enriched by their writing classes at the Chelsea Center and guided by Michael Hess, Papa's House children created the Papa's House News Magazine. The first two editions featured stories, essays, and reporting by the children about life at Papa's House. One of the children, Manisha Nepali, in her essay about Movie Night at the Chelsea Center in the Papa's House News Magazine (June 2018), wrote, "When we all gather together at the Chelsea Center… I feel like I have got a beautiful family in my life and I can share my feelings with them. I feel so happy while I spend my time together with everyone."  Issue 3, entitled Stories of our Lives(March 2019), features firsthand accounts of early or recent experiences of our children in Grades 5-9.  The authors of articles for Issue 4(August 2019), teachers at the Chelsea Center and members of the recently-graduated Class 10, record the process of Transitions in their own lives.
Two new YouTube videos were made for the Chelsea Center during 2018. The Journey, created and narrated by Prashanna, describes the importance of the Chelsea Center to Papa's House children. The other video, Chelsea Education and Community Center *June 2018*, a pictorial essay produced by Sam Isherwood, a staff member at Papa's House, features the Center's work with community women.
Volunteer Nepal
NOH started Volunteer Nepal (VN) in 2005 as a program to connect volunteers with talent and passion to serve the poor in need across Nepal. The VN mission statement concisely reflects this ethos:
Volunteer Nepal seeks to foster uplifting change in the lives of underserved people and communities in Nepal by providing heartfelt, profound and enlightening volunteer experiences for groups and individuals.
| | |
| --- | --- |
| Volunteer Nepal in action: lost in translation?​ | Sirkkha, from Finland, has volunteered several times​ |
Volunteer Nepal provides over two dozen placements throughout Nepal--from Kathmandu to remote villages. Options include volunteering in hospitals and medical clinics, schools, rehabilitation centers, ashrams, human rights NGOs, animal shelters, and village agriculture.
In 2018, Volunteer Nepal (VN) hosted 83 individuals representing ten countries. The top three home countries with their shares of volunteers were the United States (43%), Australia (30%), and the United Kingdom (13%).  A typical volunteer stint was between one to two weeks, although one individual volunteered for six months and another for five months. Most of the volunteer placements involved teaching. Another popular placement was carefully vetted orphanages. The third most popular option was community health and medical assistance.   
Among the volunteers in 2018 was a group of 14 high school students and their 10 chaperones from Maleny State High School in Australia. The group volunteered with VN for two weeks in April as a part of their school excursion program to Nepal. They volunteered at the orphanage at Bal Mandir, Education and Development for Underprivileged Children of Nepal (EDUC), Pashupati Elderly Ashram, and the Happiness Center (Buddha Park). Apart from the volunteer placements, they also led afternoon workshops at the Chelsea Center as a part of a Summer Camp organized for our Papa's House children during the session break. The workshops included: writing, art, dance and drama, magic and circus, and sports.  
Each year several members of the NOH boards of directors and advisers also volunteer. The income from volunteer fees significantly contributes to the operation of Papa's House. The ninth edition of Lonely Planet: Nepal listed Volunteer Nepal (and Nepal Orphans Home) among its recommended volunteer organizations.
| | |
| --- | --- |
| | |
| Volunteer in a classroom at the monastery at Bigu | Volunteers in the paddy fields at Pharping |
In 2018 NOH again earned recognition as a GREAT NONPROFITS top-rated charity, largely from the reviews of volunteers. One reviewer, who has since joined the NOH Board of Advisers, effectively captured Volunteer Nepal:
I have been volunteering with Nepal Orphans Home since 2009 from the U.S. and on the ground in Nepal. I have spent time in rural placements in Nepal, taught in the Kathmandu Valley, stayed in the volunteer house and have come to know the directors, advisers, volunteers, and the staff in Nepal. Over the past nine years I have come to know the organization as family, which I know is the experience of many other volunteers.

I have made friends from all over the world during my time in Nepal. During my last visit (July 2018), my husband and I stayed in the volunteer house with our seven-year old son. We spent the majority of our time volunteering at the Chelsea Center and enjoying time with the children and college students. We did some sightseeing as well. The young men who run the volunteer house are former children on NOH (or maybe it's best said "forever children of NOH") and were kind and thoughtful when interacting with our son and helpful in making arrangements when our poor Nepali skills didn't suffice.

I could share hundreds of stories that convey the confidence and admiration I have for this organization, but the gist of it is that it is an organization run by honest, hardworking, caring, compassionate and accepting people. I highly recommend Nepal Orphans Home for anyone looking to make a positive impact in a country where poverty is overwhelming, but so is the kindness of its people. Whether you travel to Nepal to volunteer, raise money from afar or make a donation, your time, money and energy will be well spent. 
Membership on the VN+NOH group page on Facebook continues to grow, exceeding 1,400 at the end of 2018. Frequent posts from the VN Director and the NOH board's Volunteer Nepal Committee highlight activities at the Volunteer House or at placements. Questions posted by volunteer applicants are answered by former volunteers and VN staff. Volunteers are added to our Vertical Response newsletter list and therefore periodically receive information about NOH and VN. Many also stay in touch through social media. 
Outreach
As part of its mission, Nepal Orphans Home has long supported other local charities. Much of our outreach is funded by designated donations from friends, former volunteers, and board members of Nepal Orphans Home.  In 2018 NOH Outreach provided for nearly $69,000 in charity assistance. 
Earthquake Relief Fund
With the devastating earthquakes in 2015, Nepal Orphans Home set up the NOH Earthquake Relief Fund for both short term humanitarian assistance and longer run reconstruction and development. Donations to the NOH Earthquake Relief Fund quickly totaled nearly $142,000.
In terms of immediate relief, NOH Outreach focused on affected villages outside the Kathmandu Valley where NOH had already established connections (whether placements with Volunteer Nepal or families of Papa's House children and staff), and our neighbors in Dhapasi. All of our volunteers in the country were contacted and accounted for soon after the first quake. The Volunteer Nepal staff also contacted placements to assess the damage and need. Among other aid, VN staff delivered three large water tanks to the village of Chaturi; money, food, and tents to an orphanage in Charikot; and 450 blankets, as well as tarpaulins, to two small villages in the Dhading district, one of the hardest hit areas. 
| | |
| --- | --- |
| | |
| Relief for Dhading villagers | Papa's House Community Service Center Office |
In the aftermath of the earthquake, NOH spent almost $27,000 in relief. The remaining funds were designated to a restricted account for future relief and recovery assistance.  In the next two years, NOH spent over $77,000 from its Earthquake Relief Fund, most of these funds went towards the reconstruction of buildings destroyed by the earthquake.  In 2018, NOH spent another $5,900 from the earthquake fund for relief efforts.
NOH Outreach has supported the village school in Dumrikharka for the past decade. After the earthquake NOH contributed nearly $50,000 to build a new school, which was completed in the spring of 2017. Our annual donations for teacher salaries and supplies and for a hot lunch program at the Shree Sham Primary School continue in 2019.
Nepal Orphans Home also contributed funds for the construction of a new house and kitchen at Bigu Monastery, which along with Ramechhap is the most popular Volunteer Nepal placement outside the Kathmandu Valley.
| | |
| --- | --- |
| | |
| New Shree Sham Primary School in Dumrikharka | The new house and kitchen at Bigu |
NOH supports terminally ill children in the cancer ward of Kanti Children's Hospital. Fresh fruit and food treats are supplied twice a week and birthdays of the children are celebrated, complete with cake, candles, presents, balloons and sweets. Support, generally for pain and occasionally chemotherapy medications, is provided for poor families who cannot afford the medical costs. In the fall of 2017 NOH signed a Memorandum of Understanding (MOU) with Mr. Yu-Ming Wang and his new Healing Buddha Foundation (HBF) of the United States to fund our work with Kanti Children's Hospital. 
NOH also signed an MOU with Mother Sister Nepal (MSN) in 2017, contributing over $5,800 for the construction of their Everest Children's Home.  MSN is an NGO serving the women of remote Sindhupalchowk as well as caring for children who lost both parents in the earthquakes. In 2018, NOH Outreach funded food and supplies to the home and will again in 2019. The home is also one of the VN placements and a former volunteer has contributed significantly to MSN through NOH Outreach.
In 2019 NOH continues its support of the Goldhunga Blind Children's Home in the Kathmandu Valley. Rabindra Sanjyal, a young adult from Papa's House, is the coordinator of this NOH Outreach program, visiting the home every Tuesday and Friday, and helping the children with their academics. NOH subsidizes the salaries of the staff and the math, computer, and braille teachers as well as donates food, clothing, supplies, braille books and games, and a laptop with a braille reader.  The Papa's House tailoring girls make the school uniforms for all the Goldhunga children.
| | |
| --- | --- |
| | |
| Young patients at Kanti Children's Hospital | MSN Everest Children's Home |
Over the years NOH has also supported the baby orphanage at Bal Mandir, providing the children with food, health check-ups and other supplies. This past year, one of the older Papa's House children, Anisha, volunteered to help regularly with the infants. NOH has also been supplying infant formula and baby food and subsidizing the staff salaries.
| | |
| --- | --- |
| | |
| Volunteers with donated braille books at Goldhunga | Anisha of Papa's House helping at Bal Mandir |
In 2018, funded by a large individual donation, NOH Outreach was able to provide school tuition for 45 other children, most in the Kathmandu Valley and most for private schools like Skylark. NOH Outreach also provided assistance to people in the local community who were especially bereft or in poor health. For example, NOH subsidized the education of five sisters living together in a small room and studying in Kathmandu and helped with the medical expenses, including a new prosthetic arm, for a young Skylark School student. NOH Outreach local charity will continue in 2019.
Communications and Fundraising
Effective communications through the NOH website, social media, and public profiles have not only increased awareness of Nepal Orphans Home, but enhanced fundraising.  
In the fall of 2016, NOH Board of Director Toni Thomson's documentary film about Michael Hess and the children of Papa's House, What It Takes to Be Extraordinary, was shown at three film festivals: Chicago International Social Change Film Festival in September; and in October, the Black Bear Film Festival in Milford, Pennsylvania and the LA Femme International Film Festival in Los Angeles, where Toni's film received an award for the 'Best Foreign Documentary.' During the year, several members of the NOH boards screened the documentary in their communities, including Davidson, Cleveland, the Bay Area of California, and New South Wales, Australia. Also, the film was screened by friends of Nepal Orphans Home at fundraisers in London and Belgium.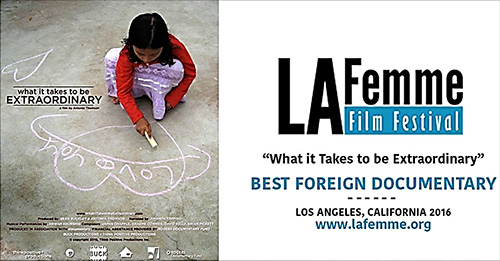 The poster for Toni's best foreign documentary
Last year, through our association with VerticalResponse, NOH Newsletters were sent to over 2,400 subscribers. In addition to the four regular editions, there were two special editions. On Giving Tuesday in November and then NOH Holiday Greetings right before Christmas, thanks to NOH donors and appeals for additional support were sent, as well as posted on the NOH Facebook page. 
NOH maintains an active presence on Facebook, posting a message usually once a week.  At the end of 2018, there were over 3,300 followers on the NOH Facebook page. 
Contributions
In addition to the net income from Volunteer Nepal, Nepal Orphans Home depends on donations. In 2018, over two hundred individuals around the world donated to NOH, with members of the NOH boards among the most generous supporters. We have been inspired by the gifts of friends, who have seen or heard about our good work in Nepal. Moreover, other individuals have supported NOH through the online fundraising platforms, including Network for Good, UniversalGiving, SlickDeals, and AmazonSmile.
Some individuals designate specific uses for their donations, including for NOH Outreach projects. Former volunteers and friends of NOH have contributed towards an entrepreneurial fund for the Chelsea Center's Business Incubator Program.  
In 2018, friends of NOH, a renowned photographer of the natural world and his wife from the U.S., made Nepal Orphans Home a future beneficiary of their estate's investments. At the end of the year, Nepal Orphans Home unexpectedly received a second gift from the trust of an estate of a long-time neo-natal nurse practitioner from North Carolina who had dedicated his life to helping children at home and in third world countries, including Nepal. 
Other monetary gifts were received through benefits and fundraisers. Friends and members of our boards have organized events from bake sales to silent auctions, photo exhibitions, yoga celebrations, fitness events, well-being days, and ballroom festivals. Others have given presentations in their communities to raise awareness of NOH.  Often visitors and volunteers to Papa's House bring donated goods. 
Foundation Support
Nepal Orphans Home is fortunate to have the steadfast support of several foundations. Board member Toni Thomson's Possible Worlds Foundation, based in Canada, has been integral in raising awareness and generating funds for our mission over many years. In 2018 Possible Worlds Foundation donations supported the education of Papa's House children, art and music classes at the Chelsea Center, and Valentine's Day at Papa's House. 
The Sanctuary for Kids Foundation (S4K) made a major contribution to the NOH capital fund in 2009 and in every year since has supported our operations, funding the shelter, education and nutrition of Papa's House children. At the end of 2018, however, S4K closed as a non-profit, after an impressive ten-year run. Even in its last year, S4K still generously supported our operations.
Nepal Orphans Home is grateful to Life's Handy Work Foundation for supporting the higher education costs of our older children and to Aakriti's Kids Foundation for providing for Aakriti, our young, blind girl living in Papa's House. Since late 2017 the Healing Buddha Foundation of the United States has funded our outreach to Kanti Children's Hospital.
Over the years, many good people have learned about our work and have been inspired to help. Together we are making a difference in Nepal.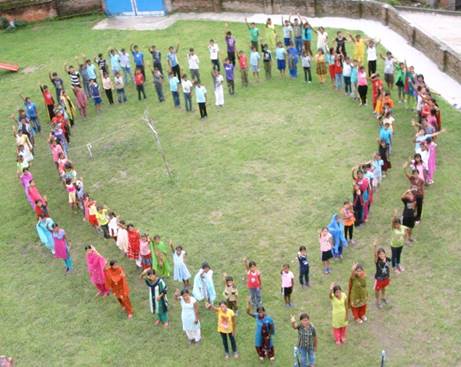 Thank you from the children of Papa's House
Nepal Orphans Home Board Members
Michael Hess, founder of Nepal Orphans Home, is the Emeritus Director of Operations for NOH in Dhapasi, Nepal. He is the proud father of two wonderful sons, grandfather to four precious and missed grandchildren in the States, and Papa to over a hundred exceptional children in Nepal, helping them to have a strong family life, turning their hopes into reality.
Board of Directors
Hillary Bernhardt, a 2015 Davidson College graduate, lived in Nepal for nearly two years serving the children of Papa's House and the local women of Dhapasi through her work at the Chelsea Center.  The opportunity to become embedded in the Dhapasi community enriched her life immensely.  Hillary is currently pursuing an MBA at Yale SOM with the intent of working at the intersection of private and public sectors after graduation.
Carola Drosdeck serves as vice president of NOH. She is a retired elementary teacher with most recent experience in the Shaker Heights (OH) City Schools. Previously, Carola was Assistant Director of Teacher Education Programs at John Carroll University. She volunteers at Nepal Orphans Home regularly and continues to be inspired by the resilience, curiosity, and spirit of NOH's children.
Peter Hess, a retired professor of economics at Davidson College, has served as president of NOH since 2006. He and his wife, Boo, who served as NOH secretary/treasurer until 2017, have two grown sons and three young granddaughters. They have volunteered at Papa's House in Nepal a half-dozen times over the years. Their lives have been immeasurably enriched by Nepal Orphans Home and the amazing children of Papa's House.
Tamara Chant Saltzman is a licensed Realtor in Pennsylvania and New York, coordinator of a homeless warming station, and a certified fundraiser, now living in Milford, Pennsylvania.  Since first visiting Papa's House in 2008, Tamara has pursued bringing NOH to the frontline in her children's schools and her own alma mater. Tamara and her children, Hannah and Jacob, have been tireless advocates for the children of Papa's House, working to raise awareness and support for NOH's mission.
Antonia (Toni) Thomson specializes in Post Production, Marketing & Documentary Filmmaking. Inspired by Michael's work and the incredible children of NOH, Toni welcomed the position of NOH Director in 2007, and founded a registered Canadian charity Possible Worlds Foundation to further support NOH.  She has visited NOH several times and looks forward to future visits.  Toni lives in Toronto, Canada with her young son Tashi. 
Ted Seymour first came to Nepal in 2014 where he met Papa and has returned annually in support of the efforts of NOH and the Chelsea Center. Based in Northern California, he received an MBA from UC Berkeley and successfully created a system's consulting firm before "retiring" in 2001. His passions include photography, writing, coaching high school tennis, music, and exploring the world. His "happy place" is working directly with the kids and young adults of NOH and he can often be found with a guitar on a rooftop in Kathmandu. 
Rajesh Trivedi currently serves as the treasurer of NOH, along with continuing a full-time employment as an internal audit professional in Florida, USA. Raj is professionally qualified in Accounting and Auditing from the USA and New Zealand. Raj was born and raised in India and had visited Nepal several times in the past. As an avid volunteer from an early age, Raj was innately drawn to the work of Michael Hess at Papa's House. He is inspired and proud of the organization's unwavering determination to provide access, opportunity, and most of all, happiness to such courageous children. 
Board of Advisers
Suresh Acharya, a software professional, lives in the Washington, DC area with his wife Namita and teenage daughters Shaily and Saurya.  He was born and raised in Nepal and did his undergraduate work at Davidson College.  Suresh and his family spent time at Papa's House and the Chelsea Center in the summer of 2016 and are deeply appreciative of the great work Michael and the organization have done for the children of Nepal. 
Marie-Cecile (Cici) Caillet, born and raised in France, has lived in the US for the past 27 years. Cici is a former preschool teacher and works now as a teacher assistant in a French International School in San Francisco. Since first volunteering at NOH in 2012, she has been an enthusiast supporter of the organization and returns each year to work with the children. Cici has a passion for cooking and enjoys sharing her culinary creations with the children of NOH.
Tyler Drosdeck, an artist and musician, lives in New York City.  He first volunteered with the organization in 2014 and returned in 2017.  He is forever touched by the community and spirit of the Nepal Orphans Home children, staff, and volunteers.
Elizabeth Dock Early lives in Madison, Connecticut and has three grown children and a grandson. She works for a local health department and is involved in many civic organizations.  She is passionate about the mission of NOH. Liz serves as bookkeeper for NOH and is firmly committed to supporting the children of Papa's House. She first volunteered at NOH in 2011 and makes annual visits. 
Liz Early is the Office Manager and Bookkeeper of a Real Estate and Appraisal firm located in Providence, RI.  Since her first visit Nepal Orphans Home in 2011, Liz Jr. has been back to visit three more times, raising money and bringing donations each time.  She is always inspired by the success and happiness of the children at NOH and can't wait for many more visits.
Laura Handy-Nimick began teaching in 2005 after obtaining a Masters in Teaching degree from The Evergreen State College. She is passionate about teaching, equity in education, and supporting underprivileged children. She began volunteering for Nepal Orphans Home in 2009, which inspired her and her husband to co-found Life's Handy Work, an organization committed to providing the children of NOH with funding for post-secondary education and training.
Anne McCadden lives in Marin County, California with her husband, Dan, and two young daughters. Since first volunteering at NOH in 2011, she has made annual trips to Nepal, becoming a dedicated advocate for the NOH cause. Anne and her family have rallied their local schools and community to support the mission of NOH through various fundraisers. Anne also helps oversee the accounting functions of NOH.
Michael Abraham Triozzi has served as Director of Volunteer Nepal from 2013 to 2014, as temporary manager of the Nepal Orphans Home boys' house following the earthquakes in 2015, and as Director of the Chelsea Education and Community Center. Prior to this he worked as a professional campaign manager and activist in the state of Ohio. He has loved having the opportunity to learn and grow alongside his brothers and sisters at NOH. He is currently serving in the Republic of Georgia with the United States Peace Corps.