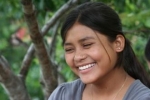 Nepal Orphans Home (NOH) began in March of 2005 when a friend took Michael Hess to an 'orphanage' in Dhapasi in Nepal's Kathmandu Valley that she said needed help. He found a small, rundown house with over two dozen destitute children. Malnourished, in poor health, and not attending school, the children were forced by the owners to beg on the streets. Michael assumed management of the home, renovated the building, and began to care for the children.
A carpenter from Florida, Michael had never traveled outside the United States until in early 2004 he volunteered with a nongovernmental organization in Nepal, restoring a school building outside of Kathmandu. Moved by the plight of the children, living in poverty, but rich in spirit, Michael vowed to return to help.  Within six months Michael did return to Nepal, having sold his home and business in Florida. Coming across the children living in the dilapidated house that day in March transformed his life. And Michael (Papa) has since transformed the lives of hundreds of poor children in Nepal. 
Currently, NOH operates four homes, known locally as Papa's Houses, all within a short walking distance of each other in Dhapasi. Nearly half of the 120 children provided for in Papa's Houses are former Kamlari girls rescued from indentured servitude. Volunteer Nepal, our affiliate volunteer program, draws talented, compassionate people of all ages from around the world and identifies placements throughout Nepal that will benefit from the volunteers' time, energy, and skills.  NOH's Chelsea Education and Community Center provides vocational training to our children and adult education to local women.    
Our Mission
Nepal Orphans Home attends to the welfare of children in Nepal who are orphaned, abandoned, or not supported by their parents.  NOH provides for the children's basic needs of food, shelter, and clothing, as well as schooling and health care, and administers to their emotional needs with love and compassion, allowing them to grow up in a nurturing environment.  Our mission is not just to rescue children from abject poverty, but to enable the children to develop and realize their potentials.  
Our Organization
Basic information about Nepal Orphans Home, a 501(c)(3) public charity incorporated in Davidson, North Carolina, can be found on the website, www.nepalorphanshome.org.   Michael Hess, the founder and director of operations of NOH, provides periodic updates of our work, and his accounts of Papa's House children best portray the implementation of our mission.
Nepal Orphans Home is listed on Guidestar, a leading source of information on U.S. non-profits, earning a GuideStar Exchange Seal, demonstrating its commitment to transparency. The NOH profile includes our recent 990 forms, available as public record. None of the members of the NOH boards of directors and advisers receives compensation. Nepal Orphans Home also is listed with UniversalGiving, an international social entrepreneurship website that brings together verified non-profits with interested donors and volunteers. 
A Brief History
Over time our operations have expanded to help more children. In 2006 Papa's Samanjasya (Harmony) House moved to a new, larger building to accommodate the growing family.  NOH began supporting a school for the children, Papa's Trinity Academy, enabling more than 200 other children from the community to attend.
In 2007 NOH was asked to take over a nearby orphanage with a dozen children. Another building was leased in Dhapasi for a second Papa's House and additional staff were hired.  The enrollment at Papa's Trinity Academy grew to over 340 children, most attending for free. 
Early in 2008 NOH began collaboration with Society Welfare Action Nepal (SWAN), a Nepali nongovernmental organization operating in the Dang district to rescue Kamlari girls from their indentured servitudes. NOH renovated two buildings in Narti and opened the Lawajuni (New Beginning) Home, providing shelter, food, clothing, schooling, and health care for girls freed by SWAN.  During the year more than 60 girls who had been sold into slavery came to the Lawajuni Home, gaining their freedom, recovering their childhoods and attending school. NOH was able to bring 12 of these girls to Dhapasi, raising the number of children provided for in Papa's Houses to 70. 
In 2008, however, concerns with the management and direction of Papa's Trinity Academy compelled NOH to cease its support of the school. The children of Papa's House began to attend the Skylark School, an English-medium private school in Dhapasi.  NOH then initiated support of two schools in remote villages in the Ramechhap district, the Shree Sham primary school in Dumrikharka and the Mudkeswori primary school in Votetar, funding hot lunch programs and contributing to teacher salaries and school supplies for over 140 children, most of whom are Dalits (untouchables).
In early 2009, NOH brought another 26 rescued Kamlari girls from Lawajuni to Dhapasi, where the education was significantly better, opening up a third home, known as Papa's Kalpana (Imagine) House. The girls moved into the building formerly housing the boys, who relocated to a newly expanded and renovated home on the same grounds, Papa's Sambhav (Possibilities) House. Later in the same year, 28 more girls came from Lawajuni to live in NOH's fourth and newest home, Papa's Gumba (Sanctuary) House.   
Over the years, Nepal Orphans Home (NOH) remained steadfast in its central mission of providing shelter, nourishment, education, and health care for Papa's House children. In 2013 the Chelsea Education Center opened, providing vocational training classes for the older children of Papa's House. In 2014 NOH opened a transition house for our college girls, to allow them to begin living independently as young adults.
A devastating earthquake outside the Kathmandu Valley shook the nation on April 25, 2015 with the loss of thousands of lives and extensive damage, especially in remote villages. Fortunately all of Papa's House children, staff, and Volunteer Nepal volunteers were safe. NOH quickly set up an earthquake relief fund and as donations from friends around the world quickly poured in, NOH began rendering assistance. Volunteer Nepal sent out staff to villages where we have placements in order to assess the damage and to provide cash for food as well as supplies (tents, tarps, and blankets). NOH also provided help to locals in Dhapasi, who lost family or suffered destruction of their homes or businesses. 
In the summer of 2015 the Chelsea Center extended adult literacy classes to local women in the community of Dhapasi, becoming the Chelsea Education and Community Center (CECC). Nepal Orphans Home acquired property for our Papa's Sambhav (Possibilities) House. In early fall, Nepal Orphans Home received a grant for a new building for the Chelsea Education and Community Center. At the end of the year at her Toronto Possible Worlds fundraiser, Board Director Toni Thomson premiered, What It Takes to Be Extraordinary, her documentary film about Michael Hess and Papa's House. 
Papa's Houses
Each of our Papa's Houses is managed by Nepali staff. NOH is especially proud that one of our first children, Anita Mahato, is running Kalpana House and has become a key assistant to the director of operations. Deepa and Cila Regmi, sisters who came to Papa's House in 2006 as young girls, are in charge of Gumba House. In addition to the on-site managers, each house has a didi (young woman) for cooking, cleaning and other chores. House managers also buy supplies and accompany children to medical appointments.
Through donations, desktop and laptop computers with Internet connection are available in each home. In 2012 NOH purchased solar panels for our homes. Possible Worlds Foundation donated the funds for ten solar panels and additional solar panels were funded by Sanctuary for Kids Foundation and individual donors. With electricity often available for only six to eight hours a day outside of the monsoon months, solar panels provide reliable lighting for the kitchens and dining rooms, which double as study halls. Each house has a selection of books available to the children, for their academic studies, independent reading, and book discussion groups. 
Papa's House Children
When children arrive at Papa's House, NOH commits to providing for their shelter, nutrition, education and health care until they reach adulthood and are ready to live independently in Nepali society. To monitor the progress of the children, detailed files are kept, consisting of guardianship information from their villages and how the children came to NOH, school and health records, the vocational training and life skills workshops completed, as well as anecdotal information.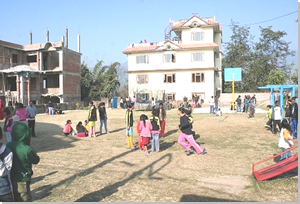 ​Papa's House children enjoying a sunny Saturday on the main campus of Samanjasya House
In 2013, an extraordinary child came to live in Papa's House. Shortly after her birth, Dil Kumari's feet were severed. Rescued by neighbors and rushed to a hospital, she nearly lost her life on the operating table. Through the good will of Medical Mercy of Canada, Dil came to Papa's House and was renamed Hope Angel by the children. Now cared for by Anita Mahato, with help from the older girls of Kalpana House, Hope has all the opportunities to grow and develop that every child deserves.
In July of 2014 in Kathmandu, Hope was fitted for her first prosthetics. Her good cheer, resilience, and contentment not only inspire the other children, but add to the magic of Papa's House. In early 2016, Michael Hess took Hope to Boston for surgery at the Shriners Children's Hospital, one of the finest medical facilities in the world, which provides free treatment to children with serious medical situations. Hope was also fitted with state-of-the art prosthetics by NEOPS, the leading prosthetics device makers in New England. 
​
Papa and Hope
As Michael describes, "We are a really big family, but each child's joys and fears, smiles, accomplishments, failures, anxieties and laughter, future plans and work to achieve them, are deeply felt by all."
​
Nepal Orphans Home Family
NOH provides transition houses for older children, who are either attending college or have stopped schooling and are in vocational training at the Chelsea Education and Community Center. These young adults are responsible for taking care of themselves, living on a budget, maintaining good grades in college or developing their vocations.
Education
Of paramount importance is providing our children with good education. Because the public education system is inadequate, Papa's House children attend the Skylark School, a local English-medium private school with several hundred students. The end of the term always finds a number of Papa's House children at the top of their classes.

A morning assembly at Skylark English School
Some of our children, however, who had received little if any schooling before coming to Papa's House, struggle with their studies.  Yet they too persevere, determined to get an education. 
| | |
| --- | --- |
| Homework | Afternoon study hall |
Our older children are attending college, having completed the tenth grade and achieving their School Leaving Certificates, based on passing the nationally required comprehensive exam. Nepal Orphans Home is grateful to the Sanctuary for Kids Foundation and Possible Worlds Foundation for supporting the annual tuition of the Papa's House children at Skylark, and to the Life's Handy Work Foundation for supporting the higher education expenses of our older children. 

Ranked first in their Skylark classes​
(Srijana, Pinkeny, Ashmita, and Saraswati)​

Leaving Papa's House for the first day of college:
Lalita, Dhiraj, and Kabita, respectively, will study 
Hotel Management, Science, and Business. ​
Chelsea Education and Community Center
While the children are encouraged and supported to continue their schooling for as long they can, not all will choose or be able to attend university. Consequently, NOH established the Chelsea Education Center (CEC) with a Sustainable Livelihoods Program to provide both vocational and life skills training. In the spring of 2013, the CEC began with after-school vocational training for Papa's House children aged fifteen and older.  Seventy students attended the classes six days a week in a leased building within walking distance of the five Papa's Houses. Seven courses [tailoring, cell phone repair, computer hardware and software programming, hair styling, motorcycle repair, and music (voice, keyboard, and guitar)] were taught, in forty-five minute sessions, beginning an hour after dismissal from Skylark School. The instructors were professionals in the field or local college professors. Classes were limited to twelve or fewer students to ensure individual attention.
In the second year, 2014, the Chelsea Education Center continued with more advanced training in these classes and added German and shoe-making to the curriculum. The students put their training to good use. For example, the computer hardware class fixed the NOH computers and the motorcycle repair class maintained the Papa's House scooter as well as repairing the motorbikes of local teachers. The tailoring class made the skirts for the school uniforms. And, in both the tailoring and hair styling classes, the top students worked in their teachers' shops on Saturday afternoons.   
Life skills workshops also began with a focus on effective communication skills, public speaking, and critical thinking. In the spring of 2014, NOH received a grant of $10,000 from St. Margaret's Church of Annapolis, Maryland, to purchase equipment and supplies for the vocational training. Later in the year, NOH received private donations towards funding equipment in the shoe-making class to allow the children to make sport shoes as well as sandals and dress shoes. At the end of the year Nepal Orphans Home was also awarded a $10,000 grant from Latet, an Israeli Humanitarian Aid Organization, for funding our vocational training instructor salaries in 2015.



Chelsea Education Center computer class

​
​

Chelsea Education Center tailoring class
Also in the spring of 2014, the Chelsea Education Center opened a café on the Skylark School grounds. Papa's House children and the other students and staff at Skylark received a hot, tasty and nutritious lunch. An average of 300 meals were served each day. 
| | |
| --- | --- |
| ​​​Lunch at the café | Head cook Lachi (center) with assistants |
In early 2015, through the initiative of Ted Seymour, a member of the NOH Board of Advisers, the CEC incorporated the Khan Academy's on-line mathematics curriculum, a popular, self-paced program of instructional support. One of our older children, Dhiraj, who is particularly adept with the computer, assisted in managing the instruction. NOH invested heavily in this program by purchasing an additional 33 new laptops and creating three dedicated rooms for Khan Academy. Math coaches were present in each room to provide one-on-one support where necessary.
| | |
| --- | --- |
| Students in the Khan Academy math classes​ | Thank you to Khan Academy​ |
Consequently, in the third year of the Chelsea Education Center the emphasis shifted to Khan Academy mathematics and computer, with the intent of supplementing school instruction in these areas. The shoe-making class continued to be successful, producing shoes, not only for our children, but also filling outside orders. Several of our older girls from the tailoring class completed their formal education and concentrated on developing their sewing and clothes-making skills. In addition to making our children's school uniforms, they also designed and produced kurta sulwars which were available for sale. 



Anita with one of her creations​


 

Sunita with one of her designs.​
In July of 2015, the Chelsea Education Center became the Chelsea Education and Community Center (CECC) with the offering of literacy classes to local women, primarily the mothers of children who attended Skylark School. Over 120 women signed up to participate in this free program.  In addition to Ashok and Kabita (two of our older children currently attending college), NOH hired three recent college graduates to teach the classes. The classes have been popular and well-received. In October, the CECC began teaching an online math program to 65 women, many from the English classes. The course was designed to introduce them to computers, allow them to practice simple English and learn domestic and small shop accounting.
Also in October of 2015, Nepal Orphans Home was awarded a grant from a foundation (that prefers to remain anonymous) to expand our educational and vocational infrastructure by acquiring land and constructing a more appropriate building to house the Chelsea Education and Community Center. The new CECC building will not only enhance the vocational training services for our children and adult education for women in the local community, but allow for an incubator program to support the formation of businesses by CECC graduates and offer retail space for these businesses, including a collective shop for our tailoring girls. This new CECC will be constructed on the grounds of Papa's Sambhav House. 
| | |
| --- | --- |
| CECC Adult Education Class​ | Staff of CECC​ |
Enrichment
With school six days a week and after-school vocational training, homework, and extracurricular activities, Papa's House children follow a busy schedule. There are enrichment programs before and after school for Papa's House children, including instruction in sports, dance, music, arts and crafts. Saturdays are free days, a time when the children gather at the main campus of Samanjasya House for a common meal, play and informal conversation. 
As part of a university course project, an Australian volunteer, Chloe Carrucan, started a "Book Club" reading program for our children in June of 2014. The groups meet one day a week after school and more frequently during school holidays. The participants enjoy reading aloud to each other and discussing what they read along the way. Selecting quality literature with universal themes helps expand horizons as well as practice reading skills and encourages independent reading for pleasure. 
During the year, there are holidays to celebrate, including the Nepali Tihar festival, Brother's Day and NOH's Sister's Day, as well as western traditions such as Christmas and Valentine's Day.  Birthdays are celebrated with cakes, song, and small gifts. These traditions promote the wonderful sense of family that permeates Papa's House. 
| | |
| --- | --- |
| Papa's House Boys honoring their sisters | Cheer of the Christmas season at Papa's House​ |
During the Dashain holiday in October, Papa's House runs special classes and outings for those children not returning to their family villages. While the house managers and most of the staff take the holidays off, the children staying in Dhapasi the month enjoy a relaxed and good time. During the month there are field trips, including to the National Gardens. 
| | |
| --- | --- |
| Knitting on a warm afternoon during Dashain | Birdwatching at the National Gardens​ |
Children's Council
In an effort to encourage the children to take a greater role in decision making within and across the houses, a Children's Council was established in August of 2014. Michael and the house managers asked the children in each house to vote for a representative who would be available to discuss individually or in groups any complaints, concerns, or suggestions the children might have. Questions and compliments are also encouraged. Next, the "house captains" prepare a list of issues their housemates wish to have discussed at the monthly meeting of the Council.  Each month the captains meet with the house managers and Michael address the issues raised and design collective resolutions. The decisions are then reported back to the individual houses and have included greater variety in Saturday tiffin menus, small group outings with a house manager on a revolving basis, and delivery of a daily newspaper to each house.  The representatives are learning management skills and the children are actively engaged in practicing effective communication and problem-solving skills.  
Volunteer Nepal
Accompanying the growth of Papa's House has been our affiliate Volunteer Nepal, increasing from a handful of volunteers in 2006 to annually more than 100 individuals from across the world. In 2015, 124 individuals, representing eighteen countries volunteered. The top four home countries in 2015 were the United States (36%), Australia (30%), United Kingdom (8%) and Canada (7%).  
Volunteer Nepal was established to provide important services to the Nepali people such as: introducing healthier and more environmentally sustainable briquette ovens to the villagers of Dumrikharka, teaching classes throughout Nepal, including English lessons in a Buddhist nunnery in a remote northeastern district, assisting in medical clinics, helping out in other nongovernmental organizations, offering yoga classes and music instruction, leading writing workshops, and tutoring Papa's House children. 
| | |
| --- | --- |
| Volunteer Nepal in Action: Lost in Translation? | For several summers Sirkkha from Finland has volunteered |
VN offers nearly twenty placements in the Kathmandu Valley (including with Nepal Cleft and Burn Center, KAT Animal Shelter, Pashupati Elderly Ashram, and Hope Rising Children Home) and a dozen placements outside the valley (including in Dumrikharka, Dolpa, Tutung Village, and Charikot). A new placement in 2015 was in the remote town in the Sindhuli district in the northern Terai region, where two volunteers spent three weeks teaching English classes and helping repaint the government school. 
An example of the services provided by volunteers is EDUCNepal. One of the most popular placements in the Kathmandu Valley over the last three years, EDUCNepal is a small charity school for children of local street vendors and squatters. In 2015, after the earthquake, one VN volunteer, a nurse from Australia, performed health checks on the children, and then teamed up with another volunteer to provide toothbrushes and toothpaste for all the children. They also worked with teachers to establish a daily hygiene routine, where the students brush their teeth after lunch.
All volunteers in the country were contacted and accounted for soon after the quake hit. The VN staff also contacted placements to assess the damage and need. Robin, one of the volunteer coordinators, then travelled to placements to provide immediate relief.  Among other aid, Robin delivered three large water tanks to the village of Chaturi; money, food, and tents to an orphanage in Charikot; and 450 blankets, as well as tarpaulins, to two small villages in the Dhading district, one of the hardest hit areas. 
| | |
| --- | --- |
| Relief for Dhading​ |  Robin with funds for Shree Sham School |
Volunteer Nepal advances the NOH mission by bringing to Nepal individuals with diverse skills and backgrounds who are committed to serving the poor and who seek heartfelt, profound, and often life-changing experiences. Annually members of the NOH boards of directors and advisers also volunteer. The income from volunteer fees significantly contributes to the operation of Papa's House.
Moreover, several volunteers, after returning to their homes, have been inspired to start their own non-profits: including the Imagine Foundation to fight child-trafficking; Sunsar Maya, which  provides financial support to better the lives of orphaned and underprivileged children around the world through education; Aakriti's Kids Foundation which is dedicated to supporting orphans with special needs in Nepal; and Life's Handy Work, which supports the higher education of children at Nepal Orphans Home.  
For a description of the program, as well as examples of volunteer placements see www.volunteernepal.net. Volunteer reviews of Volunteer Nepal can be directly accessed on the NOH profile on Guidestar. The ninth edition of Lonely Planet: Nepal lists Volunteer Nepal (and Nepal Orphans Home) among its recommended volunteer organizations.
In addition to the volunteers through Volunteer Nepal, each year Nepal Orphans Home receives numerous visitors. 2015 was the third year that the NOH children and ARAMCO children from a private Saudi Arabian school spent a memorable day together learning about each other's culture and developing friendships.

The ARAMCO students in red t-shirts and their NOH friends
Outreach
As part of its mission, Nepal Orphans Home has long supported other local charities. In addition to the earthquake relief efforts in 2015, NOH has continued to support the Shree Sham primary school in Dumrikharka, funding a hot lunch program six days a week and contributing to teacher salaries and school supplies for the village children. NOH subsidizes the education of twenty-five local children in Dhapasi, allowing them to attend the Skylark School. Other NOH charity includes support for the Gholandunga Blind Children's Home and assistance to nuns from who came to Kathmandu after the earthquake.
Communications
Effective communications through the NOH web site, social media, and public profiles have not only increased awareness of Nepal Orphans Home, but assisted our fundraising. In 2014, friends at Alliance Residential in the U.S. created an attractive twelve-page brochure that is distributed at fundraisers and can also be sent electronically.   
Jen Kim, a previous volunteer with Volunteer Nepal in 2009, edits the NOH Newsletter. During 2015, through our association with VerticalResponse, seven editions of the NOH Newsletter, along with earthquake news and, at the end of the year the NOH holiday greetings, were emailed to some 2,900 subscribers.
NOH continues to maintain an active presence on Facebook, posting a message roughly once a week. "Total likes" grew substantially this past year and was particularly noticeable following the earthquake. We also maintain a "group page" for VN+NOH which requires members to be "approved" to join. At the end of 2015, there were over 2,700 members on the NOH page and over 1,300 members on the VN + NOH group page.
In 2015, Nepal Orphans Home was informed that it is in the top one percent most viewed organizations on Guidestar, the world's largest source of information on nonprofits with 2.4 million organizations listed. Nepal Orphans Home was featured by UniversalGiving, another nonprofit website where NOH has a profile, in the online July issue of Christian Science Monitor. Individuals have generated support for NOH through the online fundraising platforms of CrowdRise, FirstGiving, Network for Good, and JustGive.
On December 16 in Toronto, board director Toni Thomson hosted a Possible Worlds fundraiser, featuring a premier screening of her documentary film about Michael Hess and the children of Papa's House, What It Takes to Be Extraordinary. Toni began filming in 2007 when there were only 34 children at Papa's House. As Toni notes, "Now, 10 years after NOH first started, these incredible children have grown into empowered, poised and exceptional beings with the warmest hearts…The film sheds light on many issues facing the children of Nepal. With the support of committed Nepali staff and volunteers from around the world, the film will showcase the far reaching impact of NOH and the youth it serves."
Toni's film is both beautiful and powerful. The major Canadian broadcaster, CBC, has agreed to license the film to air on Canadian television for the next few years in a prime time spot. Toni is submitting her documentary to film festivals around the world, and members of the NOH boards plan to show the documentary in their communities during 2016.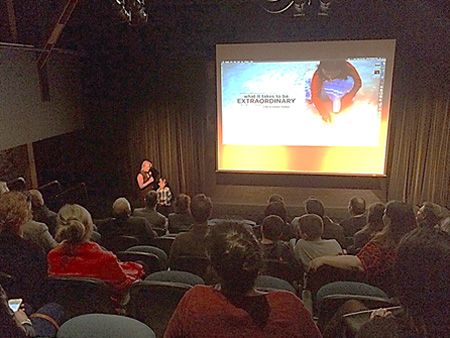 Toni with her son, Tashi, introducing What It Takes to Be Extraordinary
In the aftermath of the earthquake Ted Seymour filmed a video of Papa's House children singing Bill Withers' poignant Lean on Me, to display "the talent, beauty and resilience of [our] amazing young people, [and to] support our continued efforts, not just in providing for an exceptional childhood for our young charges, but also as we support our own community in Kathmandu and other communities greatly in need throughout Nepal."

The opening photo in Ted's Lean on Me video
Contributions
In addition to the net income from Volunteer Nepal, Nepal Orphans Home depends on donations. In 2015, more than 870 individuals from across the world donated funds to NOH, including the NOH Earthquake Relief Fund. We have been inspired by the gifts of friends, who have seen or heard about our work in Nepal.   
Other monetary gifts were received through benefits and fundraisers. Friends and members of our boards have organized events from bake sales to silent auctions, photo exhibitions (including the photography of NOH board members and Papa's House children), yoga celebrations, well-being days, and fun runs.  Others have made and sold jewelry and tote bags sporting the NOH logo, and have given presentations to spread awareness of our work. In recent years, children from Saudi Aramco School arrived at Papa's House with large duffel bags of toys, sports equipment, and clothing. Other volunteers bring books, games, and laptops. This is but a sample of the generosity NOH has received. Each and every donation is appreciated.     
Nepal Orphans Home is fortunate to have the support of several foundations, two of which asked to remain anonymous. Over the years, Board member Toni Thomson's Possible Worlds Foundation, based in Canada, has been integral in raising awareness and generating funds for our mission.  
The Sanctuary for Kids Foundation, also based in Canada, in 2009 made a major contribution to the NOH capital fund intended for the first residential building on our future campus. This donation was used in September of 2015 towards the purchase of Papa's Sambhav House in Dhapasi. In addition, in every year since, the Sanctuary for Kids Foundation has generously supported our operations, funding education and nutrition of Papa's House children.
Nepal Orphans Home is grateful to the Israeli Humanitarian Aid Organization, Latet, for the grant in 2015 for the instruction costs in the Chelsea Education and Community Center; Life's Handy Work Foundation for supporting the college costs of our older children; and to Aakriti's Kids Foundation for providing for Aakriti, our young, blind girl in Papa's Gumba House. 
Postscript
Nepal Orphans Home is committed to providing for the total welfare of children who come to Papa's House, from the moment they arrive to the time they are ready to venture forth as productive citizens of Nepal. Over the years, many good people have learned about our work, often through the Nepal Orphans Home website or from volunteers after they return home, and have been inspired to help. Together we are making a difference in Nepal . . . one child at a time, each one special.
Director of Operations
Michael Hess, founder of Nepal Orphans Home, is also the Director of Operations for NOH in Dhapasi, Nepal. He is the proud father of two wonderful sons, grandfather to four precious and missed grandchildren in the States, and Papa to over 120 exceptional children in Nepal, helping them to have a strong family life, turning their hopes into reality.
Board of Directors
Glenn Detrick was a university administrator at Washington University in St. Louis and co-founder of a student surveying business (EBI) before retiring in 2003.  He teaches a university course now and travels extensively. Glenn became involved with NOH after meeting Michael and seeing Papa's House on a visit to Nepal.  He is currently helping develop the Chelsea Education and Community Center (named after his daughter) at NOH. 
Carola Drosdeck serves as vice president of NOH. She is a retired elementary teacher with most recent experience in the Shaker Heights (OH) City Schools. Carola was Assistant Director of Teacher Education Programs at John Carroll University. She volunteered at Nepal Orphans Home in 2010, 2012, and 2014, and continues to be inspired by the resilience, curiosity, and spirit of NOH's children.
Barbara (Boo) Hess, formerly a church accountant and tax preparer, is the secretary/treasurer of NOH. She and her husband, Peter, have two grown sons and two young granddaughters. Boo looks forward to seeing the children living at Papa's House grow into responsible and contributing citizens of Nepal.
Peter Hess, a professor of economics at Davidson College, has served as president of NOH since 2006. He and his wife, Boo, live in Davidson, North Carolina and have volunteered at Papa's House several times. Their lives have been immeasurably enriched by Nepal Orphans Home and the amazing children of Papa's House.
George McNeil is a psychiatrist, recently retired from practicing in Portland, Maine. His wife and two grown children share his wish for a more equitable world. He is proud of the efforts of his nephew, Michael Hess, to nudge things in this direction at Nepal Orphans Home.
Tamara Chant Saltzman is a certified fundraiser, event planner and business developer, living in Milford, Pennsylvania.   Since first visiting Papa's House in 2008, Tamara has pursued bringing NOH to the frontline in her children's schools and her own alma mater. Tamara and her children, Hannah and Jacob, have been tireless advocates for the children of Papa's House, working to raise awareness and support for NOH's mission.
Antonia (Toni) Thomson specializes in Post Production, Marketing & Documentary Filmmaking. Inspired by Michael's work and the incredible children of NOH, Toni welcomed the position of NOH Director in 2007, and founded a registered Canadian charity "Possible Worlds Foundation" to further support NOH.  She has visited NOH several times and looks forward to future visits.  Toni lives in Toronto, Canada with her young son Tashi. 
Board of Advisers
Suresh Acharya, a software professional, lives in the Washington DC area with his wife Namita and teenage daughters Shaily and Saurya.  He was born and raised in Nepal and did his undergraduate work at Davidson College.  Suresh and his family spent time at the NOH in the summer of 2016 and are deeply appreciative of the great work Michael and the organization have done for the children of Nepal. 
Elizabeth Early, a medical biller from Madison, Connecticut, has three children. Among other civic work, Liz serves on the Board of Directors of a Connecticut chapter of the National Alliance on Mental Illness (NAMI) and is the Secretary of a newly formed non-profit diaper bank. Liz is firmly committed to supporting the children of Papa's House. She volunteered at NOH in 2011, 2013, 2015 and 2016.
Marie-Cecile (Cici) Caillet, born and raised in France, has lived in the US for the past 25 years. Cici is a preschool teacher at Calvary Nursery School in San Francisco. Since first volunteering at NOH in 2012, she has been an enthusiastic supporter of the organization and returns each year to work with the children. Cici has a passion for cooking and enjoys sharing her culinary creations with the children of NOH.
Yoav Deri, born and raised in Israel, served six years in the Israel Defense Forces, earning the rank of major. He has a BA in education and geography and a Masters in journalism and communications. A retired Human Resources specialist after a 32 year career with Bank Leumi, Yoav has three daughters and a son, and since 2012 he has been a frequent volunteer and strong supporter of NOH.
Laurie Levine is the Spiritual Director and Minister of Positive Living Spiritual Centre, Australia. For over 25 years, she has had her own healing practice. She is the developer of Emotional Release Point Therapy. Laurie teaches Kundalini yoga in Sydney and runs healthy lifestyle classes. A volunteer with Volunteer Nepal in 2010, Laurie has been supporting the children of Papa's House ever since with fund raising events and frequent visits to Papa's House.
Bob Linscott is the Assistant Director of a non-profit in Massachusetts that empowers elder service providers to become more culturally competent with marginalized populations. Bob took a summer sabbatical to volunteer with NOH in 2011 and returned five months later to spend Christmas with the children at Papa's House. Since then he has been doing presentations to school and community groups about the mission of Nepal Orphans Home.
Anne McCadden lives in Marin County, California with her husband, Dan, and two young daughters. Since first volunteering at NOH in 2011, she has made annual trips to Nepal, becoming a dedicated advocate for the NOH cause. Anne and her family have rallied their local schools and community to support the mission of NOH through various fundraisers. Anne also helps oversee the accounting functions of NOH.
Ted Seymour is actively creating a life of service, creative expression and community. Based in Northern California, he received an MBA from UC Berkeley, successfully creating a systems consulting firm before "retiring" in 2001. His passions include humanitarian photography, writing, travel and healthy living. In 2015 he spent 6 weeks launching the Khan Academy program at the CECC and in the process fell in love with the children of NOH.
Michael Abraham Triozzi has served as Director of Volunteer Nepal from 2013 to 2014, as temporary manager of the Nepal Orphans Home boys' house following the earthquakes in 2015, and as Director of the Chelsea Education and Community Center. Prior to this he worked as a professional campaign manager and activist in the state of Ohio. He has loved having the opportunity to learn and grow alongside his brothers and sisters at NOH.