Nepal Orphans Home currently supports 132 children in four homes for children Class 10 and under plus two homes for college children. Donations help make it possible to provide housing, food, clothing, education and medical care in a secure and loving environment.  The average cost per child per year is $1,400.
Nepal Orphans Home in 2016 has 104 of its children enrolled in a local English medium school in grades Nursery through Class 10. The approximate school cost per child through Class 10 is $300, which includes tuition, uniforms, books and other necessary educational supplies.
There are currently 24 NOH children in college (Classes 11 and 12) and two in University (four years of study following graduation from Class 12). This will increase to 42 children in college and four in University in 2017. College level study is for two years and, depending upon the student's area of interest (generally Business, Science, Social Work, or Tourism Management), the fees range between $400 and $700 per year. Current University fees per student average $1,500 per year.

The NOH Family October 2015
Support for Outreach Programs:
In addition to the care of the Nepal Orphans Home (NOH) children, our organization supports many other projects. Some of these projects are described briefly below.
Kanti Children's Hospital:  This is our second year of supporting terminally ill children in the cancer ward. Fresh fruit and food treats are supplied twice a week and birthdays of the children are celebrated, complete with birthday cake, candles, presents, balloons and sweets. Support (generally for pain medications) is provided for poor families who cannot afford the medical costs. We are hoping to create a "Make A Wish"-type program for these well-deserving children. The average wish may run up to $500. Our monthly support minus medicine, which is not constant, runs $200.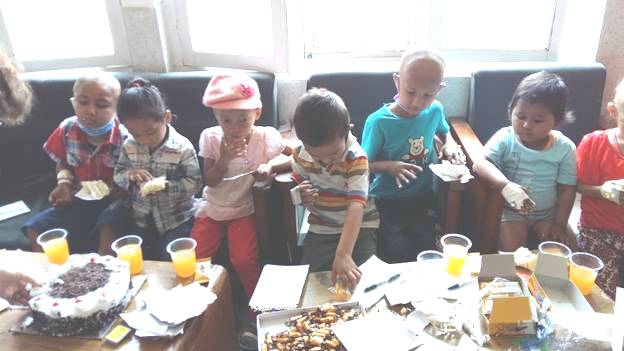 Gholdunga Blind Children's Home: We have been supporting the visually impaired children of Gholdunga for over three years.  Our support includes staff salaries, clothing, supplies, braille textbooks, food, and mentoring.  Our monthly support is $400.  
Answering the Call When Needed: When NOH learned of a remote village having run out of rice and other staples and surviving on nettle soup we responded with a delivery of rice, dhal, oil, flour, and salt enough for 24 families to last one month costing $450.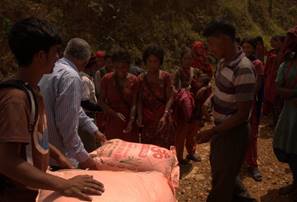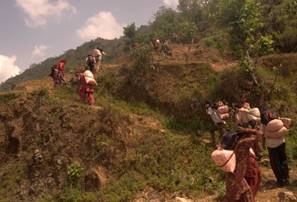 The good folks of Brushwang Village arriving where the road ends to receive their food
Scholarships at Skylark School (grades 1–10): Ongoing for eight years, we continue to pay all of the school-related fees for 17 local children. The number of children changes annually. The cost per child is $300.
Adult Women's Education: Now in our second year, more than 250 local adult women attend free daily classes in Math, Computer, English and Nepali at our Chelsea Education and Community Center. The classes are offered year-round. Monthly teacher salaries for CECC classes run $2,480.
Comprehensive Math and Computer Lessons: Classes are offered for 55 NOH children daily in order to supplement and support their school instruction. This is part of the overall teacher compensation of $2,480 per month.
When No One Else Will Help: Local families in need are frequently brought to our attention. While we try to provide temporary support to see a family through a particular crisis, occasionally we offer support over a longer term. NOH gives one family enough funds to cover the costs of education for two of its children in addition to life sustaining medicine for the father's illness. Another family receives money to pay for food and other household needs for the crippled mother and her three young children. We have covered the cost for medical emergencies and even a kidney transplant. In addition we have provided the boarding fees of a young blind student at college for the past 3 years. Currently this local charity averages $250 per month.
Dhumrikhaka: In our sixth year of offering a nutritional hot lunch program at this school and paying a teacher's salary, we are funding the construction of a new school following the devastation in last year's earthquake. The contract for the school is $50,000. The school is well under way. We also plan to implement and support a critically-needed water engineering project within the next year. The engineering quote for this project is $15,000.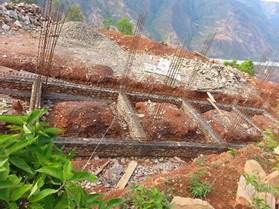 View of the early stage of the cliffside school; Some children during exercise class
Bigu Monastery, in a Remote Himalayan Village: Home to nearly 100 Buddhist nuns of all ages, we have been supporting teacher salaries for the past five years. We have invested in the support of the nuns and their relocation after the earthquake, until recently when a team of them returned to Bigu to begin putting their Monastery back together again. We also provide educational support for children on an as-requested basis. The reconstruction of Bigu will be a massive project and done as funds become available to them. There are a few NGO's supporting this to the best of their abilities.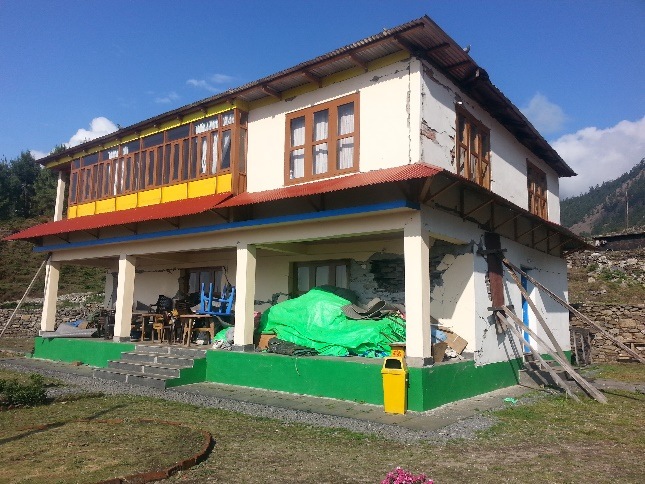 All that remained after the earthquake out of many buildings, this one not salvageable
New Children: Ongoing for the past 12 years, we are requested by authorities in different regions of Nepal to take new children into our homes. After careful vetting we do so. As of July 22nd three new children were received in 2016. The average cost per child per year is $1,400.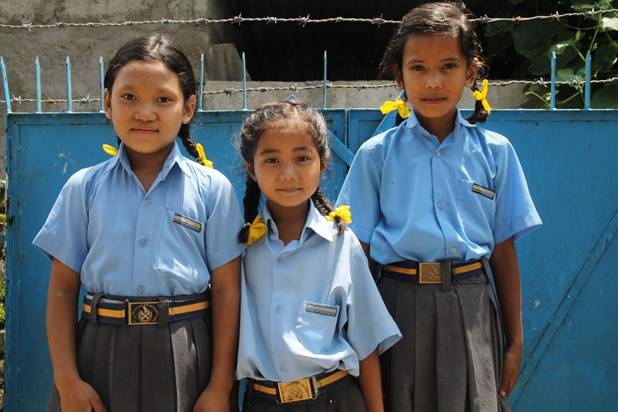 Sarita 7, Manisha 6, and Ranjhana 9
Anything you can give will have an enormous impact on our ability to help these kids.