The Chelsea Education and Community Center's new building has turned the last corner and is headed for the finish line. We will soon be entering the decorative stage and have already begun to seek furnishings that will accommodate the growing population and diverse offerings. Members of the Nepal Orphans Home Board of Directors and Advisors, those who are able, will be arriving in Kathmandu in mid April for a week's worth of meetings and an opening ceremony on the 22nd.  We have invited the US Ambassador to Nepal and a few Nepali dignitaries who have come to know our work well, and a Representative of the Foundation that made the creation of this building possible. It is going to be a very proud moment in the 12-year history of Nepal Orphans Home, and a particularly poignant day in the life of Board Member Glenn Detrick of Washington University as we honor his late daughter Chelsea for whom the Chelsea Center's concept and building are named.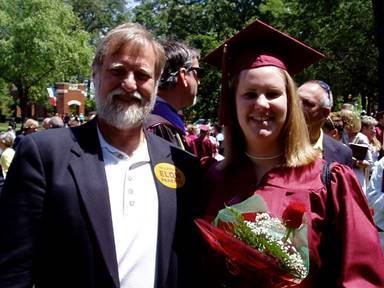 Glenn and Chelsea, Graduation Day from Elon University
Thanksgiving NOH Style
Before the festivities began we spoke about the meaning of family, of Thanksgiving, about the purity of heart, and the intrinsic nature of our souls and to always keep this as our guide.
Then we began to have some fun.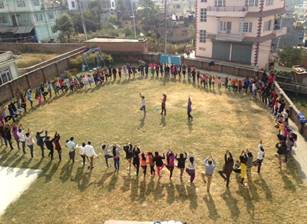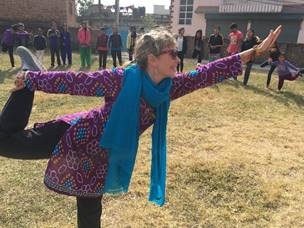 Pre-Feast Yoga Time led by our Advisory Board Member Laurie Levine

Hope found this an opportune time to sample the banana bread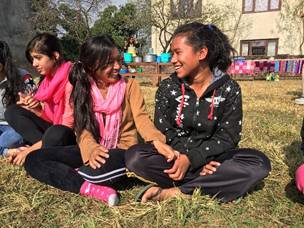 We sat in a large circle before we began the yoga and spoke about the meaning of Thanksgiving, asked everyone to hold hands and turning to one another tell them what it is about them that they loved.
 In the spirit of Thanksgiving a few donors gave generously for our feast, allowing us the purchase of apple pie, carrot cake and banana bread from a phenomenal, recently opened, bakery.
In addition we had a vegetarian meal of rice, vegetables, apple stuffing, and mushroom gravy.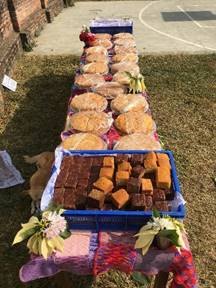 The Best of the Best
In December we had the children in each house vote on the one person who they felt showed exemplary character all year long, the one person whose existence in their house made their lives richer for it. The winners received exquisite quilts made by our friend and artist Silke Steuxner. Silke has made these for our children many years running, and they are very highly valued by our children.
Please visit her website www.silketouchquilting.com to learn more about her.

Tilak, Anita, Juna, and Bhumika were the chosen ones.

Four of the beautiful quilts sent by Silke this year.
Kamlari Reunion
(Indentured servant typically contracted out at the age of 7)
For several years a German filmmaker and our friend Susan Gluth had been making a documentary on Urmila Chaudhary, one of our first daughters when we opened our homes in the Dang district for rescued Kamlaris. Urmila has received quite a bit of notoriety over the years with a biographical book and subsequent book tours across Germany all the while keeping her work as President of the Freed Kamlari Association and her continued education foremost in her life.
Susan's film was accepted into the Kathmandu International Mountain Film Festival and had its Nepali premiere on December 10th. We housed and provided transportation for 30 former Kamlari for their time in Kathmandu. Susan's film won.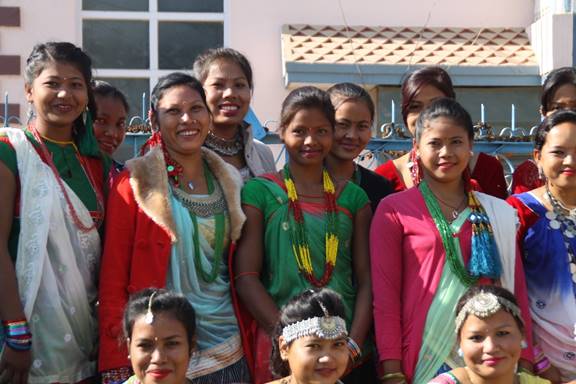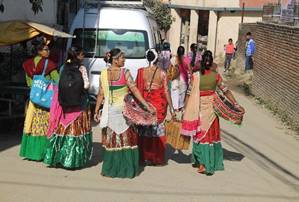 Before heading to the day long film premiere event
| | |
| --- | --- |
| | |
| Urmila | Waiting to leave for the festival |
Wearing their cultural (Tharu) dress these young women became as strong as they were beautiful. Around 70 of our daughters are former Kamlari, each a role model for me.
I was informed that when the film ended you could hear a pin drop, then from the back of the theater doors opened, and in these beautiful girls proudly marched to the stage and stood for a moment, surrounding Urmila, they then did Namaste and left to an emotional and thunderous applause. 
OLE'!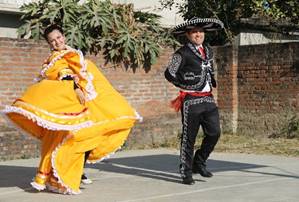 One Saturday we had a group of people from Mexico come to entertain us in a fun-filled, professionally done, and interactive ninety minutes. The kids learned a lot about Mexico. Sanjeep was one of the younger children trying to do the "Mexican Yell" taught by one of the troupe's males. It is deceptively difficult, but very entertaining when performed by small children.
One of the group let me know that they were opening a Mexican restaurant in Kathmandu; "times, they are a changing."
Joy to the World. Christmas Eve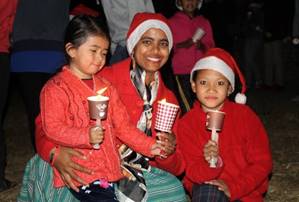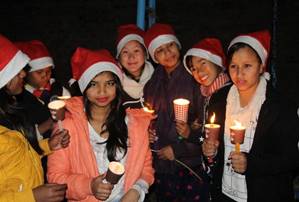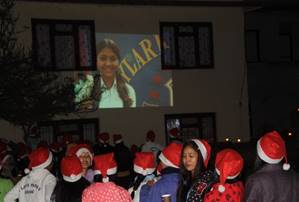 Christmas Eve, hot chocolate, photos spanning 11 years appearing like apparitions on the wall, carols half sung then sputtering to hums before a new one whose first line was well rehearsed, the joy of the moment and joy in anticipation of the many pleasant hours to follow that have become our Christmas Eve traditions.  A simple message from our kids to the world, fitting in this time of agonizing intolerance and xenophobia.    
And Christmas Day
| | |
| --- | --- |
| | |
| The younger girls in "Papa's House" dance | Manisha striking an elderly look before her dance |
| | |
| Urmila | Chiaya |
| | |
| Sanu and Pramila watching the show | Christmas begins with the Secret Santa exchange |
| | |
| Juna receiving her gift from Anisha | Dhiraj and Khusboo |
| | |
| Himal had drawn Hope's name | Sandip sharing his gift with Sunita |
Cinema Hall
The parents of one of our volunteers, Mackenzie Perras of Canada, wished to do something special for the children and thus a trip to the Cinema Hall was organized. Upon arrival the kids found that the complete theater sat in wait and we were offered our choice of one of seven films to watch. The children had a great time and will long remember the day. Thank you very much Mr. and Mrs. Perras for this gift and the deeper gift of Mackenzie who is fondly remembered by our children and staff. 
| | |
| --- | --- |
| | |
| Lining up for popcorn | Marching through Dhapasi to waiting buses |
Some of the NOH Outreach Programs

Mother Sister Home for Orphans where we cover 40% of their monthly cost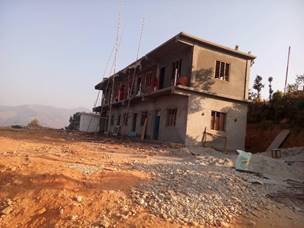 New school building funded by NOH in Ramechhap
We have been supporting the school and a hot lunch program for the teachers and students, and the English teachers' salaries for the past 7 years. On February 17th there will be a ceremony for the opening of the new school.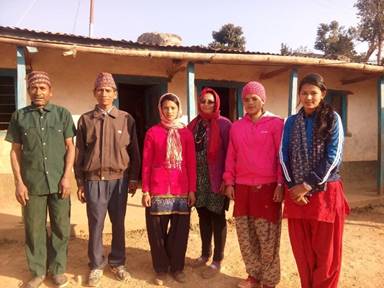 The principal and teachers at the Ramechhap School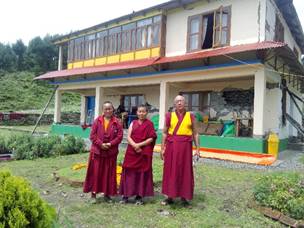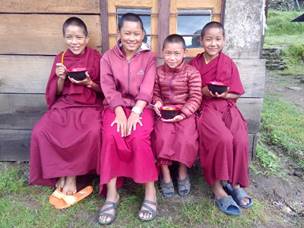 The Head Lama and assistants of the Bigu Monastery. Four of the 80 nuns at Bigu. 
NOH has had a many year commitment with funds and volunteers with this Monastery. Presently we are helping to support the rebuilding of their completely devastated campus.

The Home for the Blind in Gholadunga
NOH has provided salary, sometimes food, and education support for over two years.  The children shown here wearing new Christmas clothes. One of our sons Rabindra has made it his job to check on them twice a week and while so doing he spends hours helping with their homework, talking with the children, bringing them special treats and sharing life.

Easing the pain, cost of medications, and trying to give some fun and comfort for terminally ill children.
NOH continues to supply terminally ill children in the cancer ward at Kanti Hospital with fresh fruit and food treats twice a week.  Birthdays of the children are celebrated, complete with birthday cake, candles, presents, balloons and sweets. Support (generally for pain medications) is provided for poor families who cannot afford the medical costs.
These are some of the outreach programs that NOH is committed to serving. In our area there are many people being helped with the cost of medical, educational, shelter, and food issues. We are very proud of our support to so many, and are deeply grateful to the donors who make it possible.
***
In a recent essay the children were asked, "If God came to you and said you may ask anything that you wished to know the absolute truth about, what would you ask?" Below are some of their questions.
Young children
God, why did you put people only on earth?
God, where does our soul go when we die?
God, why can't I watch movies all the time?
God, how many hairs are on my head?
God, why are people jealous of one another?
God, where were you born?
Medium children
God, who created you?
God, why do children die?
God, my parents wanted a son, why did you make me a girl?
God, why is there discrimination?
God, why do poor people have so many more problems?
God, is there any real right and wrong?
God, are you in control of everything?
God, why did you let my parents give birth to me and then you took them from me?
God, why make women carry babies for 9 months, you could have made it for 1 day?
God, in whose image are we made? Some people are ugly and others beautiful.
God, when will I die?
God, why did you make Hell?
God, why do white people make problems for black people?
Older children
God, why don't you appear?
God, what are your plans for me?
God, why don't humans use more than 10% of their brain?
God, why are people never satisfied?
God, why did you make different planets?
God, why am I afraid to fall in love?
God, will we ever meet our beloved ones who have died?
God, will you give me back my mother who you took when I was still nursing?
God, why do rich people take poor people's children as servants?
God, why did you give animals smaller brains?
These essays opened some doors to the children's thoughts that have been warmly invaluable to me.
Passages
Number One:
| | |
| --- | --- |
| | |
| Rita in white at our Narti Home in late 2007 | Rita after rescue 2007 |
| | |
| --- | --- |
| | |
| Rita and Papa 2008 | Rita 2009 |
| | |
| Rita 2010 | Rita 2011 |
| | |
| Papa and Rita 2012 | Rita and Papa 2013 |
| | |
| Rita 2014 | Rita 2015 |
| | |
| Rita 2016 | Rita and Roshen Married 2017 |
I have said goodbye to a daughter. In 2007 NOH asked those involved in rescuing the Kamlari why all the girls were sold again after being rescued and they said it was because there were no shelters for them. So we opened two homes in the district where selling girls (from the age of seven) was most prevalent, Rita was in the first fifty girls that we took in. These girls will always be very special to me.
As sometimes happens when our children go back to their village during the month-long October holiday, Rita met a young man and fell in love. That was three years ago, Two years ago they found their affection had deepened, and this last year they had a religious ceremony to unite body and soul. Rita returned after the holiday without saying anything about this. Then one day after Christmas we sat down together and reminiscent from the scene in "Fiddler on The Roof" when the Papa says goodbye to his daughter, with the song "Little Bird" playing in my head, Rita told me that she was married and wished to return to her village and live with him. I gave her my blessing, happy for the joy in her eyes, but sad for the uphill battle, though steeped in love, that will become their life.
A few days later her newly minted husband arrived from an all-night bus ride and collected his young wife. He is a good boy and has been working hard to ready a home for them; Rita is a good girl. They are in love.
I slipped some money into her bag while she said her goodbyes. Then I walked them to the gate and swung it open to their future together. I gave Rita a hug; she was crying. Her husband struggled to lift Rita's much too large bag containing ten years of her life at Papa's House, and then walk awkwardly by its burden out onto the road where they will find an indifferent old bus to hurry them on board and ferry them, the God of busses willing, fourteen hours to a very poor village to scratch out a life together.
Godspeed Rita.
Number Two:
Hope will become four years old on April 30th. Every moment of her life has been a gift to me, every development the best yet and of late they are coming fast.
Once we have reached school in the mornings and said good bye to the children, Hope and I walk around while Anita takes care of the managers. Of late Hope will then say, "Now Papa, you go home and do your work and I will go to school." Then I say goodbye, the hug and kiss Hope recently replaced with a blown kiss and saying, "I love you," before she takes Anita's hand and walks to her classroom.  Hope has always insisted that Anita stay with her or in "Hope's Café" where Anita will help our cooks to prepare the tiffin and check on Hope a few times each hour. Then two weeks ago she told Anita that she can go home and return at tiffin time, and said, "I am a big girl now."
Then last week when the time came for her to go with Anita to the classroom and for her and I to say goodbye, Hope announced that we could leave, "Papa you go do your work and make my tiffin and Mama you go home and come back, I will walk myself to my classroom" in sight but some distance away. She insisted on this and then took her back pack, slipped it over her shoulders, gave us kisses and turned on her heel and walked away. We of course followed every step of her journey over this threshold into being a "big girl", she turned once about halfway and waved without breaking stride, and then again when she reached the classroom door. I remember a few years ago when Hope made her first solo walk, on Valentine's Day, of 20' to my excited arms and unbelieving eyes, her smile so large and her hug so strong, she knew what she had accomplished so unexpectedly. Now I watch her walk away alone to her classroom. These are the moments we bring up many times as our children become adults, perhaps even more so then to compensate for the loss of their youth.
Hope is more insistent upon walking unaided and accepting stumbles with a slightly weary "I am fine," as she gets up. She walks up and down stairs alone though with me near, and has been trying jumping from very small heights.
Some of her insights are remarkable and now she questions everything until she has been satisfied with your answer.
She likes to sit in front of me on the scooter where she will start it up and then be in charge of the horn and alerting me to things I should be aware of. For some reason I am occasionally startled to see how my little baby girl has grown up.

​Hope helping her mom during the Saraswati Puja February 1st
Number Three:
The third story of Passages is one for NOH. The consistent reader will remember Sanjeev Dahal who I introduced in the last update, along with our Director of the Chelsea Center Hillary and our new Director of Communications for Volunteer Nepal Shreya.
These three folks have been working hard with a dedication rarely seen, and the skills to ensure performance. Along with them Mrs. Pandey has been sharing the directorship of our Outreach Program and Volunteer Nepal, and Anita Mahato whose thoughts on issues pertaining to the children and other managers I have always highly valued, have in combination, made life very smooth.
I had planned to retire in the fall. I have for a few years wished to spend a few months each year in America with Hope and being able to get to know my grandchildren better than I do now, and while in Nepal to have the time away from the desk to be with the children, help where they need it, keep them thinking with writing essays, talking, continuing my Friday night suppers for five, cooking Saturday tiffins, maybe trying some teaching; anything and everything I can think of to do to encourage their self-reliance, instill them with confidence, help them to believe in themselves, and to see the beauty and good in everything, even what is on the surface bad.
Above all I wish to have the time with each child to ensure they feel the love of a parent as I was fortunate enough to have. In their recent essay a few have asked, "Why did you take my parents from me when I was small?" Some have stated that God must not care about them to have done that. This sense of loss and bewilderment touches me deeply, I wish that no child feel this and perhaps this is the reason for what I began some time ago.
We have evolved to the point where we are doing a lot of wonderful things for many communities and individuals, but in doing so I have had less time to be a dedicated Papa to our children, and I do not wish my life to be consumed by administration any longer.  Effective on January first Sanjeev Dahal has been handed the baton and is now the Director of Operations for Nepal Orphans Home. Anita Mahato is now the Director of Managers for NOH and sees to it that the children's needs and schedules are met and as she has for the last two years she will continue to dole out the funds necessary for the managers to buy the daily needs of the children and be keeper of the daily log for it.
What we have become makes a huge difference in the lives of several hundred individuals every day, but it has also led me astray from being the best Father, Papa and Grandfather that I could be. I will be available if ever called upon by Sanjeev, and will continue in my efforts to raise funds, raise good children, and write about the kids. With the talent that has been assembled I can say with conviction the very best days of Nepal Orphans Home, the Chelsea Center, our Outreach Programs and our Volunteer Program lay ahead, and I will return to the children.
How precious, kind and compassionate our children are. I have learned so much about the meaning of life, how to live a better life, and how to rise above the damage done by other troubled souls. These children, not by words, but by their way of life, are little prophets one and all who make it easy to believe that one's own life can bring remarkable change in a world that is abundantly lopsided in its equality.
All my best,
Papa