The new Skylark school year began in late April. It was met with unbridled enthusiasm. The children all having advanced were entering a new world of relative seniority and feeling themselves edging closer to a sense of self-determination typical of kids across the globe when a certain age is met. This idea of independence is enhanced in the western world as driver licenses are granted and the use of family cars literally delivers un-surveyed new territories to young folks. Here the transformation is more internalized; it consists of curious new feelings spoken among friends and some changes in habit. For the older girls it seems subduing; the often-frenetic schoolyard movements give way to sitting with friends and vaguely observing one's environment. The graduating class typically withdraws itself from the rest as they feel compelled by need or tradition to feel hyper-vigilant of their studies. They, from the first day of school, straddle the threshold between the present and their post-Skylark future.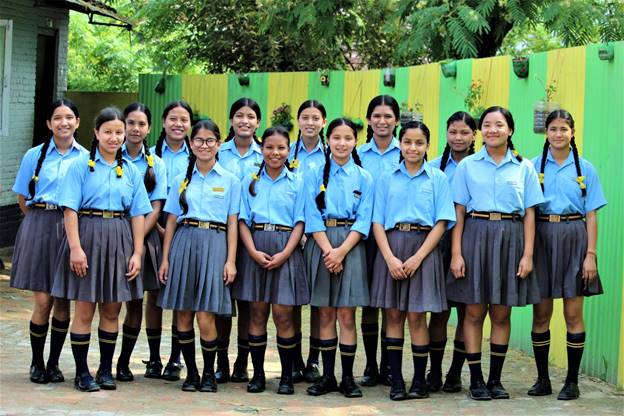 Our fourteen students who are in their last year of Skylark
*****
NOH has been providing care for a small orphanage near us for about ten years now. Three or four years ago one of our volunteers who spent her time at this orphanage began donating funds to us, targeted to the expanded care of this home. This year, in addition to her covering the lease of the home, Jennifer Hyett provided the funds to send their children to Skylark. Our girls' tailoring shop has made all the uniforms. They are a delightfully cute group of children who have seized this opportunity very appreciatively.

Sajan, the young man on the left, has been hired by Jennifer to bring the children to and from school. Sajan, who has CP, has been in this home for the last 12 years or so and is an excellent and protective big brother whom all the children adore.
*****
This year's Skylark graduating class has had a beautiful transition period into independence. This is largely due to the very careful planning by Prashanna, the CECC Director, and Sunita Pandey the Director of Papa's House. The graduates all found employment quickly or took on valuable (experiential) internships. One of our daughters, a good student, black belt holder, and all-around wonderful person, went back to her village where she has three sisters all married. Chiya decided to follow in their footsteps with a young man she met during Dashain two years ago.
Many well-planned workshops for our senior class last year enabled them to develop the confidence and presentation skills necessary for going out and seeking positions.
The graduates' days are planned and full, and they continue to expand their practical and knowledge-based skills. The girls and boys occupy our separate college transition houses where they have learned how to live independent of a manager by dividing tasks that serve the whole. They have learned that the smooth functioning of the group depends upon the timely execution of each individual's duties. We are very proud of them all. There is no doubt that what they have learned far surpasses what most college freshmen have a clue about; and this will help them to achieve happiness and success in life, and when college begins in July.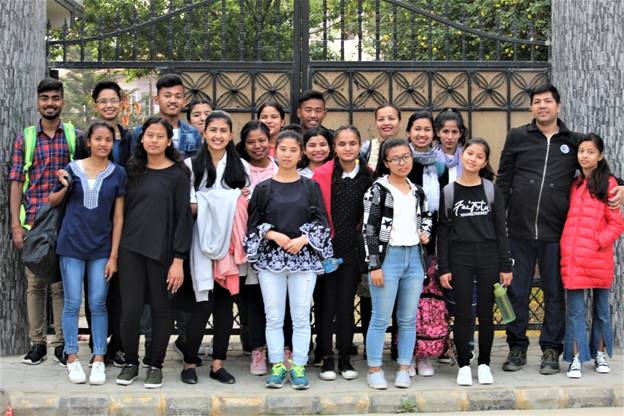 Seventeen of our eighteen grads along with Mrs. Pandey, her husband and daughter on their graduation trip to Pokhara.
*****
We hired two of our recent graduates, Bimala and Mina, to spend their afternoons at an orphanage we were requested to help. There are 10 small girls between the age of 5 and 8 living there. For one reason or another the care for these children had the ebb and flow of the impermanence of funds, so sometimes there was food, sometimes not; sometimes school, sometimes not; sometimes clean clothes, sometimes not.
The lack of funds or a business plan for opening an orphanage never seems a consideration for many homes and the children pay the price. When alerted, the government agencies refrain is, "Are they better off here or on the street?" This is of course shameful. But like with the home mentioned earlier that we have supported for about ten or more years, NOH cannot turn its back on the children, regardless of the confounding existence of the home's management.
Last week I visited this new home during the hours that Mina and Bimala were present. I found 10 of the most adorable children, their lot in life immensely improved by our providing their food and afternoon childcare. Mina and Bimala are fun and intelligent girls who help with homework and basic mentoring, and have provided an oasis for these girls' lives, allowing them to sleep with bellies full of nutritious food and to dream childhood dreams undisturbed by the dubious nature of their management.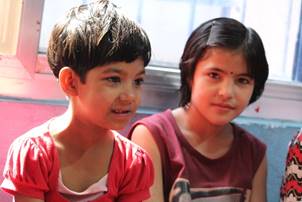 In April of 2020 NOH will have 14 beds available for new children as this year's 14 graduates move into the college house. I wish we had room for more than that. It would be nice to see these ten children under our superlative care though previous discussions have centered around our bringing younger girls who have been sold in the continued tradition of Kamlari (indentured servitude). We will soon make the difficult choice. Meanwhile we will make sure these children are well fed, educated, and hopeful.
*****
Srijana and Anupa are beginning their college days with gusto. In addition to learning teaching skills at the Chelsea Center they have also developed a new IT Club with their older brother Ashok as the club advisor. The club meets weekly to explore online tutorials and certificate courses, and to work on their website. Each member of the club has Information Technology as their college major. Both of these girls have six years of computer education through the Chelsea Education and Community Center from our top-notch instructors.
In addition to this, Srijana and Anupa go to our Kanti Children's Hospital outreach program every afternoon to provide the children in the cancer ward a pleasant reprieve from the slow drip of chemo and uncertain futures by introducing art projects, games, or simple one-on-one conversation.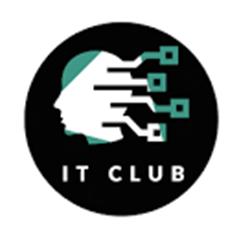 Anupa on the left and Srijana with their newly designed logo
*****
Another one of our children who makes his life happen is Chham. Chham was among those in the first home we took over in 2005. He was perhaps eight years old then and exhibited a remarkable energy and desire for helping.  He was a "big" brother to his smaller siblings and even some older than him. He was a very quiet boy who knew his environment well--his expression always a slight smile with curious, yearning eyes.
Chham graduated with a degree in social work two years ago. Before graduating, he decided that the best he can do in social work is to be independent and simply do it. He has worked hard all his life and saved his money.  After the earthquake, Chham managed to rebuild a small school and his family's home in his remote mountain village; he did so with his own labor and that of village people he organized, his savings, and money gifted to him for the cause.
Chham is the essence of the famous Gorkha warrior which consist solely of his caste, Gurung.
In college Chham always had a side gig, or two, or three. He sold light bulbs door to door, vegetables on the street with a pushcart, then he decided to furnish pushcart sellers with vegetables. He has a keen eye for how success can be achieved by hard work and thinking how to do better, how to develop a niche that others have not seen missing.
Presently Chham is the owner of Four Brothers Trekking. He started the business three years ago and managed his three brothers into it. Chham has received his license from the government in high-altitude trekking...a major accomplishment. The brothers are all hardworking, honest Gurung men whose backyard is the Himalayas; they have always worked as porters. Their website is most impressive; please go to www.fourbrotherstrek.com to learn more. Chham has recently put money down on a jeep to take trekkers to remote areas. He is a young man on a mission.
We are proud of every one of our children. The success of some of our older children can be attributed to the support of NOH by our wonderful family of donors. And the opportunities that are available for all our children, especially educationally, are made entirely possible by you.

Chham in early 2005, we were then taking over the home he was in...and in February 2019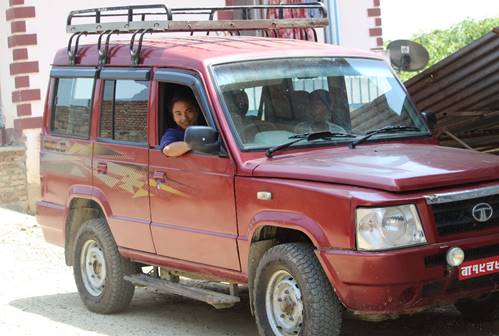 A very proud Chham and his new 20-year-old jeep
*****
Our new brother and sister, Saroub and Renukha have settled in well. They are smart kids, but their academic education just begins. Renukha had less classroom time than Saroub whose own experience with school was very limited. However, they love school and seem to be quick learners. They joined class three together.  This is an all English school, but their teachers are sensitive to that and our kids are helping them a lot. This week the children have their mid-term exams which make even the best of students nervous; but when asked if they have any tension, they offer sweet what-me-worry smiles in response.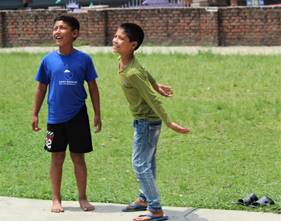 Sandip and Saroub shooting baskets and Renukha on a Saturday afternoon
*****
Taekwondo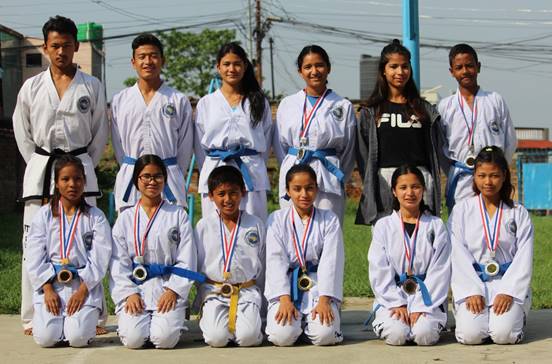 Back: Sujan, Hemantha, Mary, Muskan, Sumi, and Suman
Front: Sita, Juna, Sandip, Alisha, Anita, and Asha
These eleven uniformed children are the last remaining active Taekwondo students. Eighteen or so others have conflicts between the 5 a.m. lesson time and college which begins at 6 a.m. and have sadly dropped out. Many before those photographed here achieved black belt status.
In the last three competitions we have done well with Alisha winning twice in sparring and a second-place finish once. Suman has placed second once and third twice in sparring. Asha has a third place in sparring and a second place in forms. Anita and Sita both have third place finishes in sparring, and Muskan a second-place finish in sparring.
*****
Photo Club
Our newly formed photo club is led by Khusbu Singh.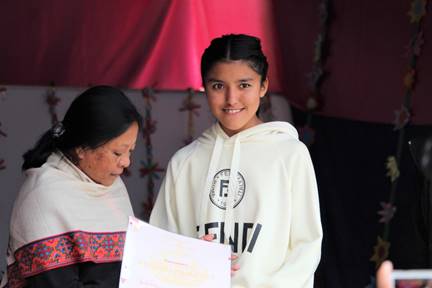 Khusbu shown here collecting an academic award from the Skylark Principal
She and a handful of others have been interested in photography ever since "Finding Neverland" came to us during Dashain of 2013. This was an NGO from Dubai that brought good small cameras as gifts and professional instructors for a two-week workshop ending in a public exhibition of the children's work. One club member, Selina, sent me some photos last night where she was playing around with imagery perspectives.
We have discussed the idea of the club doing a yearlong project that would capture their lives in the four seasons of Dhapasi. We will see how this goes, possibly putting it together both online and in book form when the year is over. And in this coming Dashain, Ted Seymour, an accomplished photographer and NOH Board Member, will again be present to lead photography workshops as he does yearly.
Meanwhile I leave you with a couple of Selina's Saturday photographic ideas.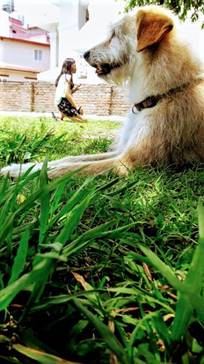 And below, a couple of nature shots from Gita: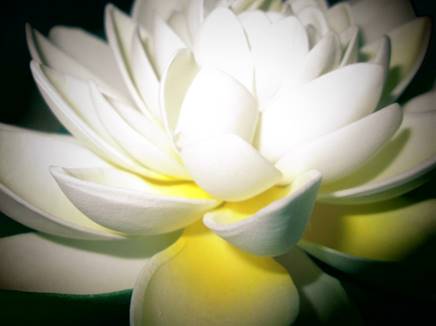 *****
By my observation there are three types of people who would risk death to climb Mount Everest. The mountain climbers who have their lives, dreams, and years in preparation for it by climbing 6000 to 8000 meter peaks across the globe in order to best position themselves to achieve success. Then there are the vain who are not willing to sacrifice their time and energy in preparation and who think they can buy their way to the top while risking others' lives for their quest, lacking even the passion to call it Quixotic. And finally, the Sherpa, super humans born to the mountain who hold it in extreme reverence, who worship it as their Mother. Given educational opportunities for their children or other gainful employment, the Sherpa would prefer to live in peaceful concert with Sagarmatha in her shadow.
The climb to the summit is nightmarishly treacherous. The real climbers know this, the Sherpas know this, and the vain soon learn it. Though some have been removed, the mountain is strewn with over 300 bodies, frozen to this day in the position of their death, many on the path to the summit, that must be stepped over.
Among the dead are many Sherpas who have given up their lives to help their clients; many are highly skilled climbers caught in unexpected weather. Many, including around thirty Sherpas, have been swept away in avalanches, one in 2014 and another during the 2015 earthquake. And many are the vain who despite every heroic effort of their Sherpas to sometimes literally short rope them to the top, become insubordinate, reckless, sick, or disastrously confused in the death zone, imperiling many, especially the Sherpas, whose sense of honor compels them to extraordinary effort and often the ultimate sacrifice while trying to protect them.
I would like to introduce you to a climber who does not fit neatly into any of the above descriptions. Nisha Bhote is the 20-year-old eldest daughter with four sisters and a younger brother. Her father struggles as a Sherpa for teams ascending Mount Everest. He began as a porter when a young man, but gradually worked his way up.
Nisha would listen to the stories of her father and other Sherpas of the good days and bad days of climbing Everest in advance to set all the ropes and ladders, and then guiding westerners to the summit. She was quietly fascinated by them and a seed of yearning was planted early on. But life for the family in their remote and very poor village was a constant struggle. The local school was in disarray and qualified teachers nonexistent. Nisha's father wanted more for his children than he could give and worried about their futures. Finally, he managed to send Nisha to Kathmandu to live with an aunt and attend Skylark English School here in Dhapasi. But the spell of the mountains never left her, knowledge that she kept to herself as she knew her family's finances would never support her interest.
For two years Nisha dreamed of climbing Mount Everest and with the passage of time she found the dream overtaking her daily thoughts, interrupting her ability to concentrate in college. It was becoming an obsession building pressure within her until one day she confronted her father and shared what was in her heart. Her father is a calm, quiet, and methodical man. He listened gently to the outpouring of his daughter's heart. Then he answered that she is his first daughter and together they would find a way to make her dream come true.
They found little support or understanding for Nisha's desire; the community saw it as self-indulgent. This did not surprise Nisha but caused her sadness and to further wrestle with the guilt she already felt over becoming a burden to her father and her family. The Sherpa community views climbing Mount Everest as something they must do to survive; they are the guardians of the mountain and of those who find it sport, but their respect for Sagarmatha gives little room to understand a young Sherpa girl's desire. But despite this, her father defended his daughter's ambition and training began.
For lack of money the training was limited to the conditioning Nisha could do on her own, then technical training by her father and his friends, and finally she was outfitted with the discards of western climbers. She went to Lobuche (20,161 ft.) for strength and acclimation training. She did one other more technical peak just a short while before beginning the 10-day trek to the Everest Base Camp at over 17,000 ft.
Nisha was allowed to join a small expedition guided by a friend of her father. Her father was a guide in a larger expedition at the same time and they would see one another in Base Camp.
Base Camp is where acclimation begins; it is for some a slow process and will involve round trips to Camp One (20,000 ft.) two or three times and then to Camp Two (21,000 ft) one time before leaving BC for good and settling at Camp One.
Base Camp to Camp One passes under the Icefall. This is a horror chamber filled with rumbling from below the surface, thunderous explosions of ice cracking and falling, and with sudden gusts of very strong wind. Ice is frozen in a wave's curl over a path filled with numerous, often hidden crevasses. This area is best passed through before dawn when the temperatures are the coldest. Some of the crevasses are bridged with an aluminum ladder with loose ropes on each side, the distance across up to 16 ft., the distance down thousands of feet. You are wearing thick boots with crampons to grab the ice, but here they must try and straddle the distance between ladder rungs. You pass over one at a time, knowing the slightest misstep ends your life.
Camp One is called the Valley of Silence. You lay in your tent hearing the moans of crevasses opening and closing beneath the surface and the pounding headaches cause sleepless nights when your determination to go on is severely tested.
Camp Two is at 21,000 ft., reached after seemingly endless slow walking. You set up camp on a rocky flat under a 4000 ft. sheer ice wall known as the Lhotse Wall. You are exhausted and the temptation is to rest, but the determined will walk around breathing deep, saturating the body with more oxygen. This night was the second in which Nisha could not sleep or eat, and in the dawning light she would have to climb the Lhotse Wall to Camp Three.
"We walked a little way to the Wall; it was a slow walk and hard, but warmed us up. At the Wall there are many ropes dangling down, you choose carefully, apply your carabiners, and climb. After maybe 90 minutes there is an Ice Bulge that is more than vertical that you must climb over. You push deep into the ice with your crampons and ice ax, breathe deep, one slow step after another, staying aware and focused, but not thinking of anything but each step. Finally, we reached camp. This night I used oxygen for about 5 hours, the altitude is around 24,000'. I slept deeply.

"Camp Three was at around 25,000ft. This is a dangerous, small plateau on the rock face. If you must leave your tent at night you must be fully dressed and secured to the ropes. This is a narrow platform. I am so tired. We leave in a few hours for Camp Four.

"Once under way we traversed the wall to a rocky section, frozen monoliths and a tangle of ropes with many crevasses--some narrow enough to step over, some wider to jump over--but I am short, and my legs have lost their jump. Others have the ladders over, that must be crossed one slow fitted step at a time with only a loose rope in each hand for balance. Once past this we faced another wall to traverse, this is very steep but not too high. Past this we see Camp Four. This is in the Death Zone, 26,000 ft. We camp. We are practically in space here. Everyone is lost in their own thoughts. The wind howls; fear is in everyone's eyes. I try to stay hydrated and I nibble on some energy bars as darkness begins to fall bringing with it severe cold and haunting winds. In about six hours we will prepare for our summit attempt. We lie still in our tents and try to rest.

"I heard my guide calling me. Suddenly it was time to begin. I left the tent and the night sky was clear. It looked like we were in the Milky Way galaxy, billions of stars softly twinkling in a white vapor-like sea. The winds at that time were coming in strong gusts, then stopping. I looked ahead and could see a line of flickering head lamps worming its way higher and it suddenly filled me with excitement. We climb and climb. It is terrifying in the darkness, and it is so cold that the crampons barely cut into the ice. Some have stopped climbing and you must unhitch from the rope to go around them, and soon others are descending having reached their limit of endurance, they unhitch and go around you and hitch again. I was feeling pretty good and my pace felt comfortable. I reached the balcony where one can take a short rest; we have climbed for six hours so far. I changed my oxygen bottle as the first thin line of light seemed drawn onto the curvature of the horizon, I stood ready to go on, my feet were very cold, and I kicked my boots a few times in response. I climbed more and after rounding a corner and up a short ridge I came to the South Summit. We traversed across the summit and around another corner there lay the peak of Everest itself. My eyes began to tear. It was so close now just maybe 100 meters, yet hours away as the most daunting climb is yet to come. Everest has done its best to keep her summit from being reached thus far, but has saved its greatest gauntlet so near to success. The Knife Ridge is worse than anyone could ever prepare you for. It is very steep and barely wide enough to cross, 2 ft. at best. To each side is a freefall of about 3000 meters. Your feet are frozen, the optimism you moments before felt has turned to sheer panic. You climb a step and breathe. You are at a crazy angle, the winds are blowing so hard, nothing but freefall to each side of you. Another step, your lungs are bursting, your heart wild in your chest and then you come to the remains of the Hillary Step, a 12-meter, but now more manageable, rock climb. It was mostly hard packed snow and ice and though strenuous it was a relief from the Knife Edge.

"Everest's peak is not visible now and I am losing my hope. We transverse this area painfully slowly. A few climbers are now descending, here there is room for them to pass by. They have reached the top. We climb yet another ridge and upon reaching it I realize …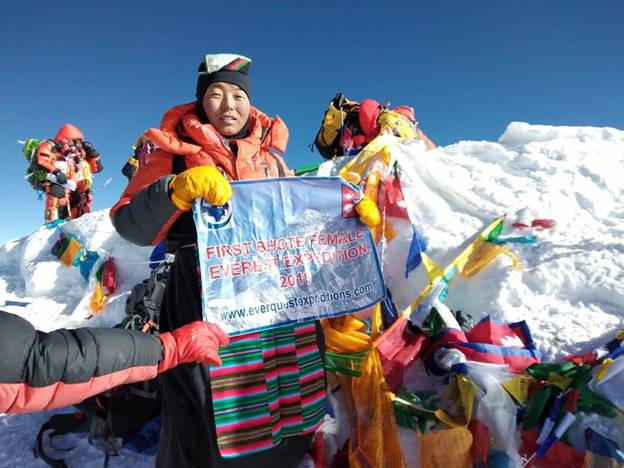 May 23rd, 2019
"I have made it. After a few moments at the top trying to take in the view through teary eyes I moved off the top and wrapped my culture dress around me, removed my oxygen mask and goggles and quickly posed for sake of my culture. And then we began our descent, back along the Knife Ridge, climbing down scarier than climbing up. Once off the Knife Ridge the path widens and teams ascending are painstakingly trudging by. I saw my father coming up and when he was near his eyes met mine; they were smiling. He turned me around and looked at my oxygen tank, my regulator was too low, and he increased it. We talked for a moment, then he patted my shoulders and continued on."
*****
Nisha Bhote is a quiet girl who does not see her accomplishment worthy of much talk. She is back now blending anonymously in the dusty streets of Dhapasi. During her time on Everest, eleven people gave up their lives attempting to summit. Nisha was kind enough to tell her story to me, and I have expressed her feelings as accurately as possible in the story above.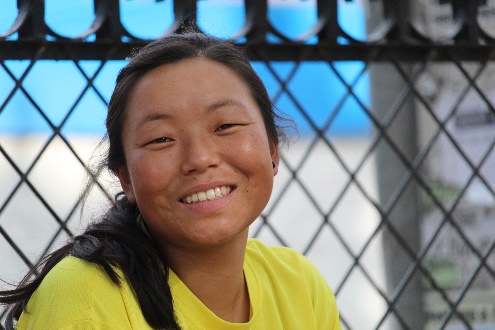 That is the update for June 2019.
Thank you all for your support.
Papa