I have not yet adjusted to saying 2015, seems like a pretty big number when I reflect back over my life as a teenager growing up in Maine in the 60's, which doesn't seem so long ago. As youth we look to the future, as we age we remember the past and in our middle years we become a bit wall-eyed. Memories to the mind are like distances to the crow; they are short flights.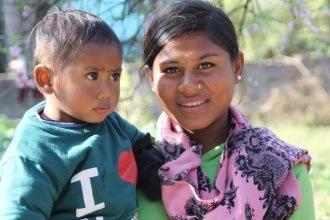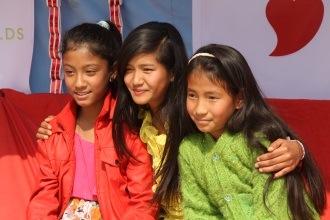 **********
In the last update I wrote about Gita and our finding that she indeed had a deficiency in her growth hormone that could be remedied with daily injections long into the foreseeable future. Within days of the update being posted on the website we had a few people write and ask how they could help.  This included a couple of doctors in Germany. One family from British Columbia however immediately wired enough money for a year's worth of treatment, following that with a letter of explanation. Julie and Stacy Owczarek have redefined acts of compassion.
Gita is a real trooper; she is always smiling and indeed maybe more with each nightly injection as she feels it is a magical elixir bringing her closer to renewed growth. I began the injections and then trained her sister Sapana to do them. Gita herself is willing, but her fingers are a bit short for the task.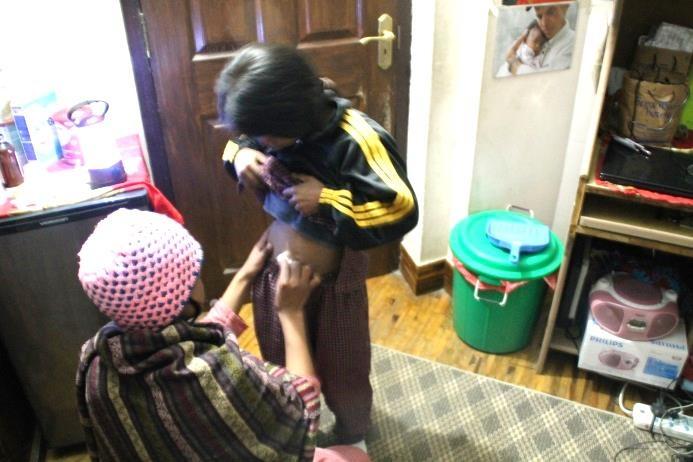 Above in the dim light of a solar bulb Sapana prepares to inject her sister. The medicine is on the right. The bottom center shows sisters Sarita on left with Gita and Sapana before school.
In order to achieve the best discount we bought a six month supply which filled the small refrigerator (the first purchased in the history of NOH) with her medicine. With our daily power supply being twelve hours, we only open the door once a day and hope for the best.
**********
The first three months of the year are packed with Nepali holidays:  January has the Maghi Festival and Saraswati Puja, February Valentine's Day, March Holi and now in April we celebrate the Nepali New Year, which is the ending and beginning of the new school year.
Maghi is the Tharu New Year; the Tharu ethnic group accounts for over half of our children. The day is celebrated by togetherness, dancing and eating finger-sized sweet potatoes boiled in very large pots. In the children's life before us, it marked the day that middlemen would come to their villages and make contracts with the guardians on all girls 7 years of age and older if somehow any older girls happened to be there, and then taking them away. Here the children nestle into the certainty of their security and the love of their family.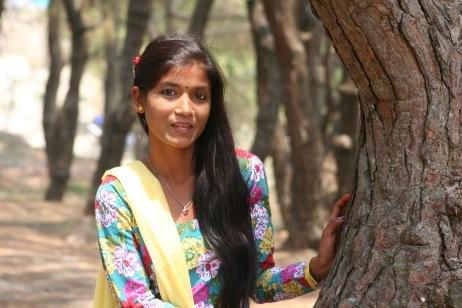 A few of our over 70 girls who have seen both sides of Maghi
**********
Saraswati Puja is a celebration in honor of the Goddess of Education Saraswati. The children all take this quite seriously. Anita Mahato and the girls in her home start the day before preparing all the foods associated with the occasion and rise hours before dawn on Saraswati Puja to bathe and finish setting up the shrine and plates of food to be offered on the shrine and eaten by all after they have offered their prayers at the altar.
| | |
| --- | --- |
| Anita Mahato | The altar is ready |
| Kausil | Samjhana |
| Gita and Saraswati | Hope mimicking what the others have done |
| Manisha | Apsara |
**********
Valentine's Day
Possible Worlds (Toronto NGO founded by NOH Board Member and Filmmaker Toni Thomson) sponsored the annual Valentine's Day celebration that keeps getting bigger and better.
This year we asked Sharmila Rai of Skylark School to handle all the decorations.  She has demonstrated in the past some pretty amazing artistic creations for other school events and has a love for doing it. Our Volunteer Nepal staff headed by Eileen Witham and Sunita Pandey organized all the voting on superlatives, made individual bags for over two hundred children, lined up a guest of honor, bought all the prizes and awards, organized the program start to finish and worked with our café staff to deliver a special lunch.
Sam's boys showed up early at school to help Sharmila prepare the venue and they stayed after to take it all down again and return equipment to its proper place. These guys never fail to be there when asked and always bring good cheer to the task.
Kabita Basnet and her sister Apsara served as the Masters of Ceremony

Apsara and Kabita as MC's

Kamal and Apsara voted "Most Likely to Succeed"

Kabita voted Skylark School Princess

Ramesh, Kabita and Chham performing
We were very pleased to have a surprise guest in one of Nepal's musical legends Mr. Raju Lama who graciously attended and brought the crowd to its feet when he entered and took the stage where he had everyone swaying and singing along to one of his more famous songs.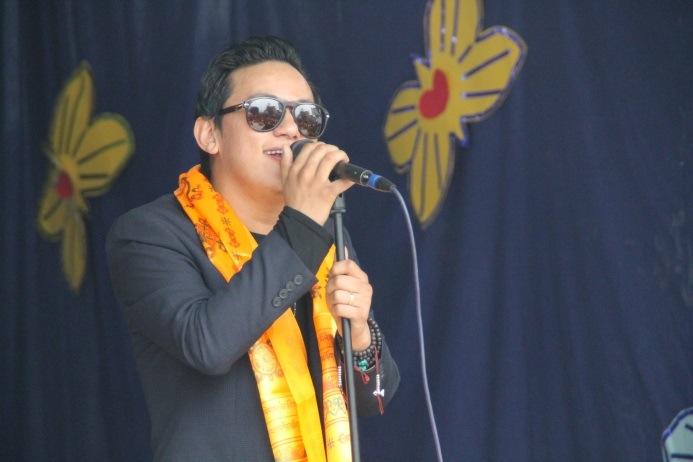 After finishing his song Mr. Lama was introduced and then called to the stage was Mr. Santosh Pant famed Nepali actor and social activist who is also a member of the Nepalese Board of Directors for Nepal Orphans Home. Mr. Lama wasted no time in letting everyone know how humbled he was to be in the presence of "the true legend here."
| | |
| --- | --- |
| Dhiraj voted favorite student by the teachers | CEC Math coach Anita voted best new teacher |
Among some of the other winners of the superlative voting were:
| | |
| --- | --- |
| Tilak for "Most Handsome" | Purna for "Friendliest Boy" |
| Ishwor for "Smartest Boy" | Himal and Anu Basnet "Would Face Danger for Another" |
| Rabindra and Puja for "Funniest" | Ram and Rupa "Most Likely to Be a Star" |
There were many musical and dance performances by children of both Skylark and NOH.
| | |
| --- | --- |
| | |
| Sarita, Chiya and Sushma | Muskan and the girls of Sanctuary House |
We are deeply grateful for the many years that Toni Thomson and Possible Worlds has supported the education of our children as well as ensuring a very memorable Valentine's Day event each year. This is one of the days that captures all the children's imagination and fills them with the happiest of memories.
The day was full of surprises and excitement and one very special and completely unexpected performance by our Hope Angel.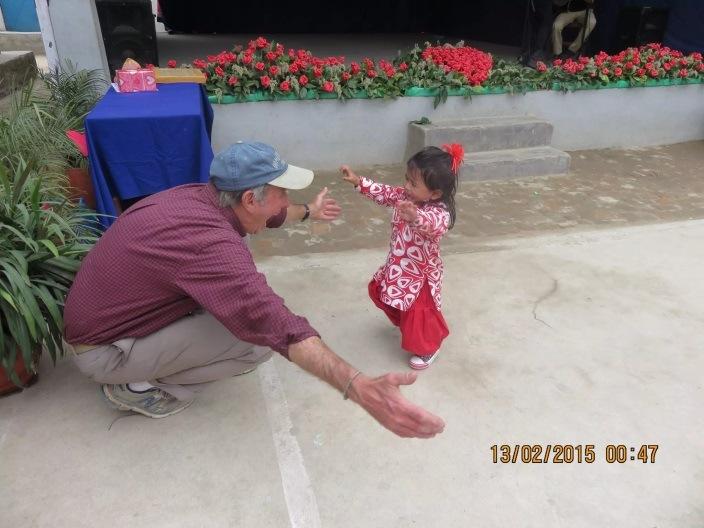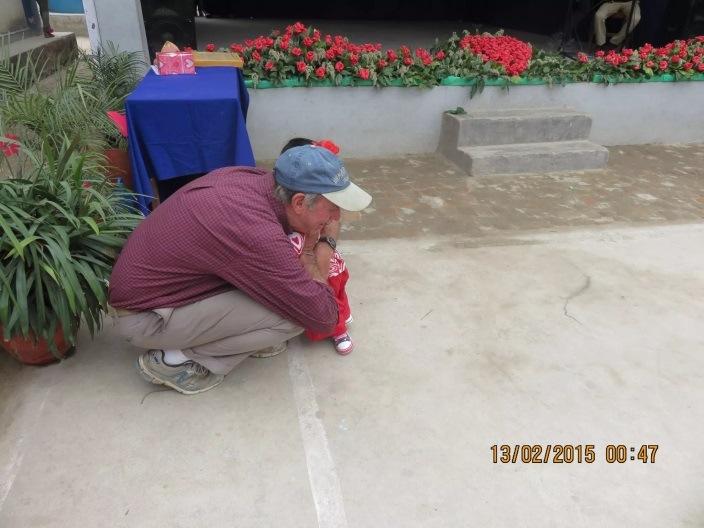 Hope and Anita were on one side in front of the stage and I on the other taking pictures. Suddenly Hope left Anita's arms and started walking towards me, her first solo walk. The distance about 20', I curbed the impulse to run out to meet her and with her eyes locked into mine willed her to make it all the way. These photos were caught by someone near and given to me the day after. Later we received many more perspectives as we found that a lot of eyes were on Hope and knew what was happening and all recorded it.
Hope had a busy day. Here below she is sitting in the photo booth with the first grandchild of NOH Sujan, who is the adorable son of our daughter Santi who has returned to the fold and become the cook of Sanctuary House.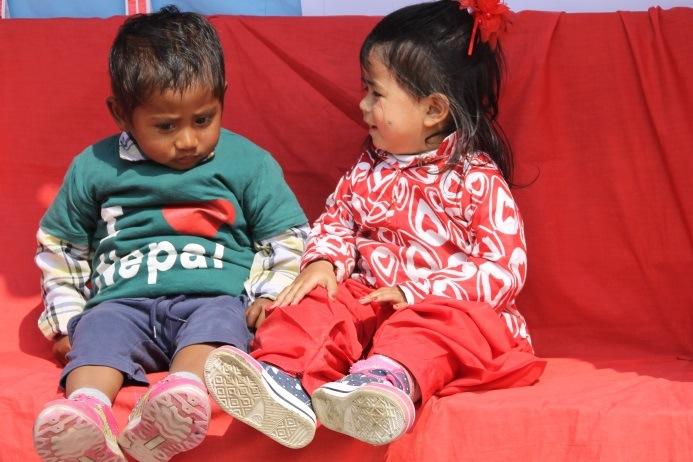 Random shots and some of Anita Mahato's girls who choreographed their own dance.
**********
Then Came Holi!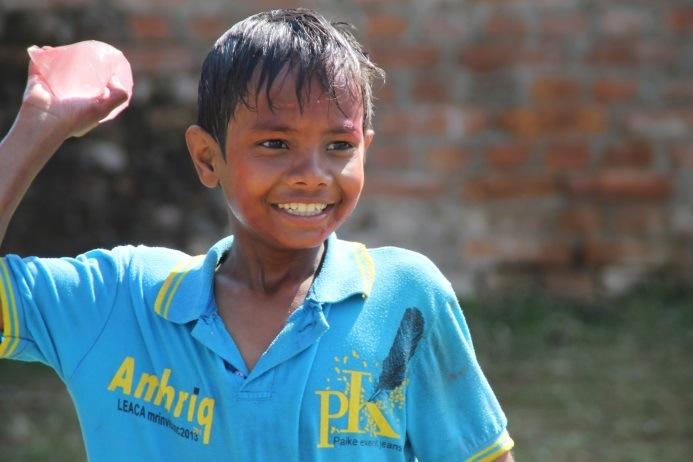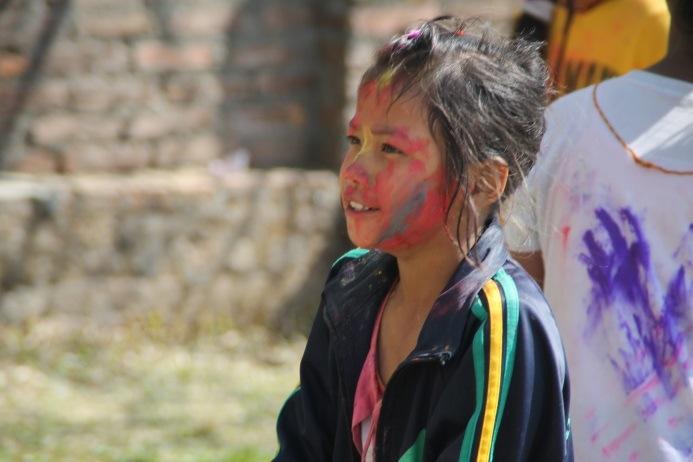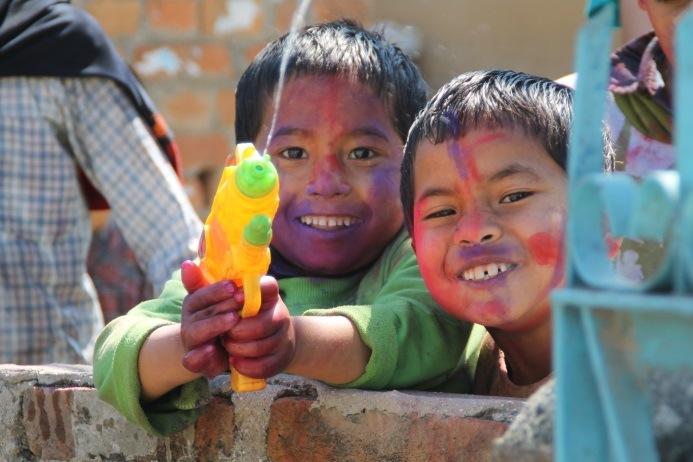 A day of water balloon fights and color which always attracts our more sporting volunteers.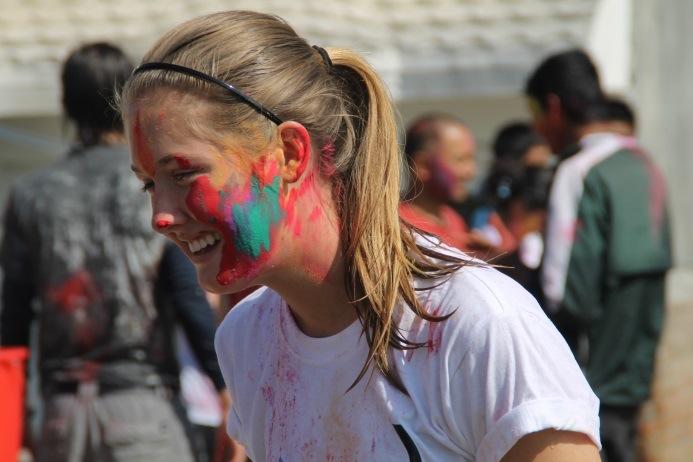 ​
**********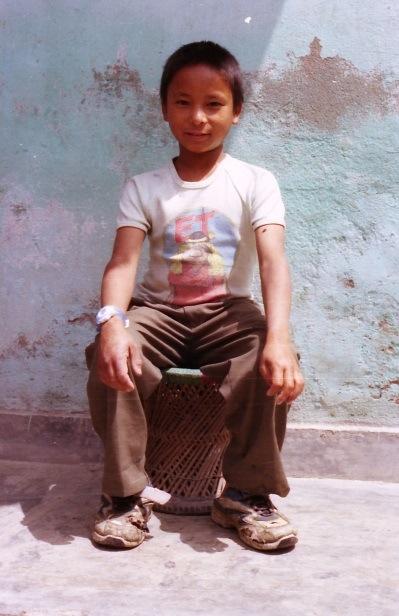 Chham Gurung is my second Nepali son; he was in the first orphanage that we rescued. In 2014 before starting class 12, Chham decided he wanted to get a room on his own so that he would have the freedom to work both before and after school to help his poor aunt and her children. He accepted no money from us other than his college fees. He found a little room nearby and would go to the wholesale vegetable market at 4:00 in the morning to find the freshest vegetables he could buy and deliver to his aunt to sell.  With each day's profits he was able to buy more and she sell more. She would sell out quickly because Chham picked only the freshest vegetables available. In the evenings, Chham became a door to door salesman for low energy light bulbs. During school vacations he would go back to his village and be a porter for European trekkers. When Portuguese Humanitarian Photographer of the Year winner Rui Pires came to NOH to film the children, he met Chham and saw himself in him and the two became close friends. Rui is taking Chham next month to film at two locations in India for a month's time. He will be teaching Chham the art of photographer's assistant. Just recently Chham, who has been doing porter's work for a couple of years, was selected by the Nepalese government as one of 750 people to be trained as Licensed Trekking and Mountain Guides out of 2500 registered guides who applied. Chham, who is one of the strongest people I know for any size man, passed the two week course with flying colors in time to return to college for his final exams.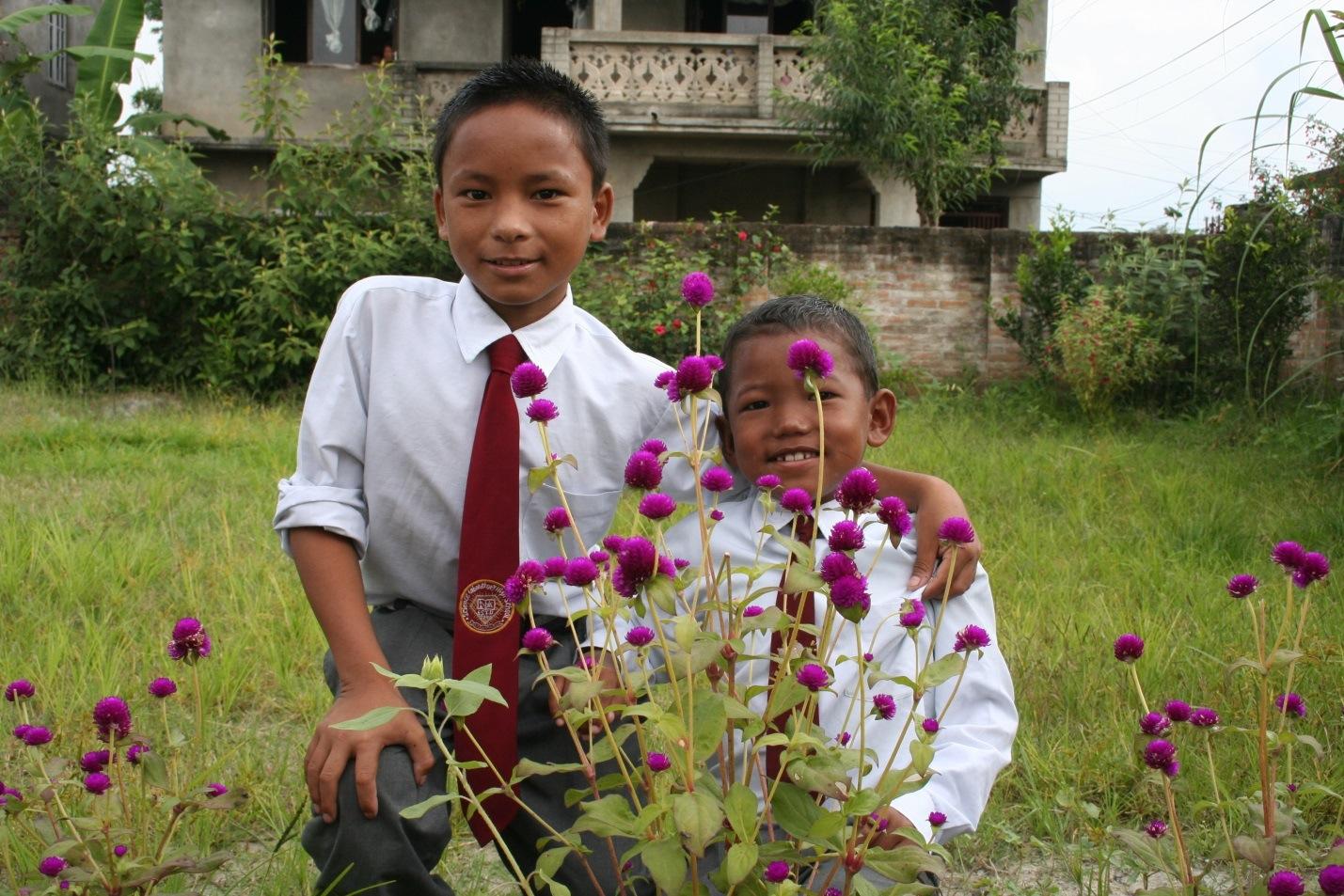 Chham has always watched out for little kids or those more vulnerable, or with few friends.
**********
Kabita Basnet
| | |
| --- | --- |
| Kabita in 2007 | Kabita February 2015 |
Kabita and her sister Apsara have from day one been very special to us all. Simply put, they are the best of the best. They are exceptionally close sisters with great admiration for each other's character and achievements. I have written about Apsara recently, how sick she was when she first came and the week I spent nursing her back to health really bonded us. Kabita, even so young then, was very protective of her sister and had guided her through a very difficult time when they were removed from their home and brought to us. At her age and in her role believing that she was the only one to really care about Apsara, she watched me nurturing her back to health and she felt trust.  In her innocence, she saw a guardian angel had come to insulate them from further harm. We have always been very close and it would be Kabita that I could turn to for the truth if ever there was a dispute.
Kabita has worked very hard at school, putting in longer hours than anyone else and managing a respectable grade from it. She has repeatedly been honored at school and at home for her character, and her house mates voted her to be their House Captain.
Kabita recently sat for her School Leaving Exam and now has three months of holiday. She and two other college-bound girls moved into the girls' college house to begin their transition to independence. Last week Kabita came to see me and announced that she felt that she should go and help her mother. Despite events of the past, she has always loved her and felt sorry for her. Her mother lives in a small room without plumbing; she sells items on the sidewalk to get by. Kabita told me that she would get a job and take care of her mother and then when school starts she would work and attend a college near her if we could help with the fees. Kabita is leaving behind a comfortable flat with some of her best friends, all expenses paid and opportunities to simply study or work with us in some capacity part time.  She is leaving what she has said has been a dream of a family and her sister whom she is so close to, because Kabita is the type who puts others first and feels that the right thing to do is the only thing to do.
On April 1st, a line about 150 people long queued up to give Kabita a blessing and hug goodbye. She wrote beautiful letters to several of us and handed them over before leaving.
As it is with all of our children we will always be there for her in both good times and bad.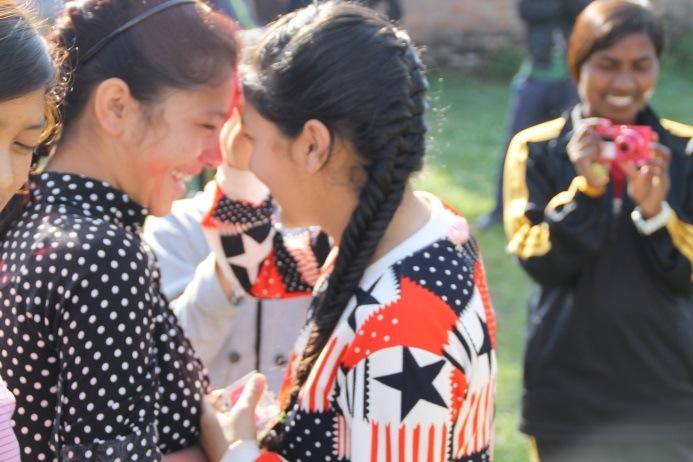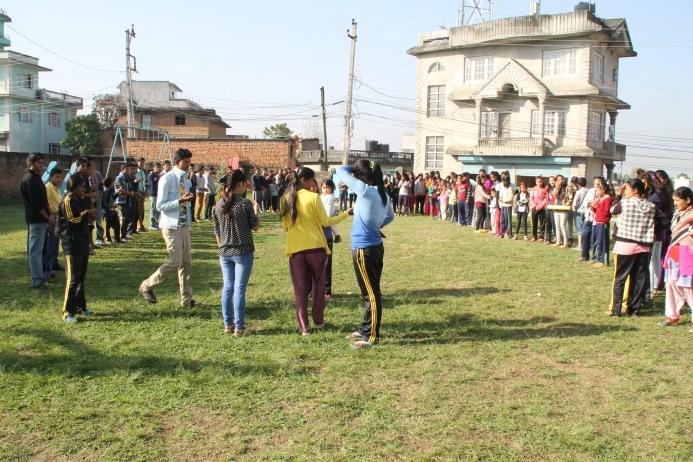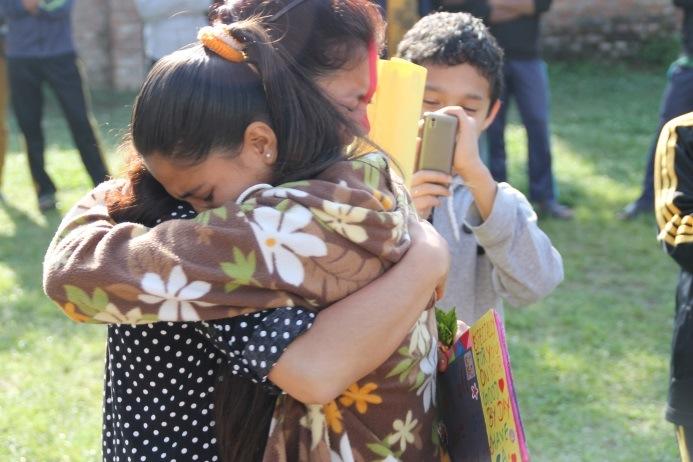 **********
Puja Sapkota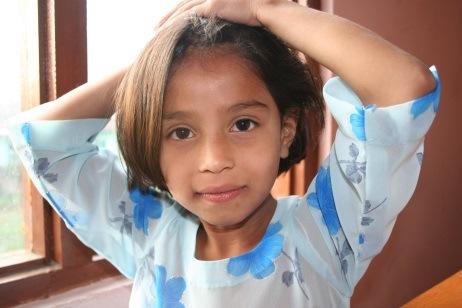 Puja has always been a confident and very funny little girl. I believe that a sharp humor illustrates a person's intelligence and I feel Puja is very intelligent, though she has preferred to hide it from evidence in more traditional ways such as school grades. Pupu, as I have always called her, has been steadfast from day one that her life needs balance and she should not give an inordinate amount of time to study. She has been consistently in the middle of the class almost perfectly so, as if she had her eye on that mark and would tap the brakes a little if she thought she would exceed it. This past year Pupu was in class nine and she began to gain height and recognition from the boys for the striking metamorphosis taking place. And something else started changing in class nine. Her first term results had her leaving the middle pack and start to gain ground, she finished 15th out of over forty.  She claimed it must be some sort of grading anomaly. Her second term she was 9th. "I don't know what is going on," she said with a dismissive shake of the head. In the third term she was voted Captain, a high honor by the faculty, for which only a few of our children were selected. I am watching as in a 5000 meter race, Pupu has pulled away from the middle pack with a couple of laps to go and has caught the end of the front pack whose runners turn their heads in disbelief to see her. Pupu smiles affably, but as they turn to resume their demanding pace they hear Pupu's determined stride letting them know that if they wish to win she will be bringing them through new thresholds. The last lap is already in the books and we will learn this coming Saturday where she finished, but it is clearly no anomaly.
Pupu was roommates with Kabita and Apsara and after Kabita left, the house voted Pupu Captain and representative at the children's council. And as you have read she was also voted the funniest girl in school; a year of accolades for a girl who has always had a well-rehearsed defense for wanting always to be right in the middle.
**********
"We have been working hard here on creating programs to continue to challenge our children academically and vocationally and some are falling into place this month, an exciting time for everyone with many exhilarating moments when something works and a few disappointments when they don't. I tend to learn more from my failures and constantly trying things has brought me a lot of education. In the end my children appreciate our attempts that fail just as much as our successes as they are illustrations of our love if not our wisdom."
I wrote the above in a letter to a friend at some point in January. We had three teaching programs that had been in planning for several months and were looking forward to their commencement in early January. Though I had thought that I had covered all the bases and the programs were sure to be resoundingly successful, I had in my optimism overlooked a potential fly in the ointment, the human element,  and all three programs met with somewhere between never getting off the ground to helpful in a totally different but unsustainable way.
A fourth program has more than made up for the other three and in hindsight I feel that had one or two of the other programs worked it would not have been as positive in its effect upon the children's learning as the fourth program alone.
Ted Seymour had come for a visit last fall and vowed to return. In late January he did, with the desire to set up the Khan Academy online math program for the children under our Chelsea Education Center. In a little over six weeks' time, Ted accomplished our setting up five sessions of this individualized program for 55 children. NOH, through grants and donations, bought an additional 22 laptops, battery and inverters for three dedicated Khan Academy rooms, and internet and routers for each. Ted interviewed and hired three young college math professors as coaches for the 11 children in each room.  They assist our own son Dhiraj who is very advanced in his knowledge of computers and math and Anita, our math tutor from Skylark. The Khan program is an amazing tool and the children have eagerly embraced it.
In addition to this, we have considered utilizing the Khan Code Academy in our computer science curriculum where we presently serve 38 children in three different levels of computer science from basic learning of the MS WORD Package to web design and more advanced program writing. We have two extraordinary young teachers for these three classes and our Computer Hardware class is now taught by the trouble shooter for our ISP. All these new folks are dedicated to teaching and have developed great relationships with the children.
Though Ted has gone back to California, he continues to monitor the program and has joined the NOH board of advisors. He is a very smart man who inspired the children with his calm, happy, fun approach to learning and we look forward to his return and advice in between visits.

Ted with his grateful students

Dhiraj, Ted, and Emily Gabbard, a mathematics whiz volunteer, who worked with Ted for the success of the program, and on the right one of our new teachers.​

Ted with one of many signs of thanks

Two of our coaches monitoring a class
Dhiraj doing an introduction to potential students and one of the new dedicated Khan rooms.
**********
Several years ago we had the pleasure of meeting John Lambert who was leading a group of students from a Saudi Arabian private school on a trekking tour of Nepal. This had been arranged by a wonderful 16 year old volunteer with Volunteer Nepal named Sally Cai who was a former student of the school. She contacted John who admired Sally very much and suggested that John's trekking group spend some time at NOH, and so he arranged to do just that. This year was the third year that the NOH children and ARAMCO children have spent a memorable day together learning about each others' culture and developing friendships. All the ARAMCO kids are special, but I would like to make mention of a few standouts.

The ARAMCO students in red t-shirts and their NOH partners
Two thirteen-year-old girls named Maya Dalia and Angela Hernandez did fundraisers before coming which netted $2250 USD. I have exchanged e-mails with these bright young girls who have lived in several countries in their young lives, and they reflect a maturity and understanding of the universe that is seldom found in college students. Their efforts were initiated and carried out alone; they illustrated a great understanding of business and marketing.
And a third student named Chiara Fitzgerald at 16 years of age has come twice with the school. On her own Chiara managed to collect clothes, games, school supplies, shoes, dolls, under garments and more, the total weighing over 300 kilos. She paid for the baggage fares herself from her after school and weekend work. The items brought are absolutely beautiful and so useful. But Chiara was not done yet; she also brought a gift for Hope which may have required a separate seat purchase it was so big.
My hat is off to these incredible kids and to their parents for having raised such generous and caring human beings. All three have pretty spectacular futures in store for them.
The relationship with ARAMCO has helped me to gain three very good friends:  Julie Brockish, who with her husband and children have finally returned to the Pacific Northwest where they are in their dream home in a beautiful area; Louis Spencer who retired after almost 30 years with ARAMCO as a teacher and who volunteered with us last October, a man whose company I enjoyed very much; and last John Lambert who like Louis retired the same year.
After the children were returned to Saudi Arabia with their school staff, John remained behind. He has been coming to Nepal for close to thirty years and has many friends here from his early days. One of the best known trekking and mountain guiding companies in Nepal was started by his Nepalese friends. John wanted to take a group of our boys exploring one day with his friend and one of the owners of this trekking company. He wanted to expose them to a potential livelihood and have a fun day of talk and seeing new sites.
They picked up Sam and the boys early in the morning and headed out to Bhaktapur. John shared his life story with the boys and had his friend do the same, 30 years of friendship. John has followed a unique path in his life from dropping out to playing professional basketball to exploring the world and finally settling in as a teacher for 30 years. John has a gift for listening to people and drawing them out. Our boys had a wonderful day and came back full of thought about John, their own futures and the infinite landscape that is their future and how not to be afraid to address it. In a nutshell, they came back eager and inspired.
We really appreciate people like John who go out of their way to bring kindness, wisdom and good times to our children.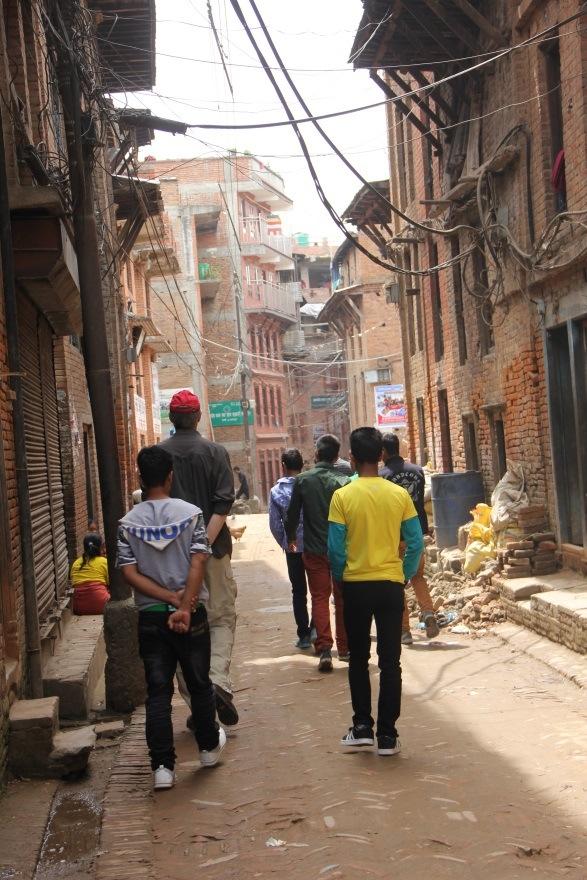 Learning about Nepali ancient history with John and his friend in Bhaktapur

John Lambert, center, and one of his lifelong Nepali friends on the right​
**********
Nepal Orphans Home welcomes its newest son Bimal, who comes from Dolpa, where he has been in the care of a longtime friend of Volunteer Nepal. Bimal is a very bright 13 year old with a confident command of English. He will be starting in class seven when we return to school on the 19th of April. He is very polite and well-mannered with a pretty good sense of humor. Space has been made available for him in the boys' home, after the opening of our college boys' flat.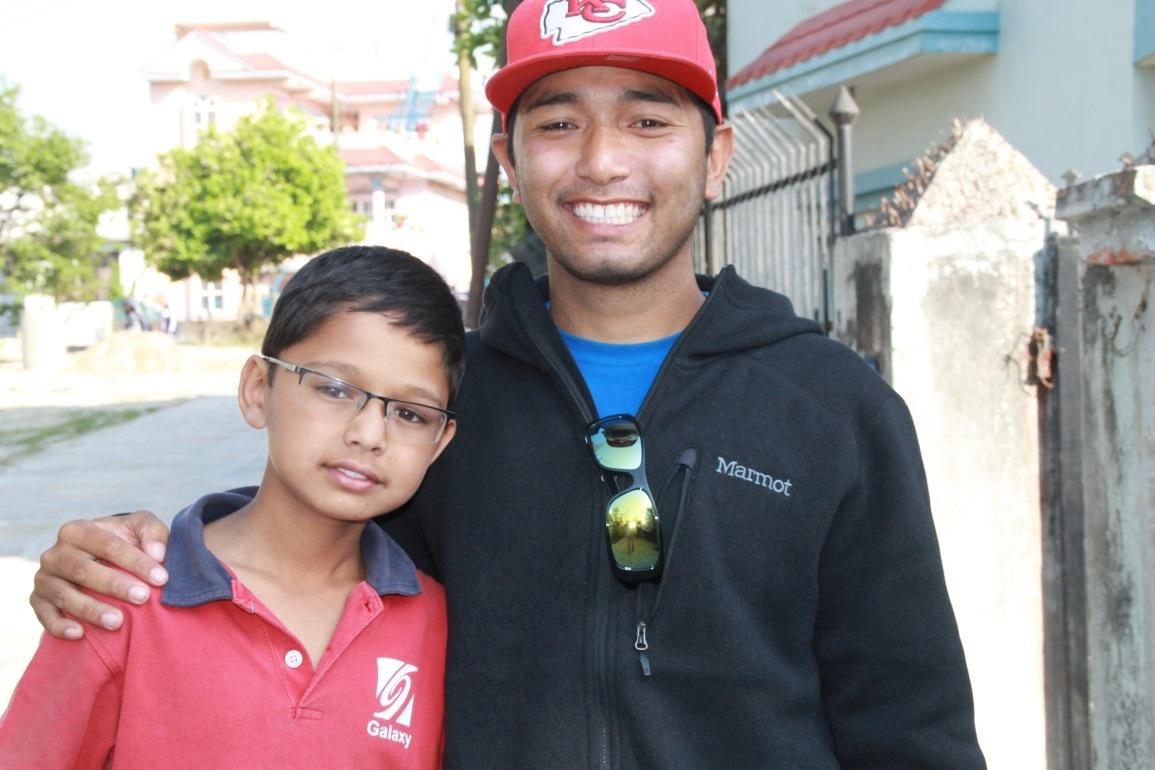 Bimal and Sam in front of the boys' house
**********
In closing this update I would like to share my grandchildren with you. In March I returned to Florida to surprise my youngest son Aaron on his 37th birthday and to reunite with my three beautiful grandchildren whom I had not seen in about four years. My son Aaron and his wife Jo are both in the Air Force where Jo is an RN and Aaron a CRNA. They are stationed in Destin on Florida's west coast. I met many of their colleagues and heard many flattering things about my son and daughter-in-law. I also went with my grandchildren to and from school and met some of their teachers.  I could not be more proud of my son and his family and regretted that my days there were so limited. So, without further ado, my grandchildren:

Ian

Sam

Nora Lynn

Grandpa feeling ever so relaxed
Making names out of dough to place on our Calzone and bake; my daughter in law Jo is an amazing mom and cook.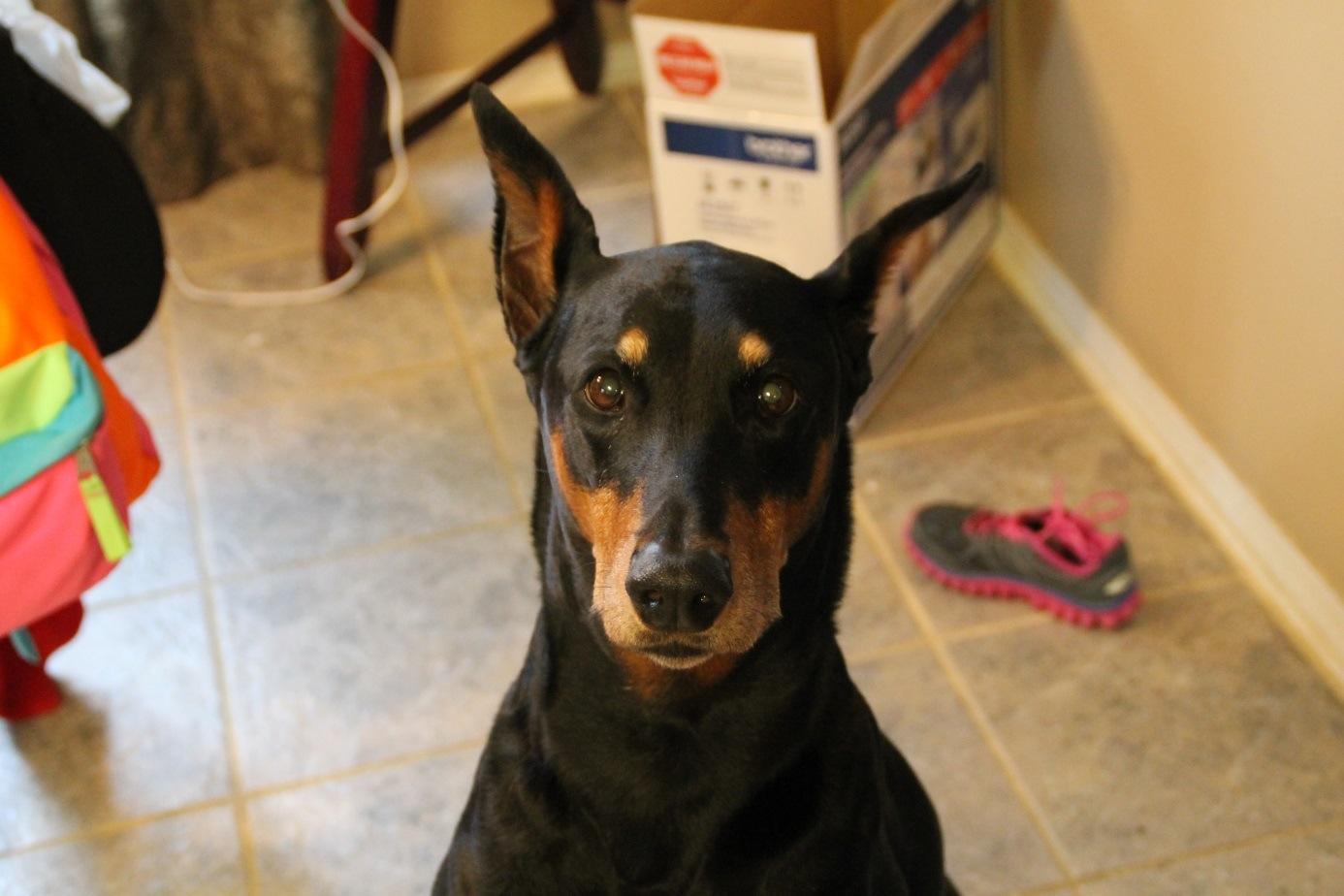 And my new best canine friend Ava, over 80 pounds of fierce protector of her family wrapped into the sweetest dispositioned dog I have met. I volunteered to babysit for her one day and thoroughly enjoyed a quiet tree-shaded backyard, a good book and Ava at my feet.
And, my beautiful 4th grandchild born a couple of weeks after I left on March 31st. Please meet: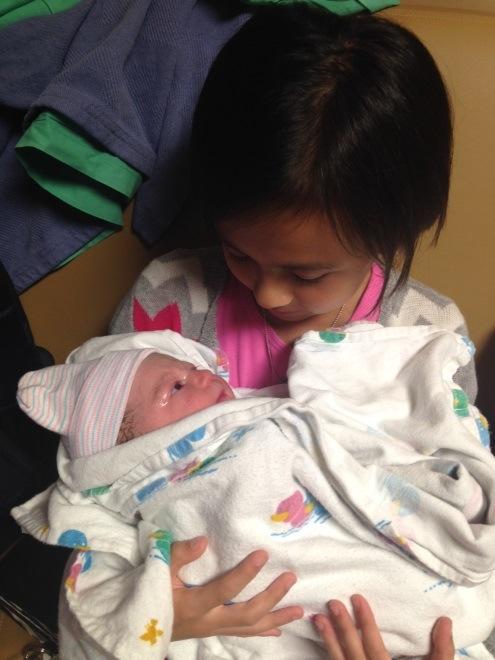 ​Paxtyn Francesca Hess
Thank you.
All my best,
Papa