Congratulations, Hillary!
On May 8, Hillary Bernhardt left us to return to school for her master's degree at Yale School of Management. Hillary served magnificently for close to 18 months as the Director of our Chelsea Education and Community Center.
A goodbye ceremony was attended at noon by well over 200 of the woman students of the CECC, which included speeches in her honor and dance performances. For the celebration after school, Hillary had hung photos of every child as parting gifts, and all our children and staff showed their love and appreciation right up until her taxi's arrival. Then in a fitting gesture, all the Chelsea teachers caravanned to the airport and ushered her to the door where security forced their final farewell. Hillary has accepted a position on the NOH Board of Directors, so her ideas shall continue specifically benefiting the CECC as well as NOH as a whole..
Carola Drosdeck Visits Dhapasi
Carola Drosdeck, Vice President of NOH, left Dhapasi after a six week stay. Carola is adored by all and accomplished many things in every department while here. In a goodbye ceremony held at the Chelsea Center and drawing a standing room only crowd, Prashanna, our new Director of the Chelsea Center, gave tribute to her energy, inspiration, and laughter brought to all, and the dozens of adopted administrative changes she suggested.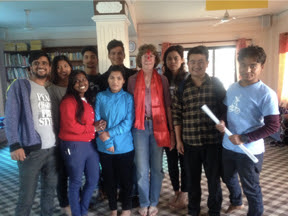 Papa's Visit to the Baby Orphanage
On Saturday, May 5, Sam and I visited the baby orphanage where NOH provides all the food, many of the supplies, and incentive pay for the staff to provide the best care possible to the babies. Presently they number around 24, more may have come since. The babies range in age from a few days to around two years, when they move to the toddler building.
My very favorite baby is 8-month-old Sarika. She is host to a number of medical issues. She is very tiny, rarely makes a sound, but never fails to offer an old soul smile and look searchingly into the eyes of anyone holding her. I always feel as if I have received the blessing of a Saint when I hold her. And maybe I have.
Happy Birthday, Hope Angel!
Hope Angel celebrated her 5th birthday on April 30th. She brings so much joy to everyone's life. Hope, like many of our children, possesses unique and beautiful qualities that all thoughtful people recognize and yearn for. These are natural in them, uncultivated, and offer good reason for those introspective among us to continue our contemplation of the soul's evolution. Meanwhile, I simply thank what ever brought her to me, out of the swirling winds and tides of cosmic events.
Help Expand Our Support
NOH continually helps those in need. However, it is never a question of simply providing money; along with that comes our understanding and involvement in the situation, to work with the person or people and move towards the solution as a team. I wish to share two new situations, one instigated by us, and the other in response to a request for help.
The first is a truly remarkable situation, an illustration of the immense power of love. It is a very rare example of goodness and determination, one which continues to unfold and thus limits my telling until I further plumb its depths.
This takes place in a small home in a remote mountain village, where school is an arduous two-hour walk, where jungles teem with predators, and where poverty never eases. Here, a father exudes virtues that humble the best among us.
The father is a math teacher. He has five daughters and a wife who has, for as long as the lives of the two youngest of the daughters know, suffered from depression, severe sleep apnea, as well as thyroid and blood pressure problems. Medicine, instead of a book or photo, covers her bedside table.
The father has raised his daughters, cared for his wife, and been a consistently compassionate and inspiring teacher, on a dismal salary for the past 24 years. He teaches in the government school, tutors after school for a little extra income, and spends his evenings gently urging his five daughters to read well-chosen books, to exercise their minds, to dream, and to make sure they never have to marry young, like most of the village girls do. Their house is a sanctuary, a gentle place imbued with scholarly thoughts. The girls have been made to believe that they will enjoy great success one day, to believe in themselves, and to see the future as rewarding as their imaginations allow.
They sustain themselves as much on knowledge as they do on food. There is little ever to eat; they save meager amounts of money only to have a new medical emergency, or to have the earthquake of 2015 destroy their tiny house. And each time, the father's determination and positive attitude brushes them all off, helps them to stand tall, and keep going.
I have spent time with the five girls; any words I might search for to describe them would be insufficient. Alina (13), Yamuna (17), Namuna (18), Kriti (21), and Shruti (23), are rare gems.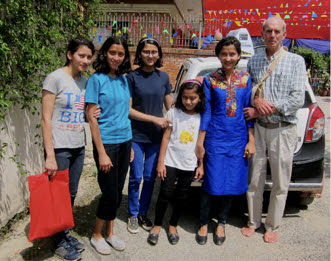 Kriti, Namuna, Yamuna, Alina, and Shruti
Presently they live together in Kathmandu in a single room. They must depend upon themselves. Shruti has managed to get her bachelor's in electrical engineering, she would like to study for her Master's, however the system they use to help each other doesn't allow for that right now. The older girls work to allow the others to attend school. Alina attends all the time, but once she is ready for college then she too will be part of the rotation. Eventually, they all will have completed their degrees. Meanwhile, they also help attend to the expensive care of their mother, and each of the girls has had, at one time or another, a medical issue of their own, some resulting in surgeries to pay for and recover from. The spirit and humor of these five girls, the love they feel for each other, for their parents, and for life itself, is intoxicating.
We have a plan to help them. A physician gave a dire prognosis to their mother. For years, her severe sleep apnea has been contributing to her overall decline in health. A prescribed machine to help her breathe and sleep at night costs the equivalent of their father's total salary for five months. We bought the machine, and the mother now sleeps through the night and has energy during the day. Her disposition has remarkably improved.
Next, we will have her examined by both a good internist and a psychiatrist at an excellent hospital with internationally trained staff. Then, after helping the mother be in the best health possible and allieviating the daughters and their father of this anxiety, we would like to find a way to simultaneously support the education of the girls.
Each of them possess a sharp, creative, inquisitive mind that will likely contribute to their chosen careers one day. Shruti has taken a teaching position at her college, where she teaches electrical systems design, but unfortunately, the job does not pay much. Kriti also works full time now, and Namuna works part time as she is still in school.
I will try to go to their village with them sometime soon to meet their father and mother. Their father is the antithesis of how most men here conduct themselves. His belief in his daughters, his love and loyalty to his wife, as well as his daughters' remarkable minds and spirits is a story that must be told. I am convinced that we can eliminate many of the burdens weighing upon this family, weight that would have broken most people. They have never asked for help, we were informed about them and took the initiative to learn more. 
 
*******
The second situation involves a 12-year-old boy names Ustav. Last year, when flying a kite, Ustav was electrocuted. He lost his right arm above the elbow as well as nine toes. He spent 90 days in the hospital. NOH helped with his medical expenses. His parents are poor sustenance farmers who live in a village, Ustav lives near Dhapasi with his aunt. We help him to attend Skylark School.
I have observed Ustav's demeanor for quite a while. He is always smiling. He is gentle and kind, quiet, but well liked. He loves art and has been learning to do everything with his left hand. I asked if he would like a prosthetic arm and he was speechless, searching my eyes and smiling, not sure what to say. I then researched the Jaipur Clinic in India which has garnered worldwide attention for the work they do. I wrote about Ustav and received a pleasant letter back, one full of compassion, from the "Founder and Chief Patron" a Mr. D.R.Mehta. He advised that work in affiliation with Stanford, and other Universities' Bio-Engineering departments, is in development of a functional arm for above elbow amputees, but it is perhaps a year away from being ready for recipients.
However, he said they would be able to outfit Ustav with a very real looking, nonfunctional arm and I conveyed this to Ustav. He had his heart set on being able to hold a pencil and better help himself, but his smile never diminished, and he said he would love to have this. So we are eagerly waiting for word back from the Jaipur Clinic with an appointment date.

Ustav at Skylark, taken on May 15th
*******
If anyone wishes to donate to either of these causes, please click here and indicate which cause in the comment section of the PayPal form. Or if you are donating by check, please write in the memo space.
NOH uses a long ago established fund, first created by donations for Hope Angel, to support many of our outreach projects. Any surplus money from any specific cause goes to "Hope's Fund" on which our outreach programs' daily operation depends.
There will be updates on both of these initiatives on a regular basis. Please have a look at the second issue of the children's magazine below for some delightful and informative reading.
Thank you very much! 
All my best,
Michael Hess (Papa)
Papa's House Magazine Issue #2 Is Out!
Twenty-threechildren and young adults at Papa's House contributed to our second issue of the Papa's House Magazine, which features stories they pitched, researched, edited, and wrote themselves. Many of them interviewed staff members, volunteers and others working at various placement organizations. They also took photos to accompany their articles. We hope you enjoy their labor of love!
Please click here or on the image below to start reading.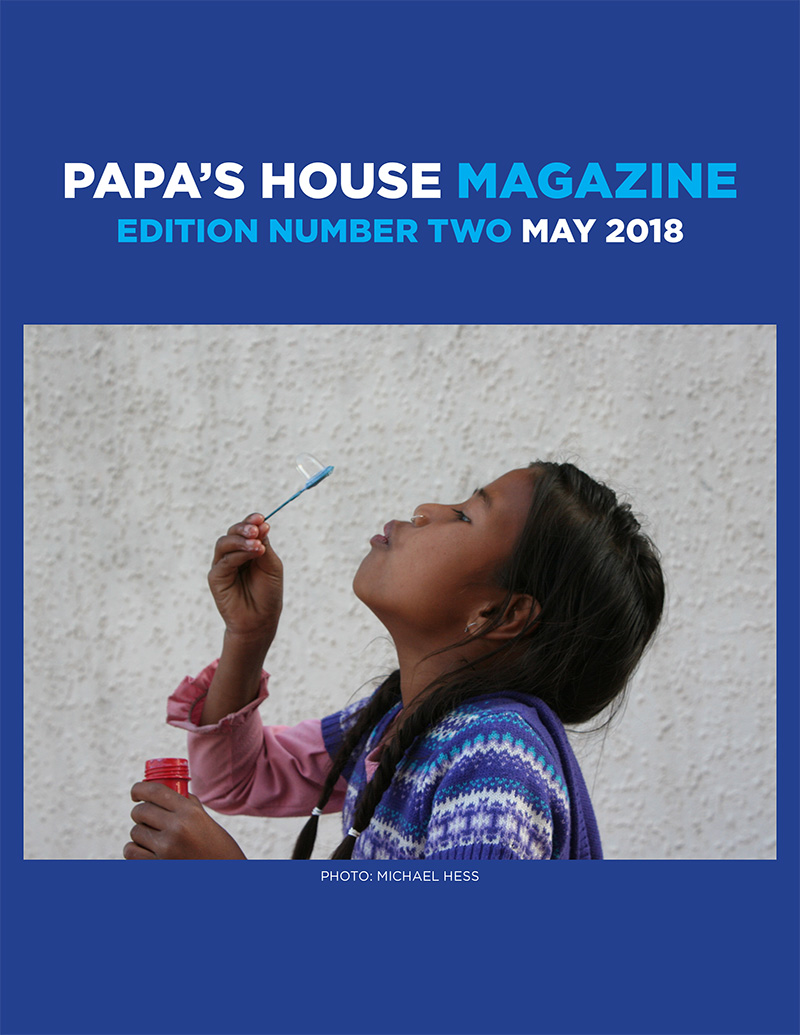 We'd love to hear your thoughts on this new format. Please share your feedback on our Facebook page here.