SOME OF THE FACES OF HOLI
March 16th commemorates the birth of my son Aaron and this year the prevailing of good over evil in Hindu scripture; known as Holi, this is a symphony of color and water. The play is robust and wet, the skin and hair requiring long periods of detailed scrubbing when it is over and the clothes fit thereafter only for another Holi. By lunch time a warm somnolent air has settled over the village, the children have bathed and are ravenous, they are wearing crisp colorful kurta sulwars, their hair fresh and sparkling light in the breeze, they spend the afternoon quietly talking, reading, doing homework and taking thoughts of their morning's play with them as they drift  into peaceful naps.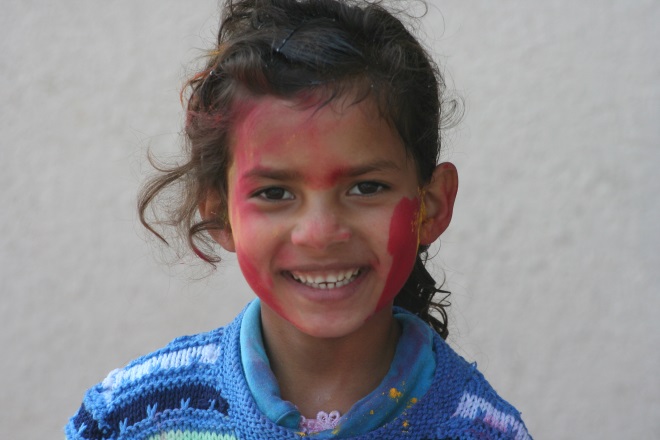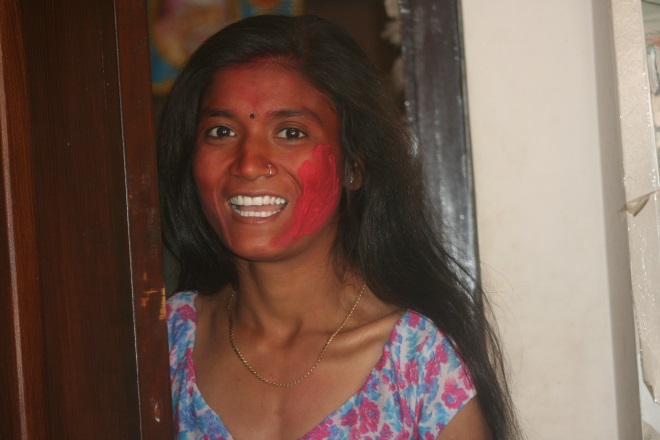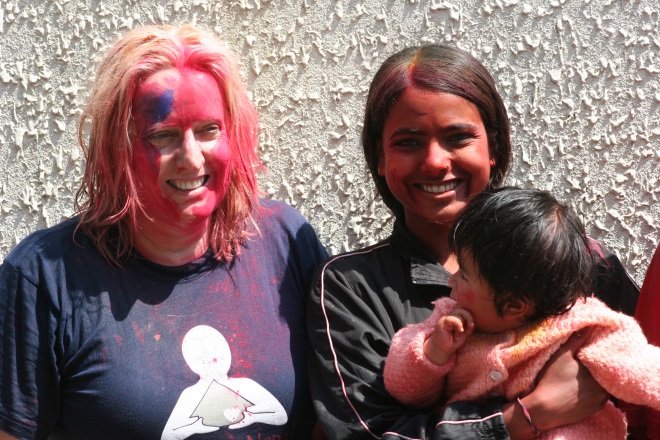 *******
This year we opened a transition house for 6 of our college girls. The house is a small cottage that we originally rented and used for an office, library, art room and guest quarters. The cottage is next to our main house and grounds. Of the six girls, Sushila, Rojina and Lila are sisters, Cila and Deepa are sisters and Yeshordha is everyone's friend.  They are responsible for taking care of themselves, living on a budget, maintaining good grades and walking to college and back on time. We have imposed no other restrictions. The girls are doing great; they are serious in their studies and tend to gravitate over to see Dawn Kumari at Papa's House at different times each day to see if they can help her. Dawn Kumari has been the mother figure for 5 of the girls for many years now and she too will pop into the cottage from time to time to visit.

Left to right: Yeshordha, Sushila, Rojina, Cila, Lila and Deepa in their kitchen
*******
NOH has had a very busy spring with many visitors. For the second year in a row we were blessed to have a visit by the Saudi ARAMCO School. The school sends a large group of children to Nepal each year to trek and experience a different culture.  This year they sent 22 boys and 5 girls between the ages of 13 and 17. Over the last two years I have had the great pleasure to work and become good friends with Julie Brockish and John Lambert who have spearheaded this program. Their dedication to detail in providing 27 young people with an experience of this magnitude in a country where plans and time schedules are a running joke has been extraordinary. This year the group leader (with Julie and John in support) was Catherine McLandress. Each year we try to come up with fresh ideas. Using age as a criterion, many of our girls were matched with boys; they were clearly shy at the calling out of names ceremony, but found their voice soon enough as they led their partners on a tour of Dhapasi, our homes and schools. After lunch we went to the "Monkey Temple" Swayembunath, a very large Buddhist stupa and community covering maybe 20 acres and home to as many monkeys as visitors and residents combined. The children of ARAMCO are very nice, courteous kids who showed careful attention to their partners and quiet respect everywhere they went. The parents of these children also did a small fundraiser in our behalf.  Julie brought with her a large collection of prize winning children's books and each of the children carried a duffle bag full of supplies for both NOH and the children of villages that their trek would be taking them through. We appreciate the time spent with us and the kindness of all. These are fun and memorable days for our children.

After meeting at Papa's House

Anita and her match at Swayembunath​

Bumikha and her match

Srijana, Ramesh and their partner
   
ARAMCO boys with our Khusbu and Mary behind

Kamana and her new friend

Sushmita and her young man

Sam and John Lambert
 

Julie Brockish, Tamara Chant, Yoav Deri
and Anita Mahato

Group shot at a small Stupa

Catherine McLandress, Papa and Hope
*******
Other visitors who have spent time with us this spring include our good friend from Israel. Yoav Deri who served as a volunteer a few years back and has remained a very active advocate for NOH and Volunteer Nepal. Yoav along with our board member Tamara Chant has managed to bring two of the directors of Latet, Israel's largest volunteer organization, here to see how we might join together in a model project in the village of Dhumrikaka where NOH/VN has been working for the past 5 years. This year he brought Nissim Bar-El for a ten day survey of our work.
| | |
| --- | --- |
| Tamara, a Smith grad, with a Smith prodigy | Chham and Nissim Bar-El crooning |
| Tamara with her friend Shoshana on right  | Yoav with his many admirers  |
*******
Six years ago we had a University of Minnesota Professor of Sociology and her assistant live with us for three weeks while studying the dynamics of our home. This spring Jennifer and Priti returned for a very fun reunion. They remembered all the children who were present then and marveled at their growth and mastery of English. Jennifer and her husband years ago started a small home in Nepal and spent much of their time there; they have a great managerial staff and support it from the states. Priti, a Nepalese native has since received her Master's in social work and has married. We had a delightful day together.

Priti, Jennifer, Kabita and Puja reminiscing 
*******
Glenn Detrick is another of our board members who spent a couple of weeks with us in April. Glenn gave NOH the funds to begin the Chelsea Education Center named after his daughter. During his time with us he taught many classes in life skill training with workshops covering topics such as the essential habits of successful people. He had the children doing research on topics they chose and presented before the others and Glenn led robust class discussions.

​Volunteer Nepal Director Michael T, Glenn, Anita, Hope and CEC supporter, Glenn's longtime friend and trekking partner Larry McNabb
Glenn had been consulting with Lauren Yanks, another board member who spends about 5 months a year working with a local college. Lauren is an instructor in the New York University system and has been with NOH for the past 4 years. Each Saturday, Lauren has been teaching a great class in public speaking to around 20 of our older children, and she shared her notes and classes with Glenn. NOH is truly blessed to have a board as involved as ours.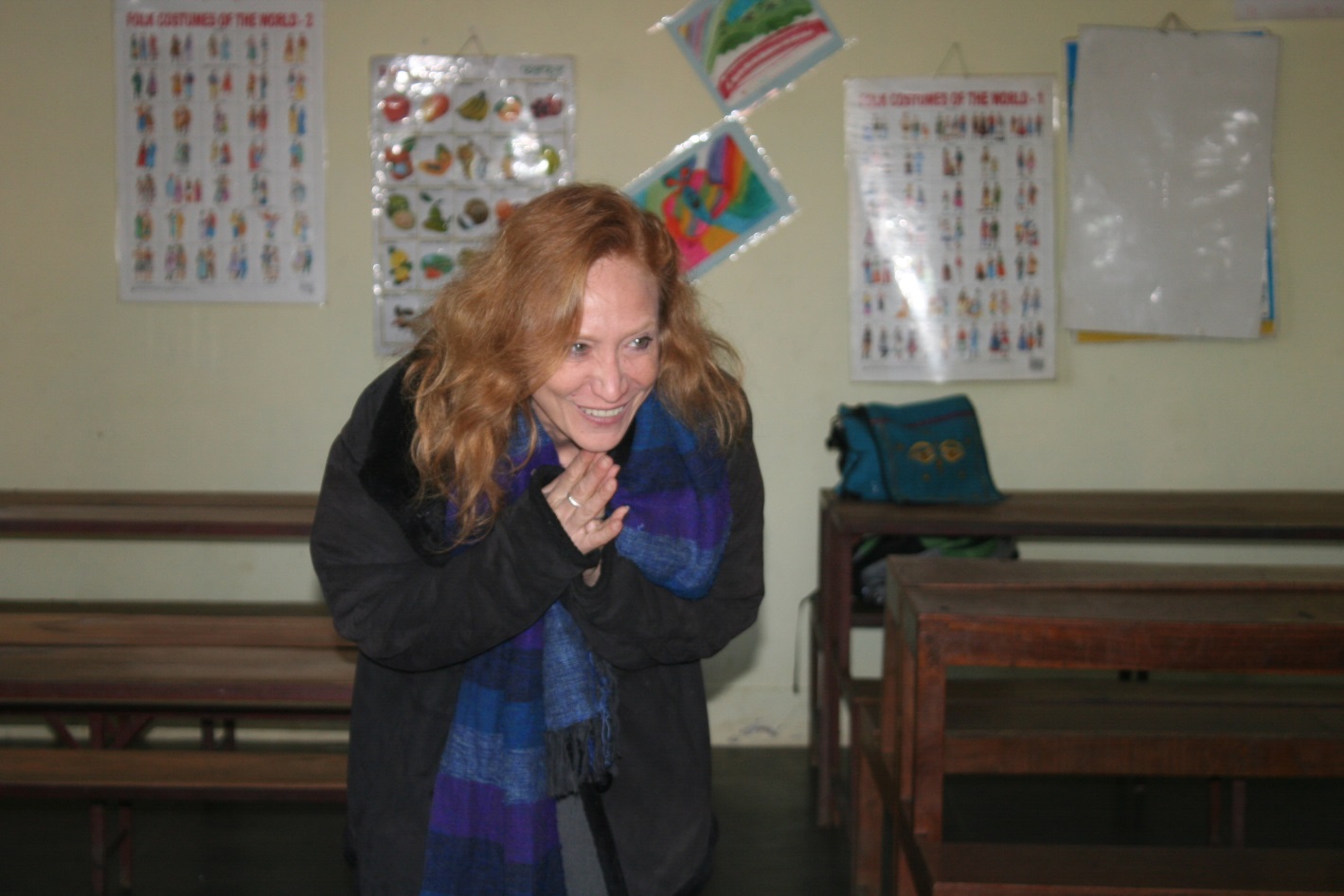 Lauren Yanks greeting her class one cold morning

Lauren's two Saturday morning classes in Public Speaking
*******
We welcomed a new child recently; his name is Hematha. Hem's arrival took some interesting turns; Hem's older brother Tilak was one of 12 children we rescued from a miserable home about 7 years ago. One of the people who provided paperwork for that rescue had since moved on and become elevated in the department of Social Welfare. Hem's home was closed recently and no one knew quite what to do with him, thus he was brought to the attention of the Social Welfare Council and with further digging by this same gentleman he discovered that Hem was Tilak's little brother and called us. Tilak and Hem were ecstatic to be reunited.
| | |
| --- | --- |
| Kanchi with Hem this past Saturday | Kanchi, Suman, David and Hem |
*******
Our little Aakriti has been growing in many ways in the past few months. She has blossomed suddenly in her ability to walk unaided, to talk, to hear, and her music ability on the keyboard is most impressive. Aakriti has been cared for by Jishnu who is one in a million in the dedication and love, the constant encouragement and teaching she gives Aakriti. Together they live in Gita's house with 34 other children who adore Aakriti and spend countless hours talking to and playing with her. With Jishnu in deserving credit is Shivahari who for the past 12 years has been teaching blind and deaf children. He spends half a day three days a week with Aakriti. His gentleness and fatherly patience and affection are now showing themselves in Aakriti's development.
Anne Zrenda who volunteered with us many years ago met Aakriti when she was a baby. She was so touched by her that she returned to the States and started Aakriti's Kids Foundation. Anne is responsible for all the support that has been made available to Aakriti. Anne will be arriving this September and we are all excited to see their reunion. Aakriti has become a beautiful little girl who does not feel limited in her life, all thanks to Anne.
| | |
| --- | --- |
| Jishnu and Aakriti, May 2014 | Shivahari and Aakriti, April 2013 |
*******
Each day here is resplendent. We are a family of 160 or so individuals with our own thoughts, needs, wants, fears, hopes and disappointments inspired by or resultant of the family as a group. We operate each day with a well-defined schedule full of opportunity to expand one's horizons and prepare for one's future. School consumes the largest part of the day, vocational school follows and early mornings have basketball, Tai kwon do, running, walking, sipping tea and talking or finishing up homework before breakfast. The routine is good; it's comfortable and nudges everyone forward a little bit more each day. But once in a while a child feels a need to step off the treadmill and talk. The children have a tacit understanding that we are providing as varied opportunities as possible to them which they should be taking advantage of and preparing for their futures; the older children have a sense that due to starting school so late in life they need to double down and try to catch up.
The other day one of our girls seemed distracted and I asked what was up.  After some hesitation she said that she did not want to go to school anymore. Ruki will be 18 this October and is reading in Class 7. She has always worked hard in her studies and easily passed, but she simply does not see herself having any desire in her adult life that would be related to having finished a certain level of school. She is a happy girl, easygoing and funny, intelligent and sensitive. I asked what she did want to do and she said to focus on vocational training.  She loves her shoe-making class and German, and she said during the day she could help out in the café and learn to be a really good cook. I asked how she saw herself over the next few years, and she said having her own shoe-making shop would be fun, or her own café or being an au pair in Germany for a year or two and see what comes from that would all make her very happy. Our girls are getting older, most of them spent years as slaves before we were able to rescue them. They work hard, but for many of them their push towards academic milestones will in my opinion find only smoke and mirrors in the end. There are few opportunities in Nepal for those graduating college, fewer for those passing their School Leaving Exam which occurs after class 10. This is why the Chelsea Education Center is so important, this is why I honored Ruki's feelings and by doing so I saw Ruki's departing spirit climb back in and pump her up. The Chelsea Education Center is currently teaching 12 classes twice a day; my goal for the next academic year which starts in April 2015 is to make the vocational school a daylong event for those children who wish to master a trade and get started in life. I see in a few years the possibility of having Dhapasi filled with shops run by our children and this image is one that truly makes me smile and feel the joy of life. The Joy of Life, something we all need to find today and not later as a result of today and tomorrow's sacrifice.

This is Ruki in a photo I took a few days before she and I talked
and she shared her feelings about school.
*******
A few months ago we received an e-mail from Rui Pires, a Portuguese filmmaker and photographer of international acclaim. He wrote that he would be in Nepal for five days in May and asked if we would like him to give us two of those days to record a day in the life of NOH. In the ensuing months we exchanged e-mails and found this man to be incredibly humble and generous in his commitment to us. Rui and his assistant Bruno spent Sunday and Monday the 4th and 5th of May taking individual photos of every child and staff member as well as candidly taking photos as we went about our day. They managed to capture three hours on film as well, which included interviews with several of our children about their past.  On Rui's second day here, he received a text message letting him know that he had won the UNESCO Humanitarian Photographer of the Year award. Rui smiled at the phone screen and went back to interacting with the children. In a few weeks' time, Rui will be sending the film and photos to us which he will have made into a short film. Please go to http://www.facebook.com/RuiPiresPhotography to learn more about this very kind and talented man.
| | |
| --- | --- |
| Rui preparing to photograph Priya | Sam with Rui and Bruno at the Skylark school |
*******
In closing, a few moments that made us proud or brought us all together occurring since the last update:
Vinod Mahato who is living in North Carolina with his wife Alecia recently won a writing contest at his community college; he wrote about his life and in addition to winning the contest in a student body of thousands, he soon after earned a complete scholarship to study there. Vinod and Alicia Skype each day with Anita, Hope and all the girls; he talks about life in America with the self-effacing humor of one making his way in a strange new land. He is a great inspiration to us all.
Sisters Deepa and Cila have won scholarships from a good college to play basketball for them.

Deepa, number 11 in the final game of the tournament, which we won, and Cila as MVP
Anita Mahato and her sister Sunita turned 24.
And Hope turned 1!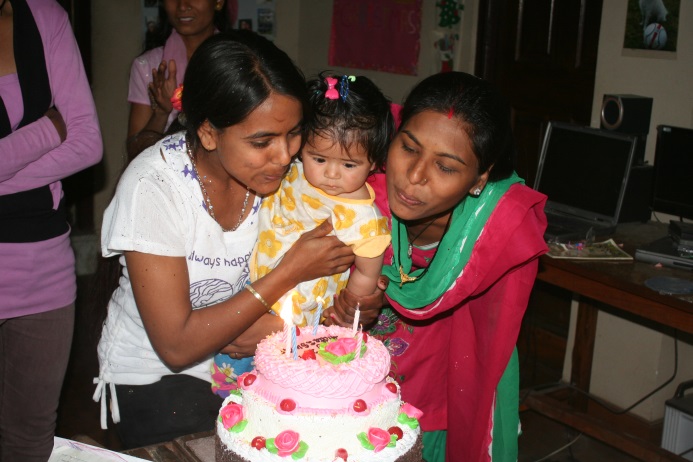 And that is that, for the love of one and all,
Papa