Sunita Mahato came to NOH with her sister Anita in the spring of 2006. In 2012 we opened the Indreni Home and I asked Sunita to become the manager there. She is very gentle, loving and protective.

Sunita with Salina on Salina's arrival at NOH.
Sunita had completed high school and decided to forgo college and join the staff.  She is a very hard worker with a smile always and a willingness to see any job to its thorough completion regardless of the elements. She studied at night in order to sit for her High School Certificate and a year later she passed the 8-day exam. She met a young man named Krishna in early 2012 before he left for Malaysia where he worked in landscaping. They communicated by phone for a year before he returned briefly to Nepal deepening their commitment to one another. In the summer of 2013 Sunita shared with me her love for Krishna and their talk of marriage. And so it was on Wednesday December 11th our daughter Sunita took her hand from ours and placed it within the tender grasp of the man with whom she will start her new life. They now live happily in a small city in Western Nepal with the hope of returning together to Malaysia soon, where they both would work in landscaping.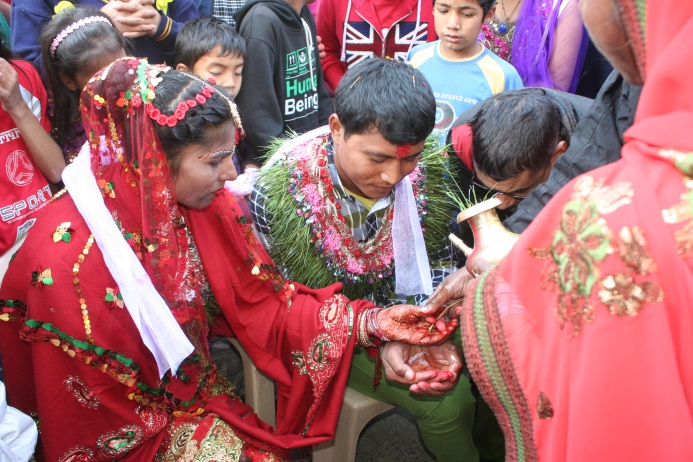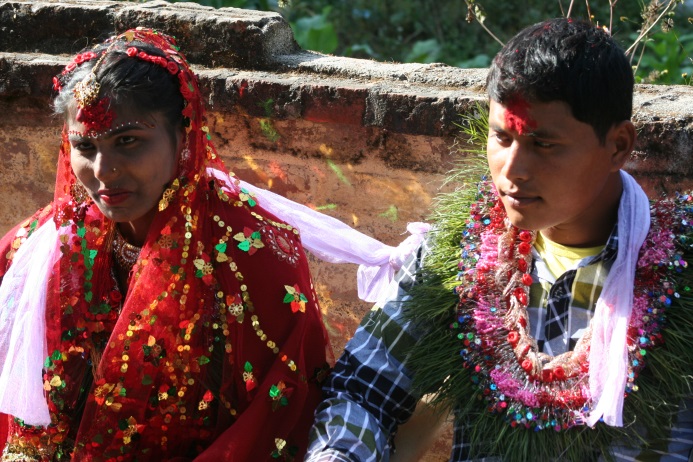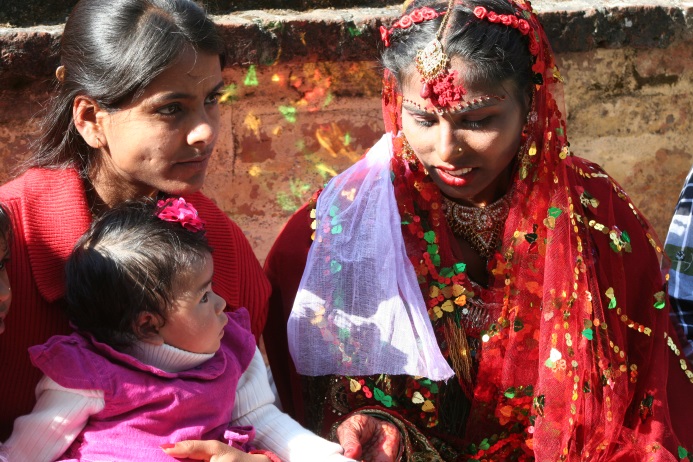 ******
Indreni House is the home of Aakriti and 9 other young girls. Last summer we had the good fortune to be introduced to Lachi who at 18 had been unceremoniously dismissed from the house where she had worked as an indentured servant for many years. Lachi, originally from India is an orphan. Lachi was not interested in going to school; she had never been before and felt it was too late to start. She is however a very bright girl and a quick learner. I suggested that she live in Sunita's house and help Jishnu care for Aakriti while working out a schedule that would allow her to attend our vocational school in the afternoons.
Lachi showed herself to be wonderful with Aakriti and when not caring for her she took on helping with house cleaning, laundry, cooking and caring for the other girls. She is a very shy and observant girl though quick with a smile. Despite our urging she decided not to leave home in the afternoons to learn a trade, feeling as if she was letting down the house by doing so. The children adore her and it was a natural to have her manage Indreni House, and this made the transition for the children upon Sunita's leaving less painful. Lachi has expressed how amazing it has been to go from being suddenly homeless to having such a wonderful and loving family, a faith-confirming miracle.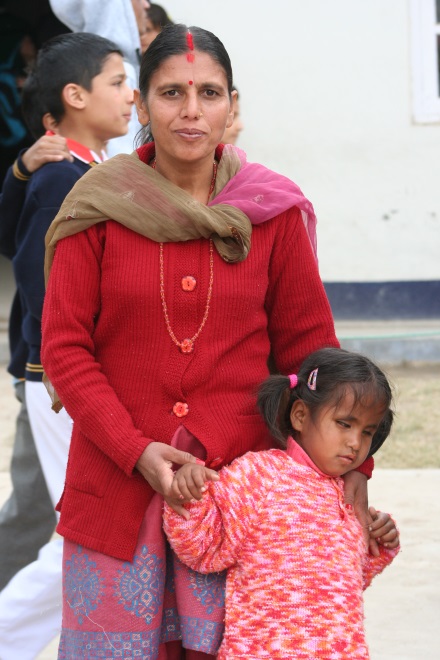 Lachi with Salina; Jishnu with Aakriti
******
Our Chelsea Education Center (CEC) is nearing the completion of its first full year of formal training. In January of 2013 we had the children choose a couple of different classes for a brief 3-month exposure to see what they would like to learn in a full year's course. Then seventy children settled into their chosen classes at the beginning of the April New Year. Close to graduating in Tailoring and Cosmetology, some of the girls are presently working as apprentices in their teachers' shops on holidays and teaching our children as well; soon-to-be graduates in the Motorcycle Repair class have completely dismantled and rebuilt two motorcycles numerous times and have been welcomed to work in their teacher's shop on Saturdays. April will see the Mobile Phone Repair class achieving the complete knowledge to allow them work in any shop or to open their own. The Computer Software class has elevated the confidence and abilities of its ten children considerably; they now know computer software from the WORD package to other business and accounting applications thoroughly and are ready to start writing software programs. The Computer Hardware class is a multi-year class, but the students in it can build and test computers at this time. Music classes are of course ongoing but in Guitar, Keyboard, Madal and Voice we have very accomplished children.
This year we will have 86 children eligible for vocational training in addition to their academic studies. We are currently vetting a plan to merge the CEC onto the campus of Skylark where we can integrate the training and free the children's after school time for more sports, tutoring, or to simply relax between school and their evening studies.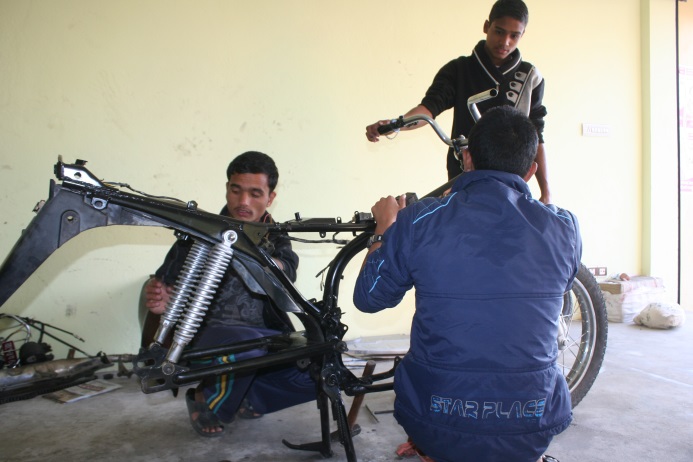 One of two bikes stripped down and rebuilt by the boys in our Motorcycle Repair class.

Two tailoring students at work Saturday; Boys carrying a motorcycle to school for repair

Tailoring classes will soon make our uniforms; Computer Software class
Recently we listed the 13 courses currently on the menu for April and asked the Skylark student body what their interest would be in them. Any student class 8 and above with a desire to learn was to select two trades. The response was overwhelming with over 300 children choosing courses. If we follow through with this, Skylark will be the first school in Nepal to offer an integrated vocational/academic platform according to the Principal. What little vocational training that exists in Nepal is available after class 10, a time in which those most in need of the vocational training have dropped out of school. Our approach in combining academic, life skills and vocational training from class 8 and up in an integrated method on one campus is a model that we hope will catch on in other areas. Meanwhile the school's registration would usher in the CEC to be certified and graduates from it would be well recognized and in demand as both tradesmen and teachers.
******
Ever since the Cookbook Project held its Cooking School here last October and taught us how to serve really nutritious meals while explaining the lack of goodness in the lunch diet we had, I have wanted to do something about it. Pratap, our boy's house manager, is a great cook. He loves cooking and pleasing people with his cooking; cooking makes him happy and on Friday nights his house is a very happy one where the volunteers are invited to share his enthusiastic menus with the boys. The problem with our lunches was getting it to the children at school. So I asked the Principal if we could build a "Café" on campus to cook fresh and healthy foods and she said yes. I discussed with Pratap about doing this and he was thrilled.  He created a menu of about 10 dishes that he would rotate. The initial investment was going to be a little burdensome, but we determined that if his cooking was good enough to attract other paying students and teachers, we might actually break even after a year and would then reduce our cost of serving excellent lunches to our children. So we wrote a new job description for all the house managers and staff and freed Pratap's mornings, and had a contractor start to build the Café on the school grounds. The result has been very gratifying; we average about 130 paying diners every day which will generate enough income to cover the cost of construction and equipment in maybe 8 months, while reducing the cost of feeding truly nutritious and tasty meals for less than the cost of the packaged goods they received before. Fresh fruit remains part of the diet.
Another benefit of the Café was the introduction of our cooking school as a seamless part of the curriculum. Over 60 students signed up to take cooking. The cooking school will take place for two periods before lunch with a limited number of students rotating every three months. The students will be preparing the lunch under Pratap's direction, eliminating the need for our staff to be present in helping him prepare and serve each day's meal.
Pratap's cooking has energized the school. Upon arrival in the morning, kids and faculty first go to the Café to buy a lunch ticket; many now buy weekly tickets. When the bell rings for lunch it creates a stampede for the Café window where they receive steaming hot, tasty and healthy servings with real forks on nice large metal plates. You look around at lunch time and see everyone quietly eating with smiling gusto. Volume cooking while delivering high quality food allows many poor children to afford to eat what is most likely their best meal of the day.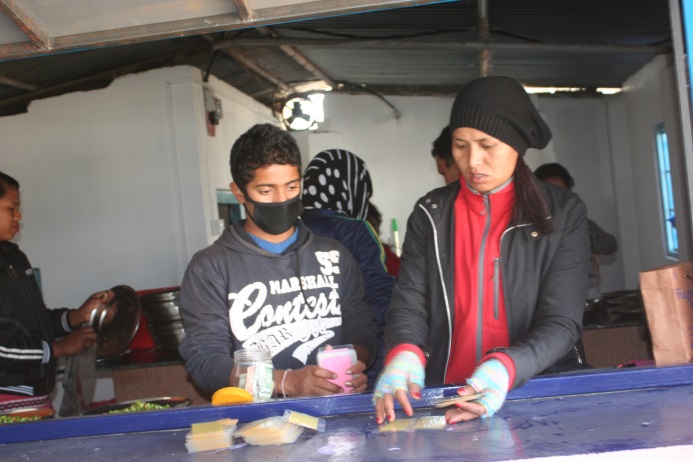 Gita and Ashok selling lunch tickets; Students and visitors on opening day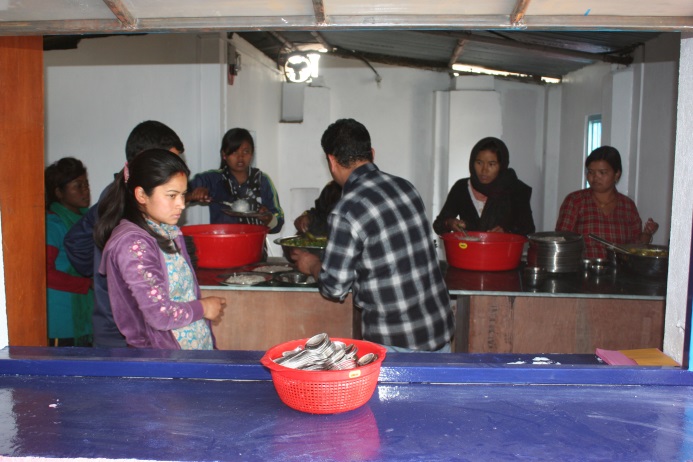 Pratap, the Maestro; Our home staff insures 280 plates of food are served in 5 minutes    
Very generous donations from Laurie Levine, our Australian Board member, and Laura and Justin Nimick's "Life's Handy Work" which also supports our children in college, made the opening of our Café possible. Both the Café and the CEC on campus are ways in which NOH is constantly working towards a self-sustaining model.
******
Christmas is always a fun time at NOH. The anticipation begins in the cold 5 a.m. darkness when all the children are up and attending to their walks, runs, Tai Kwon Do lessons or drinking tea on December 1st with the spoken acknowledgment that we are in the month of Christmas.
It is less about the gifts than it is about seeing old friends return for the holiday and getting caught up in the many special moments floating in the air like bubbles. It is about feelings and love, about sharing and magic and candlelight, about the transformation of their environment a little more each day with fresh Christmas artwork on the walls and the tree communally decorated and lit for each evening's meal. It's about the passage of time, Saturday gatherings when all the children sit together outside after eating lunch and practice Christmas Carols. Days stack into weeks and suddenly one morning they wake on Christmas Eve and know that after school the spellbinding joy of Christmas will slowly carry them into the evening. The kids this year chose to dedicate Christmas to Hope. Our children have once again given sanctuary, surrounded and healed, given radiant love and laughter to another child in need of a family's love.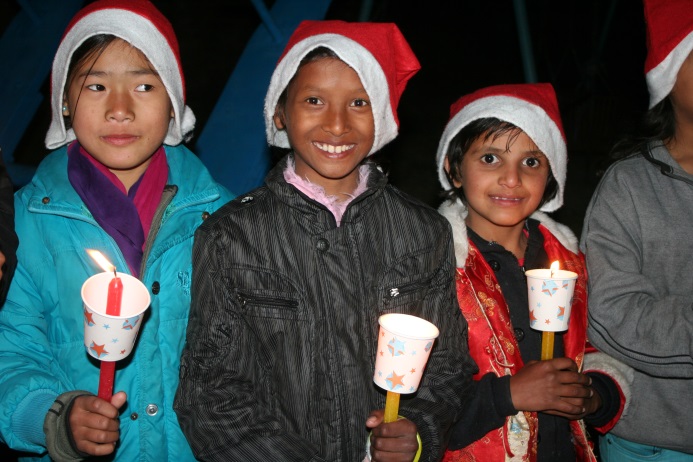 Anu Maya giving thanks to the sky; Salina, Samira and Aakriti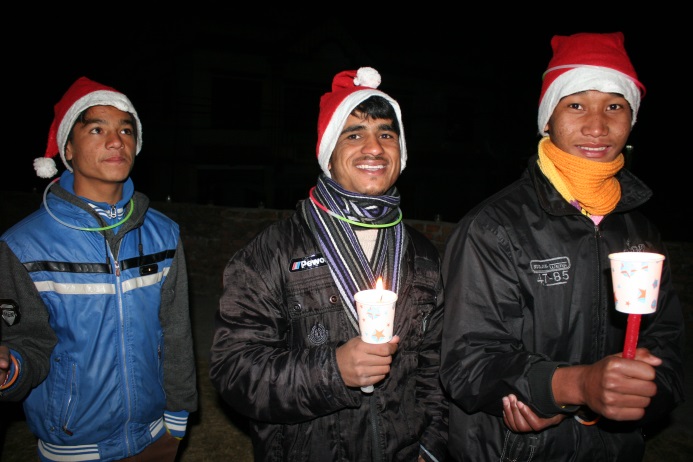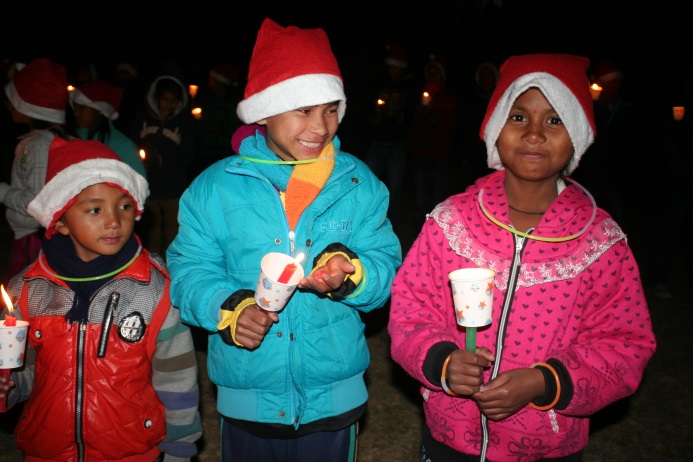 Khem Raj, Rabindra and Ram; David, Juna and Man Kumari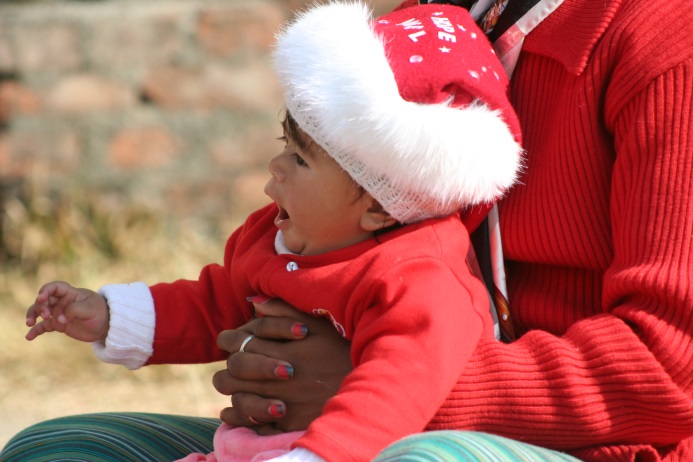 Sandip and Preti; Hope and a Christmas morning yawn
******
Last fall we were informed of a small group home consisting of 10 blind children. The house manager and live-in teacher are also blind. A neighbor comes during the day to help out with laundry, cleaning and cooking. The house is a small concrete 4-room home in the countryside outside of Kathmandu. As is often the case with homes in Nepal they were having a difficult time financially.
One day after getting our kids settled in school, a few of us went out for a visit. We found a very neat and clean little house and welcoming children. The manager and staff shared with Anita Mahato, Hope and me their situation, while the children talked to Pratap and Shivahari who is our own blind child Aakriti's teacher and others who had come for the visit.
Essentially the home hasn't a way to generate any income; they rely upon the kindness of neighbors and the village development committee both of which have their own financial struggles. They have leased the home, but had fallen behind in the monthly payments. The children all had some sort of infection that troubled their eyes making them itch. The children attend the village school, but it is not equipped for teaching blind students. They do what they can and have the assistance of their blind live-in Didi who has a college degree in social work and teaches them to the best of her ability.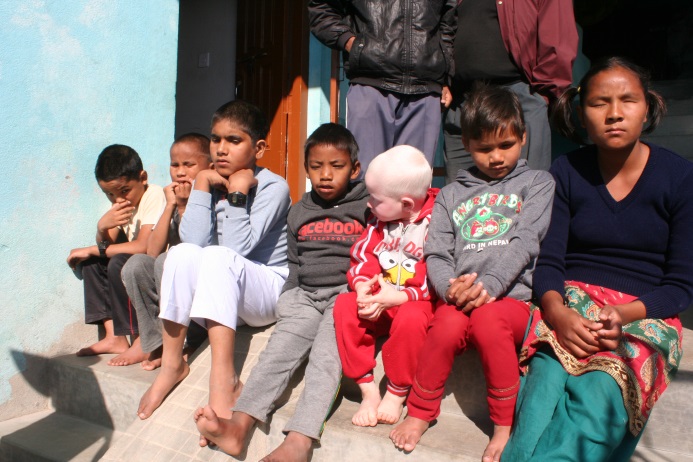 The tiny woman 3rd from left is the housekeeping neighbor, Shivahari far right with white cap.
We started then to support them. We pay their food, rent, medical bills and a small salary for the staff. Shivahari arranged eye exams for all the children at the Eye Hospital in Kathmandu where their infections were treated. He then arranged for further exams to see if any would be candidates for corneal transplants and we learned that the girl in the blue sweater (Nima) was a candidate. In December we helped her to have her first transplant, with half of the fee provided by the eye hospital and surgeon.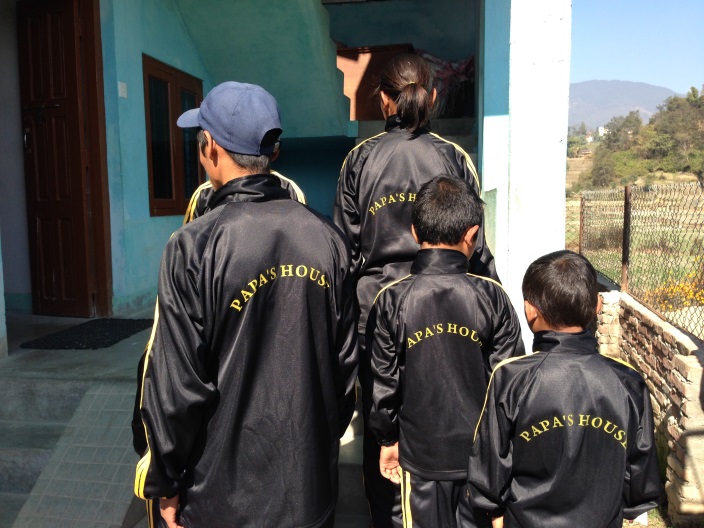 A few of the children in our visit one week after the transplant 
Nima is very pleased to have received the transplant, but seeing has a long and often difficult learning curve. From what I understand though she sees, but she hasn't yet any depth perception which makes many things difficult to do, since you don't know how close anything is to you. She often prefers closing her eye when walking. Those blind since birth have formed their own image of life; they are comfortable in their world and to suddenly see is very strange and a little terrifying. Shivahari is working with all the children and maintaining their doctor appointments. As you can see by the photos the children are enjoying life quite a bit more these days. In time we hope to be able to help them with their educational needs so that they too can learn to be productive and independent in life.
******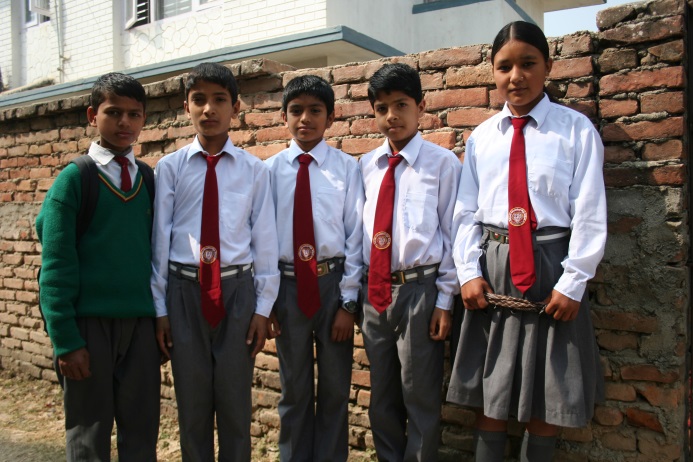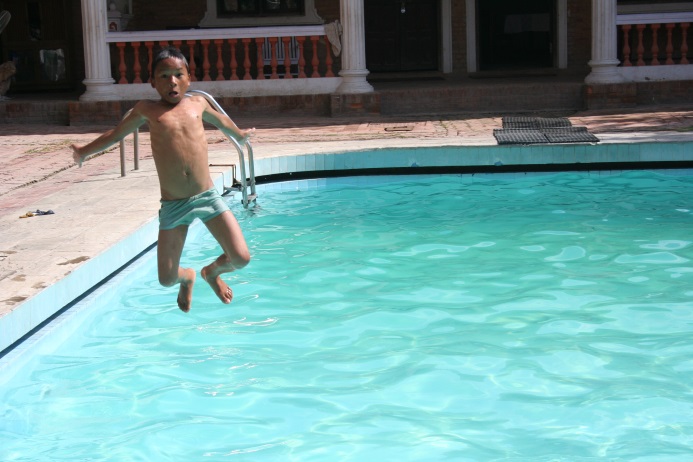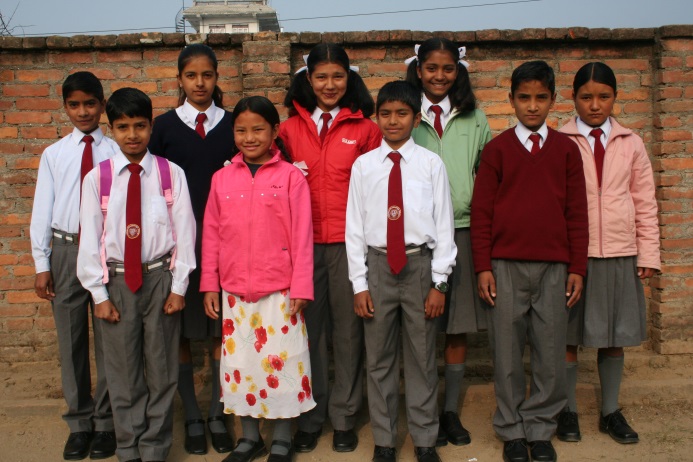 Sabin, upper left photo 2nd from left, Chham jumping into the pool, Saroj receiving his birthday gift from Lila, and 9 of the children back in 2005.  Presently one is married and living in Germany, one is working in a hospital toward becoming a physical therapist, one is an engineering student in university, one is graduating from a three-year agricultural school, one is a science major in college, one a business major in college, two sisters have reunited with their aunt and mother and one other is in her second year of college in humanities courses.
How quickly time passes. This year we will have 7 more children begin college joining the 7 presently there, next year 5 more, 14 the year after and 21 the next.
I caught Chham, Sabin and Saroj one morning on their way to school and took this photo.
Each of these boys has mastered the art of being human; they are exceptionally kind, polite, happy, hard working and giving to their brothers and sisters and staff alike.
******
Volunteer Nepal brings a lot of truly special and accomplished people to Dhapasi. Recently we had the pleasure of getting to know and learn from Daniel Kilov who is the 2nd place title holder of the Australian Memory Championships. First place went to his coach.
Daniel was kind enough to hold a seminar for some of our children and has offered to help coach them in the future via Skype. The children were able to remember a series of 42 words in order at the end of the session.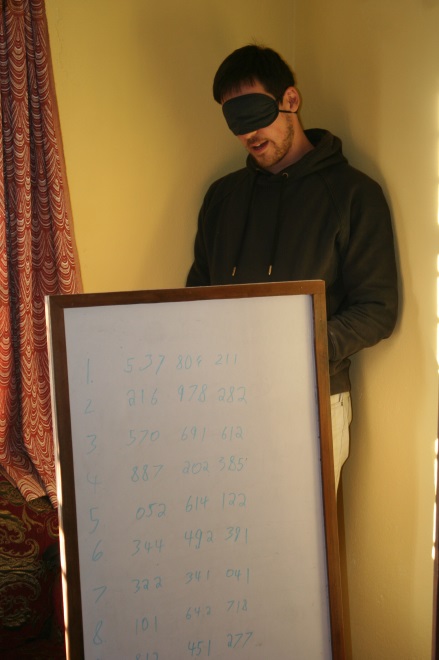 Daniel remembering 100 random numbers in order after only a few minutes reading.
******
January was a month in which the Skylark School held a program showcasing the talents of grades 4 and under and later, a day to commemorate the many diverse cultures of Nepal.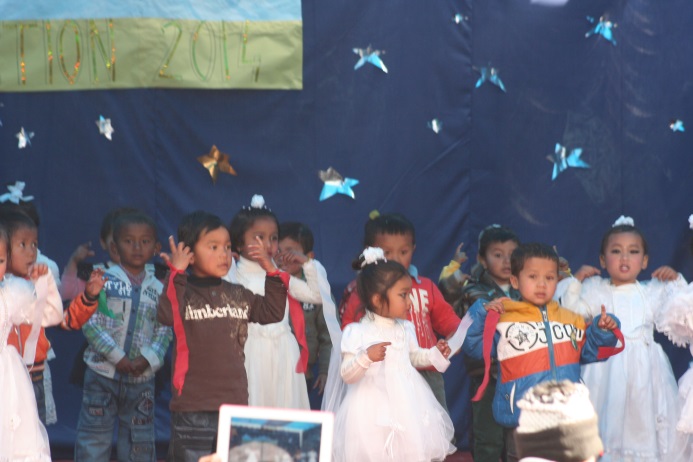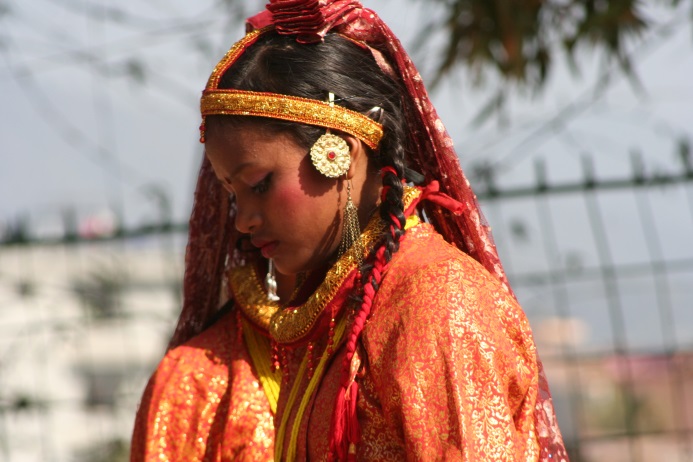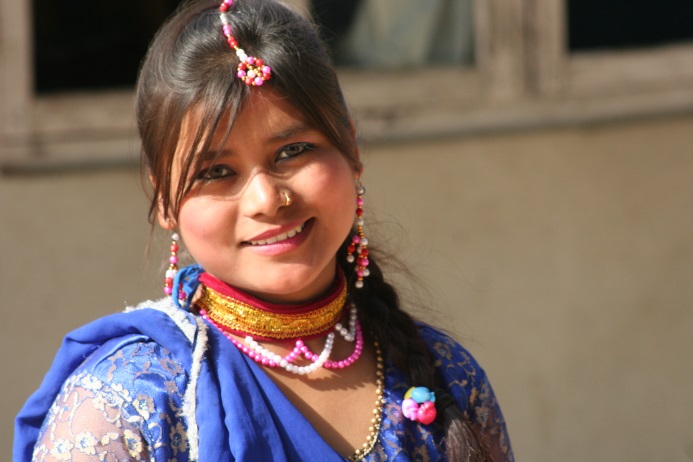 And February 14th was Valentine's Day, which is starting to catch a lot of attention in Kathmandu. Our Toronto board member and founder of "Possible Worlds Foundation" Toni Thomson has for many years contributed to making our Valentine's Day program the much anticipated hit it is. Each year our volunteer department spends an enormous amount of time doing all the prep work. This year I asked Sam Tamang to be in charge of everything. We had been in a 2 month long uninterrupted cold but sunny day pattern when in the early morning hours of the 14th a front came clamoring in with steady rain. Sam made a decision to change the venue to the Skylark School where some cover would be possible. School closed for the day at noon and our 144 children, 80 from the Skylark Hostel, all the teachers and staff of Skylark and all of our home and volunteer staff sat down to a bounty of Pratap's "Pulaw Panir" under grey and damp skies. Each of our 5 homes and the Skylark Hostel had worked on programs they developed and the festivities began with Kabita Basnet and Saroj Darji as Masters of the Ceremony.

Volunteer created sign; Saroj and Kabita start things off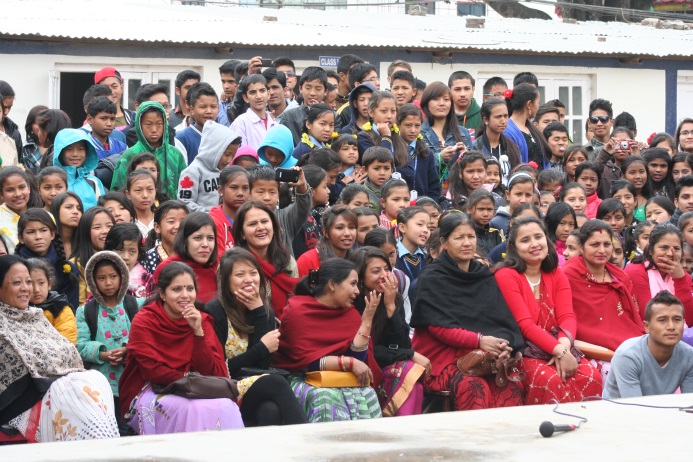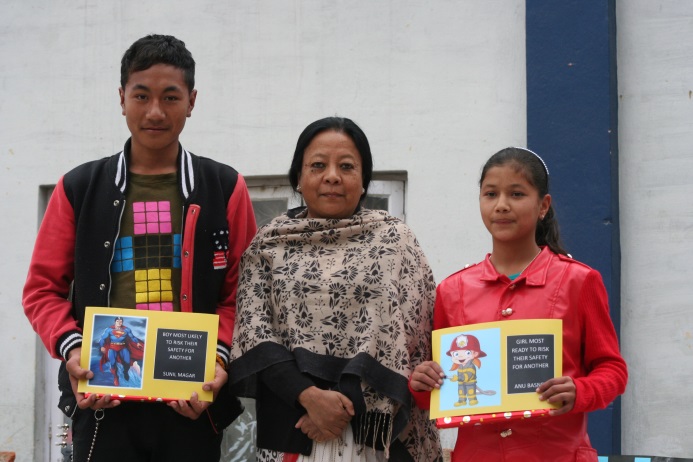 Crowd reaction to one of the performances; Anu voted the "female most likely to risk her life for another"

Ishwor voted smartest male; in the 11 student categories we had at least one winner in each. The photo on the right shows very popular Nepalese actor Suman Singh, who graciously accepted an offer to spend time with our kids. Hope here is a little hesitant, not getting an eye read first.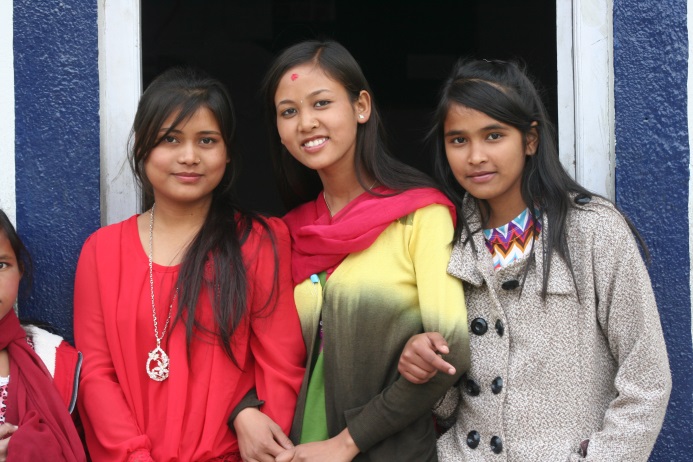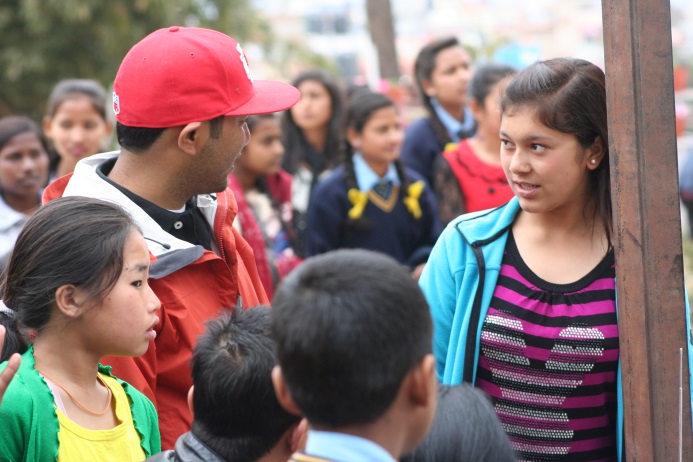 Our children enjoying the day; Sam with red cap talking with Kabita

Our School Principal Sangita Rai; A dance by Sanctuary House.
******

​I was there to say good morning when Hope woke on Valentine's Day; she always wakes with a smile. Isn't she beautiful!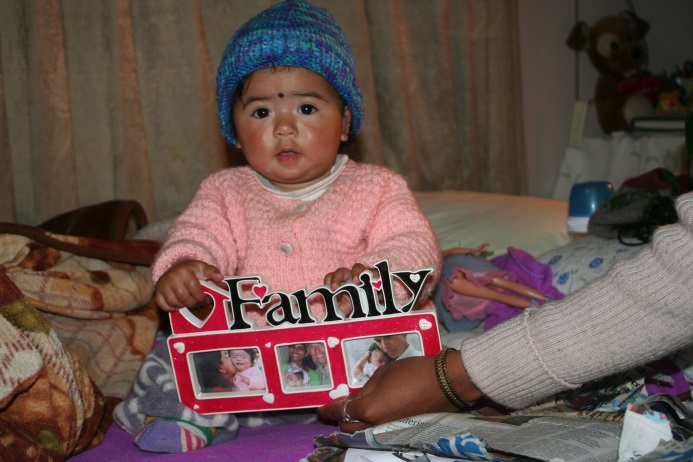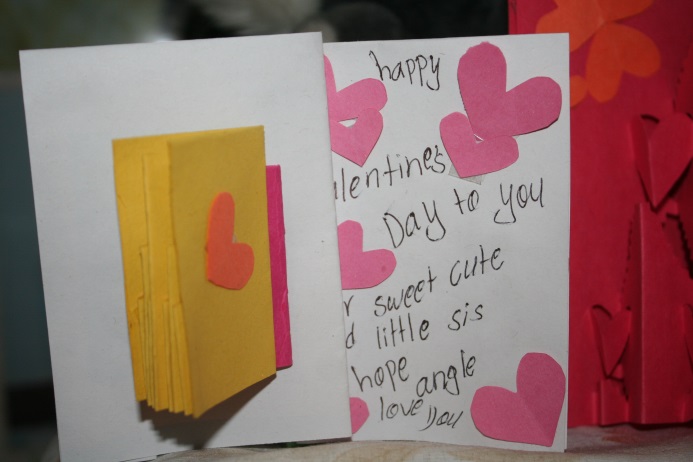 She loves her gift and touching the pictures. Many of her sisters made cards for her
I spend so much time on the computer that we decided to buy one for Hope so that she could help me. Mel Hoskins beat us to the punch and bought this one in Australia and sent it here with Laurie Levine. Hope is a smart little girl who learns quickly.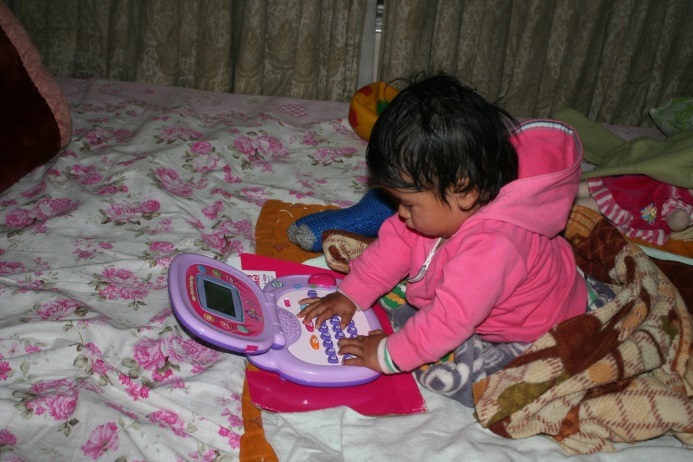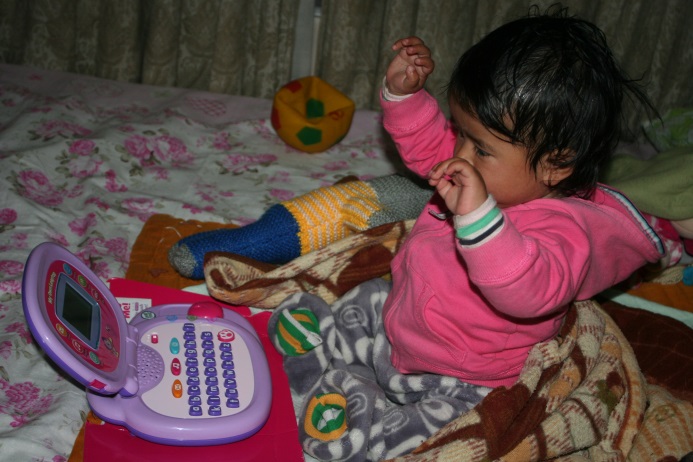 "Just a few more lines and this letter is done" "What? Where did the text go, ohh why why!!"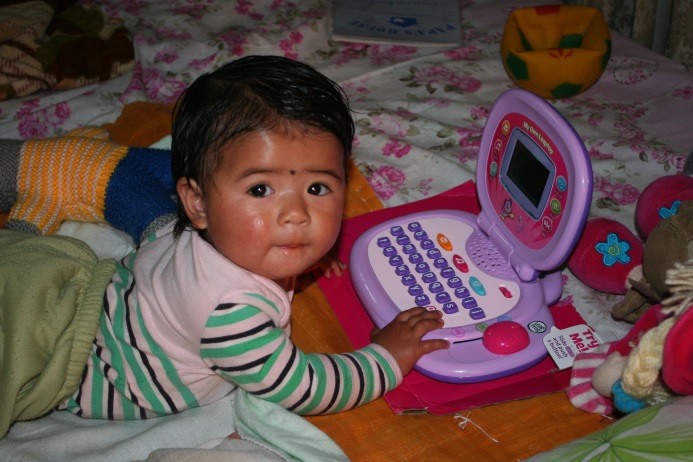 "That shower woke me up, thanks Mom!" "Let me turn down the music. What's that Mom?"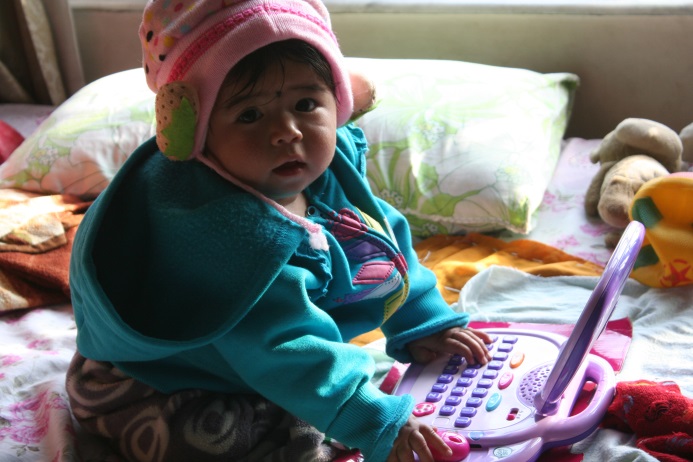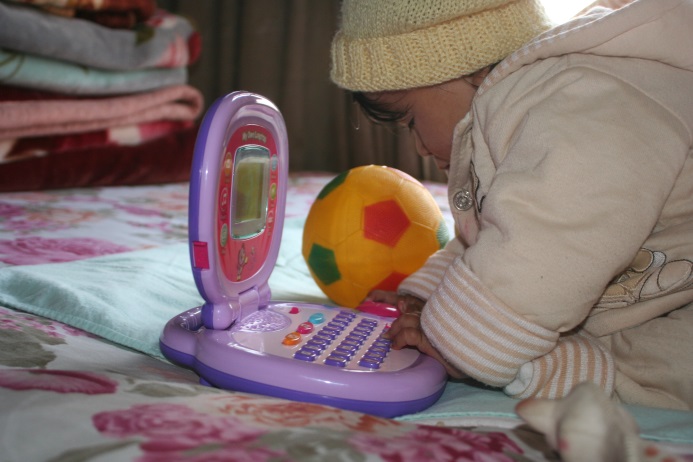 "I like this mouse; is that coffee there, Mom?"    "I have the ball ready to play; almost done now."

"No no, I'm good; let me just finish this one report."            "My brain is cooking!"
I have just returned home from saying goodnight to Hope. I must add here that tonight while we played on the floor together, Hope crawled about 6 feet, stopping only when an immovable object stood in her way. She then sat back and started clapping to mimic her very proud Papa.
And that is a little of life in Dhapasi, where love, laughter and care for oneself and everyone around you trumps all.
Thank you to anyone who may read this for your part in keeping this dream a reality.
All my best,
Papa