NOH received a grant in 2015 to construct its own facility for our Chelsea Education and Community Center. In the June update I wrote about the center. In 2015 we opened the doors to the women of Dhapasi to attend free classes in English, Math, Nepali and computers. As of this writing we have 250+ women attending daily classes. The women attend from 10am until 3pm with an average of five classes simultaneously in session.
We had a ceremony to bless the ground and building on July 20th, eight days after site work had begun, attended by many of our students and teachers.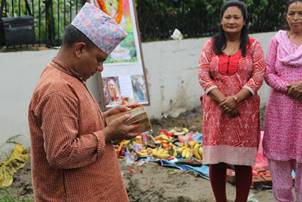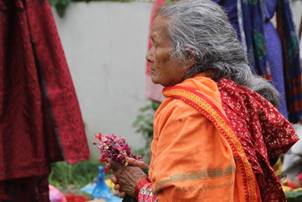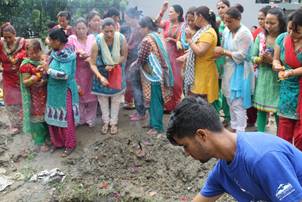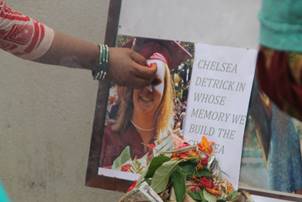 The monsoon season is a tricky time to begin a project like this and it has indeed hampered our progress, but as of August 11th we were almost out of the ground and will begin to make up time. We are building a foundation which begins 5' below ground level and has many tie beams strengthening the structure. The photos below show the progress of three weeks.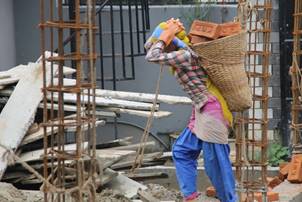 In stark contrast to our Chelsea Center is the school we are building in Ramechhap, also mentioned in June's update. There the problem is they have so little water that mixing cement is not possible for days. The ability to collect rain water to use is nonexistent as the rains keep skirting this hill (mountain) top village. I will have new photos of that in our next update.
*******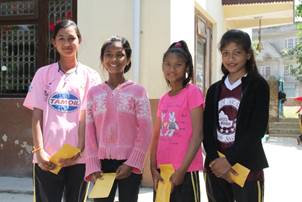 Every morning a group of children from different homes will meet just before 5 and walk, run, practice Taekwondo, or play basketball. One of those with me is Asmita, 2nd from left in left photo being honored for her school work, and above.
One morning we had passed an elderly woman sitting along the road side, I did not think too much about it and kept walking. As we were about to make a sharp turn on our path I noticed Asmita was not with us. It is dark at that hour, but when I scanned the distance behind us I saw her escorting the elderly lady. The pace of the older woman was such that Asmita had fallen way behind. The woman needed support as she walked and Asmita provided it all the way to the woman's house which was on our route but some distance ahead. I could hear Asmita chatting amiably with the woman, calming her and perhaps flooding her with memories of her own daughter long ago.
Unlike me, Asmita had stopped and asked the woman if she was okay and the woman replied that she could not walk the rest of the way home alone.
Asmita has been with us for 7 years, one half of her life. She is always cheerful and works very hard at school finishing in the top three each term. I was very proud of her for doing this. It is not uncommon at all to find our children quietly helping others.
*******
On July 31st we sent 12 more children off to college. As we do each year, we gather with them to offer our blessings and give them a tika, and as the weather does every year it rained. School begins at 6am and as they have to walk about two miles, so we had the ceremony at 5am.
This year's 12 did very well on their School Leaving Exams with the highest scoring a 3.6 GPA and the lowest a 2.8 GPA. So now we have 24 children attending college and two in university.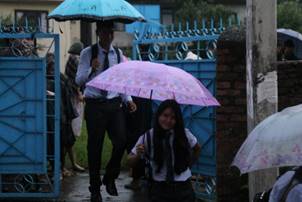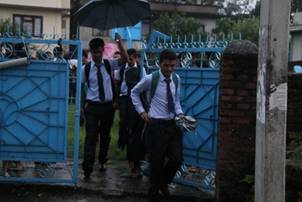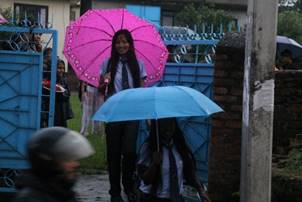 As a congratulatory gesture and to have the children gain some more exposure to life, we arranged for two of our managers and these 12 children to go to Pokhara, a destination of choice among anyone you might ask anywhere in Nepal. Pokhara is called the Switzerland of Nepal, mist-covered lakes with majestic mountains on their edge rising craggily into the clouds. They spent four days exploring; everything they did was a new experience for them and they returned seeming a little worldlier and deeply appreciative.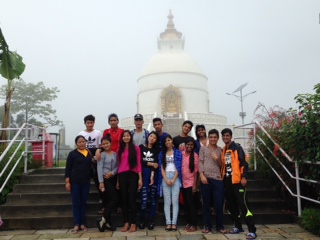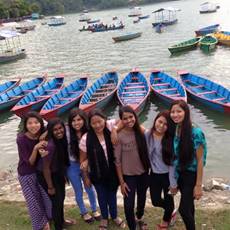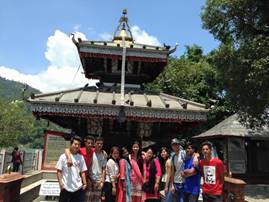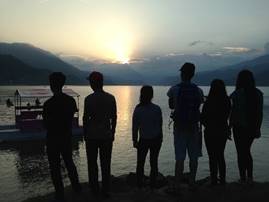 *******
After last year's earthquake we accepted Sarita (far left). She has been a joy to have around; she is quiet and a little shy, but quick with a smile. She is a good student who has learned English very quickly.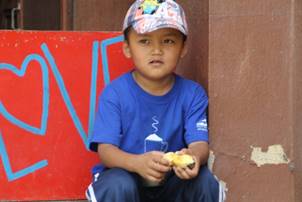 In addition we had brother and sister Samita and Sanjeep delivered last year at the exact moment the earthquake occurred. They too have brought a lot of fun to the family, serious students but with a welcomed amount of mischievousness from Sanjeep. Samita is also a faithful walker with me every morning.
In the last couple months we have welcomed Ranjhana on the left and Manisha on the right.
Manisha came to us just three weeks ago; she is 6 and has charmed all her house mates. Ranjhana is quiet and very polite; she has become part of an inseparable group of girls in her home.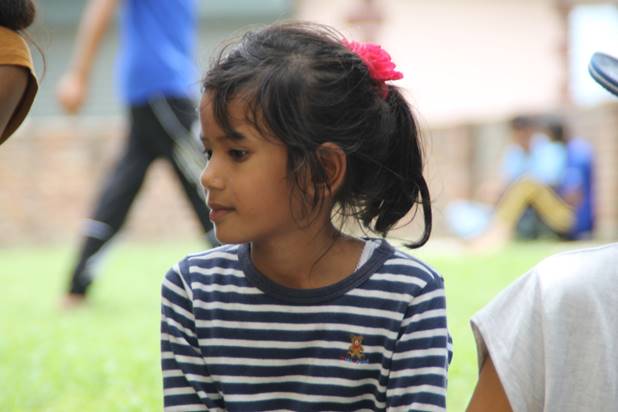 It is heartbreaking to find children in the situations that demand help; we are fortunate to have the type of donor support that allows us to bring them into our family where they thrive in an environment of kindness and well being.
*******
Some leaders are born to it. This is Hope at school. She attends Nursery Class each morning for a few hours, and as these photos display she thinks that she is the teacher's assistant.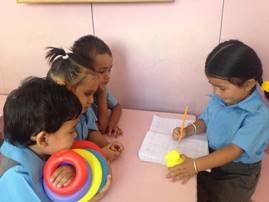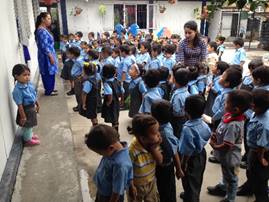 In her first ever exam she finished rather quickly, put her pencil down, called the teacher's attention to it and then got up and walked around the room helping others who seemed to be having trouble. The concept of this being a test of an individual's knowledge seemed less important to her then making sure the students understood. Her exceptional teacher, seen standing just past Hope in the second photo has been charmed into submission by Hope; then again I believe we all have.
On August 7th we marked the three year anniversary of Hopes coming home to us. 
| | |
| --- | --- |
| August 21st, 2013  |  July 15th, 2016 |
Hope has received donations over the years and has only used a small portion of them. So we use the "Hope Fund" to help other children with medical needs. I am working on making a website for her. The website will be part of the NOH website. Her website, once built, may use what you see below as a logo. I welcome comments and ideas on the logo.
WHERE THERE IS HOPE
THERE IS HELP
Our Hope Fund continues to help the sick and disabled. Sometimes this is heart wrenching and brings us closer to the mysteries of life and death, and in some cases brings pause in the belief that there is a higher order to life.
Yesterday an eight year old boy received his wish, a remote controlled helicopter. Sadly his wish was only the day before informed. He is being sent home now, the medical options for him exhausted. He is no longer ambulatory and speaking is difficult, but he can sit with help and his face and searching eyes are an ocean of thought and emotion.
His very loving father sat behind him on the bed propping him up against his chest when a very large remote controlled helicopter was presented. The boy smiled at it, his eyes caressed every part of the gift, and his father too smiled, feeling his son's momentary departure from the misery of dying. The helicopter was started up and the blades sent a gentle breeze fluttering the boys eyes, widened at the sight of potential for what the helicopter can do.
The father and mother soon after carried the boy and his helicopter from the ward to go home. In my daydream I see the father and his son sitting in their yard, his son propped against him, a brilliantly blue sky with wisps of fluffy white clouds sailing through as the father sends the helicopter above them to his son's delight and as it rises higher and higher the son will close his eyes and let go to follow the helicopter to a place peaceful and free of anxiety, pain, and sadness.
*******
Nepal Orphans Home has just opened an office in our Chelsea Center to handle all our outreach programs. Present staff are doubling up; using the office full time is Mrs. Pandey who also serves as manager of our volunteer program under director Eileen Witham. Merging our staff in these related endeavors has increased our capacity and performance in the care of many projects. Below are photos of the new office and the Shoe and Tailoring shops run by our children as independent contractors.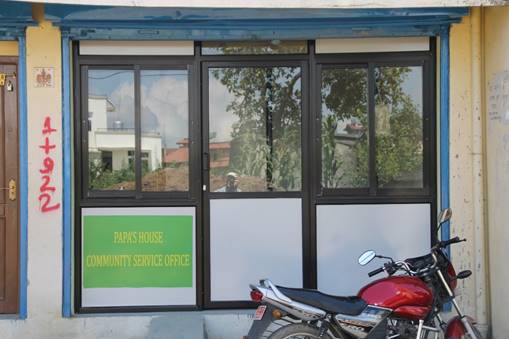 The Community Service Center Office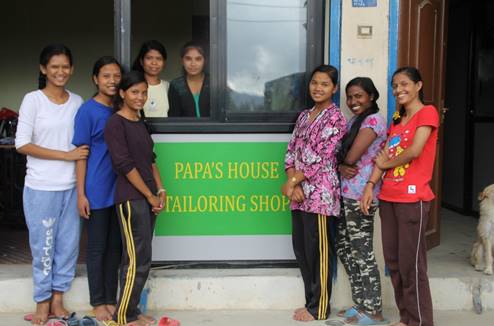 And that's the way it is for August 13th, 2016.
All my best,
Papa