Yesterday we celebrated Valentine's Day, a long-running tradition at NOH in concert with the Skylark School, made possible by Possible Worlds NGO. The young dreamer on the left, Khusboo, received an award for "Top Student" of Skylark and is shown here receiving it.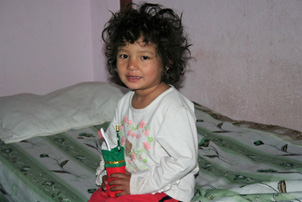 And this adorable little mop-head, Anita, holding her first Christmas stocking back in 2007, was voted Skylark's "Prettiest Girl." She is also one of our more gifted academically.
Rajan, on his first day of school and yesterday, at one of his last days of school, was voted the student "Most Likely to Succeed."
This was a day that touched me deeply to see how our children have grown and become such peer admired and accomplished young people. This list of awards bestowed upon our senior and junior classes at Skylark is a long one. The strains of "Pomp and Circumstance" swirled in my thoughts as I watched, and what parent has not risen to their feet with a trembling chin and looked upon the stage through teary eyes as their son's or daughter's name has been called, and felt what life is really all about clarified in that moment.
In attendance yesterday were many of our college and working children who themselves were called to the stage in years past, and they whistled and cheered watching their younger brothers and sisters, who many years prior stood in the audience and cheered for them. And many more will follow.
Transitions are demanding upon our emotions and bring about a good deal of reflection and wonder. Going off to college is a tough one for parents and children alike, in different ways, quietly angst-ridden for both. But they usher in new chapters in our lives which both parties will embrace, slowly and then fully when enough time has allowed us to resolve the loss. Saturday lunches with all the children help us to know that everything is going to be fine, to see our children evolving into the young adults we wished for them to be, and to feel the joy for them in their own discoveries.
The future remains uncertain, but forever in my thoughts, perhaps too much so. The other day while I was braiding hair for school, one of the girls said, "Papa, how long will you be here?" I thought she meant living with them, or perhaps more morbidly, living on earth, and thus described my loose plans which brought me to a time line of 7 more years, with them. They all listened politely, exchanging looks with one eyebrow raised, when she said, "No, I mean now, I have to get something, but I don't want you to leave before doing my hair."
The love of children at all ages is very rewarding, but I am of late particularly moved by the demonstrated affection towards me of our boys and girls who are now young adults and have grown into a sense, through both of our aging, of wishing to watch over me a bit as I have always watched over them. Their kindness and attitude are sometimes as sobering as they are touching, as it suggests they see me as needing some watching over, something I hope not to see in myself for a good many years to come. Their concern is premature, but tender and gratifying.
So, with this I leave you the roll call of our children who remain in our homes and others near to us and still in our care, at least educationally. The New Year in Nepal is fast approaching, and the children advance another level in school and in life. At this time next year our doors will be swung wide open to receive a new batch of very small children who have been orphaned or abandoned, and for them a new life, a chance to be children in a loving, happy, and safe family where dreams are encouraged, desired, and supported by one and all will begin.
View the 2019–2020 photos:
Thank you,
Papa