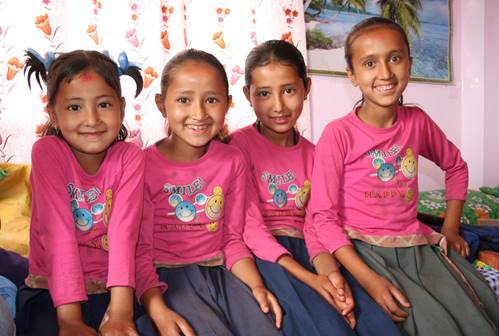 Left to right and youngest to oldest, Yeshodha, Rojina, Lila, and Sushila
Late one Saturday afternoon in the early fall of 2006, four sisters arrived. They wore their only clothes, ill-fitting government school dresses and matching jerseys. They had been given a blessing when they left their mountain home early that morning, the red remnants marking their foreheads as memory of their mother's last touch.
They descended down a narrow winding path, the smallest, Yeshodha, riding on her mother's back to a one-shop village where a worn-out bus would take them to Kathmandu, 6 hours away.
The mountain, and the little village an hour's walk below, were the only environment they had ever known. In 2006 the Maoists brought terror to remote villages; they would close schools, conscript older students and teachers, and impose themselves upon families for food and shelter. If you were caught sheltering them you were in trouble; if you refused you were in trouble. These were trying times.
Kathmandu remained a relatively safe-haven and NOH was known by some to offer a home to children at risk, including children whose brothers or fathers had been kidnapped, or whose homes were occupied by Maoist soldiers leaving little space, food, or safety for the children.
The moment I saw the girls my smile lit up and it has never failed to whenever we meet in the 11 years since. Getting them settled in their new room I took the photo above. My mind is filled with the first moments of meeting our children, the look in their eyes as they take in your own with shy fleeting glances, wondering what this new life would render to them.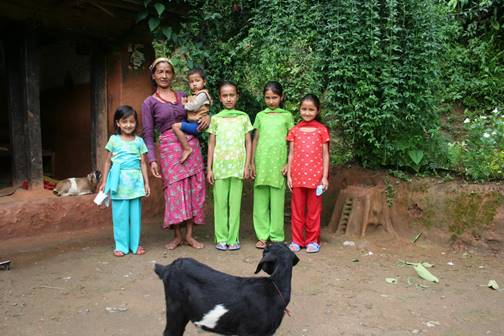 A year later I brought the girls back to see their mother and baby brother. They lived alone in their two-story mud and post home, livestock down and people up. I was struck by the incredible beauty of the mountain, its remoteness, with foliage so thick that you would be surprised to find homes scattered here and there. We spent the night, and the girls, by candlelight, told me stories of leopards, snakes, and Maoists that freely roamed the area--fortunately, not that night or the next morning when we were led down the mountain by their mother, barefoot, with the baby wrapped against her back with her multi-purpose dress.
Today, Yeshodha is a college freshman (class 11 in Nepal), living in our transition house. Rojina is in class fourteen; she is an exceptional student who has skipped a few classes, and teaches our Beauty Parlor class at the Chelsea Center. Sushila also in class 14 is a clerk in the local "super market" where I sometimes shop and get to chat with her when I do. Their Aunt Kalpana has been with us since 2006 and has been the Volunteer House cook for many years.
And that brings us to Lila. She too has done well in school. The three older girls, all working, support their mother in a couple of small rooms a few miles away. 
I had a letter a month ago from Lila. She began with "thank you for my life." The letter then offered a short stroll through the memories she most cherished and the things she learned growing up with us that became her guiding principles.
She ended the letter with "Papa, I am married now, I love my husband very much. We married quietly, without my family knowing as I was afraid that they would oppose it. We will be fine Papa, I hope you are not angry. I hope I have your blessing. My husband will pay for my college now. Thank you Papa, your daughter Lila."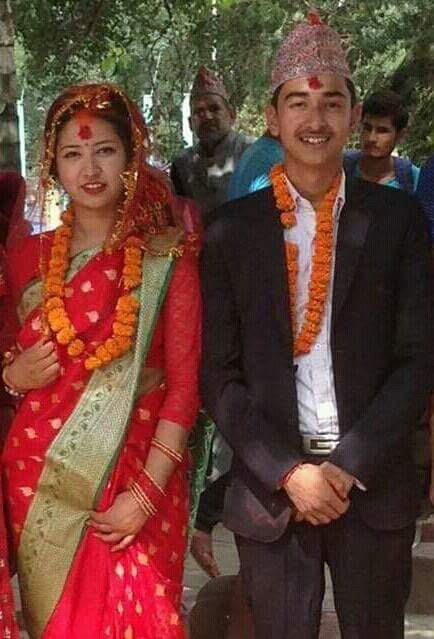 Lila and her husband's official union in his village.
May they work towards and receive the many blessings that life has to offer.
Her mother and sisters all learned a couple of days after the wedding and have blessed her.
She never was at risk of losing mine.
******
As most of you know, towards the end of July our son Bishnu was in a terrible accident between his scooter and a tanker truck, which was in the wrong. Bishnu suffered severe head injuries and the initial prognosis was not good at all. But with time, good medical care, the love of his family here, and the enormous support of our readers, Bishnu recovered and was released to further convalesce at home. He moved back into our college home to be looked after by his 9 brothers and 10 sisters living in different flats there. The other kids had already begun college, but with different schedules were able to always have someone with him.
Bishnu has done very well. He has some residual problems, but the neurologist feels confident that given enough time he will be back to normal. The first thing that returned to him was his warm smile.
Bishnu feels that he has been given a new lease on life; this has triggered in him reflection on how fragile things can be and to better appreciate everyone and everything, taking nothing for granted.
The donor support has enabled NOH to not only insure all medical costs were paid, but also to set up a fixed deposit bank account for Bishnu's future. Thank you all very much.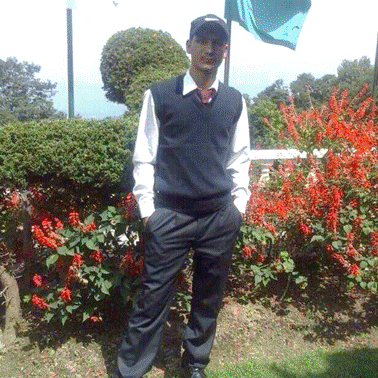 Bishnu on his first day of college, almost one month after the others and five weeks after his accident.
******
Between the end of high school and the beginning of college, a span of roughly four months, we encourage the children to find part time work and begin preparations for college. There were 20 graduates this year, 10 boys and 10 girls. After settling into the transition house, all quickly found local work in a variety of fields while learning to be more independent.
One of our children, Urmila, decided to take a "bridge" course in science, while working pretty much full time. The students who finished at the top of the class would be assured entrance into Kanti Dental School's undergrad studies program. The competition is tough and the odds long with many more wishing entrance into Dental and Nursing college than there are seats available. With admittance to Kanti she would be guaranteed a seat in the Dental School in two years' time.
| | |
| --- | --- |
| Urmila and I in 2006 | Urmila and I July 2017 |
Urmila was worried about the exam, before as well as after. Herald College, where most all the other children will be attending, would begin before these results were known, so I encouraged her to enroll just to be safe. A little over a week after Herald College began, Urmila received notice that she not only passed the exam but came in FIRST overall and was offered a 100% scholarship to Kanti for the first year. If she performs well she will be in the running for a continuation of the scholarship for ensuing years. Urmila, whom I often call Dimples because of her cavernous dimpled smile, has always been focused on achievement in everything she does. We are very proud of her.
******
Out of 30 children who take Taekwondo for an hour every morning this group above was chosen to represent NOH in this past spring's competition. Those with medals came in first or second. Their coach, center, is a First Dan and top Nepali Competitor who, along with her brother, now studying in Japan, have guided the children for many years.
In August, seven of our children were allowed to test for their black belts in a day-long examination both physical and philosophical, with all being awarded the Black Belt.
Unfortunately, the belts themselves have not yet been forthcoming so the long-awaited ceremony remains on hold at this time, but we will have photos and profiles in the next update. 
| | |
| --- | --- |
| Tilak and Sumitra studying | Chiya imagining her Khatas |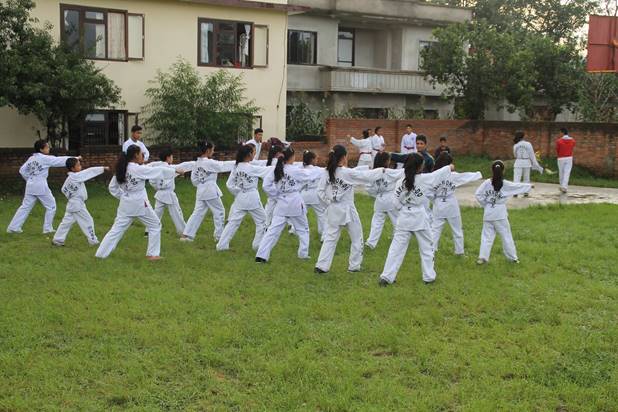 The new batch in a photo from last year, now yellow belts with a green stripe.
******
Yesterday we were entertained by two Spanish clowns traveling the world looking to share their profession and bring smiles and teach expression to children who may best appreciate it.
They reached us from Myanmar and plan next an extended stay traveling the length of India.
Mayra and Jaume Villarroya gave us a few very engaging hours and brought out the clown in many of our more subdued children. We thank them very much and encourage anyone to learn more at www.clownsciencedreams.wordpress.com.

Sandip and Pretty acting out a silent skit

Mankumari and Anita dissolved in laughter

Jaume offering some theatrical tips

Sarita and Naumaya getting coached on their skit

Jaume and Mayra did a thirty-minute performance, without words, about a painfully shy artist and his muse. The children were spell bound and tickled both.

Himal, their sound technician, and Suman, who, sitting too near the front, became part of the play.

And finally, the dawn of a dream's reality.
******
In July, Hope was having increasing issues with her left leg and Shriners Children's Hospital in Boston suggested we come on back. Hope is now enjoying the most comfort and agility she has ever had. Our deepest appreciation to Shriners Children's Hospital, her surgeon, Dr. Maurice Albright, her care specialist Bernadette Hannigan, and Brock McConkey who made a work of art for Hope with her new prosthetics.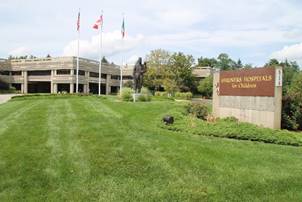 Brock and Hope at the Springfield Shriners Prosthetics Department
Family in Maine, Boston, Connecticut, Allendale VA, and North Carolina took us in between medical appointments and provided Hope experiences from a Boston Red Sox game to Children's Museums, swimming in the ocean, many walks in the Jamaica Plains Arboretum, and lots of very memorable family moments.
Hope was able to meet my four grandchildren, both my sons, as well as my 93-year-old step-mother. My brother Bob again shared his Jamaica Plains home, and Hope spent two weeks in North Carolina with Anita, her brother Vinod, sister-in-law Alecia, and with special guest appearances by Lou Poynton and Sam. At the end of that we all spent a week with my brother Peter and sister-in-law Boo, in their Davidson home before returning to Boston and final appointments.
We cannot begin to properly thank the friends and family who made such special efforts to help us again and let Hope know she has lots of family in the US.
Additionally, I wish to thank those who have contributed over the years to "Hope's Fund" which is drawn upon for these trips to Shriners, while still being used to support most of our Outreach Programs in Nepal.
Thank you all so very much.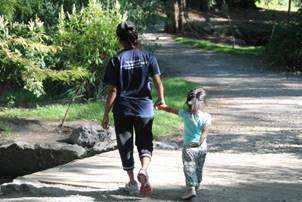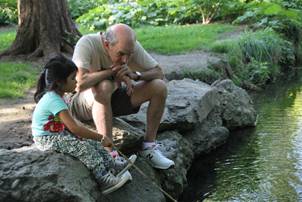 Arboretum walks with Mom and watching the river flow with Papa
| | |
| --- | --- |
| A lake dip with her lifeguard Tika | Reading with my granddaughter Samantha |
| Body surfing in the Atlantic | Loving her new feet  |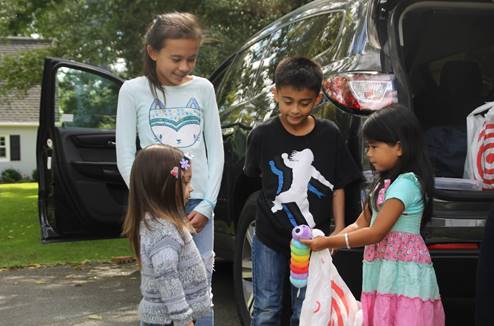 Meeting my other grandchildren, Nora, Ian, and little Paxtyn
******
Each of our children are remarkable young people, and each one has had a unique life before we found one another. I thought that they would appreciate having me write their story with which they might share one day with others who will enter their lives, such as husbands, children and grandchildren. I also thought you might appreciate knowing a little more about our children. So, with their okay, I hope to include one story with each update.
The child whose story I am prepared to write and I, sit together where we will not be disturbed, sip milkshakes, and casually go back in their lives. I listen and take notes as their memories flow.
Usually we meet a second time as one previous memory will later bring forth another, and to better establish timelines. In Nepal, birthdays or other ways to mark time do not exist, so time, that which was before our being together, rather than being stacked tends to be more viewed as in a kaleidoscope.
So, let me begin with the life of Srijana.
******
Srijana opened the wooden shutters of her small clay house and let the warm sun sponge up the dampness. It was only Wednesday; father would not come before Friday night. The night's rain muddied the ground outside; she could hear the bellow of the water buffalo; she had best get busy with her work.

She took the pail from a hook by the door and walked outside, still in her nightdress, over to the lean-to where the buffalo was tied. The beast turned his head as she approached, snot and mucus clinging to his nose and chomping mouth, and made a deep scolding sound while Srijana placed the bucket under the udder and began to pull with all the strength a six-year-old could muster.

Barely 25 kilos herself, she carried the bucket of milk with both hands between her knees, its sloppy weight rocking her side to side. She heaved it up with a groan and poured it into the metal container which she then carried on her hip to the land owner's house.

She stopped at the water pump after this and pumped some water onto her legs, scrubbed the mud off with her hands and pumped a little more to rinse them clean. Then she went inside and slipped on her ragged light blue public-school shirt and stepped inside the too large dark blue pleated skirt, pulling it up and fastening it at her hip. A quick brush of her hair, she grabbed her torn school bag and walked out the door, turning to put on her rubber sandals while pulling the old wooden door shut.

She liked walking to school along the narrow muddy path between the rice fields, then up to the pitched road for ten minutes to where the small school buzzed with unsupervised children waiting for the Principal and teachers to come.

The school was small and consisted of mostly boys, as all the girls in this part of the country are sold at the age of seven as domestic servants for money enough to buy about 60 kilos of rice. This happens during the Maghi festival which comes in January, the coldest month of winter.  Srijana was the youngest of 5 girls and would herself be sold in a year's time, but for now she was happy to be able to learn to read and write before her school education ended. 

Srijana's father was a laborer in the city, about three hours by bus along the pitched road up and over the mountains. Her father would come late on Friday night and Srijana would have rice cooked and waiting for him. He loved his daughter so much and both would sit on the earthen floor with his plate of rice and dhal between them and share, their busy fingers pinching together bites, often bumping each other's hand. He would jokingly nudge hers aside, while sliding the ball of rice across the dhal and up and into their mouths. They ate quickly and silently, pouring water into their mouths from a single jug, smiling the whole time into the other's eyes, in the shadowy orange the fire mixed with night made.

Friday nights were the best for Srijana, sharing rice from her father's plate, her father brushing his teeth at the pump while she scrubbed the cooking pots with sand to clean them. They would finish at the same time, wash their feet in the pump and go inside to lie on their rope beds covered with a straw filled thin cloth. Srijana would watch her father fall quickly into sleep; feeling peaceful and safe, she would soon be asleep too. 

Srijana would wake to the roosters crowing and occasional bellow from the water buffalo. She would go out to milk her while throwing some feed around to quiet the rooster and chickens so her father could sleep a little more.

Her father would come stretching and yawning out of the little hut, scratching his belly and smiling lopsidedly at his daughter, asking if she had been good at her chores that week, and did she get to school on time every day. When she had poured the fresh milk into the metal hip container, her father would put his hand on her shoulder and they would walk to the landowner's house to deliver the milk. There her father would ask the Ma'am, a heavy woman looking impatient, if his daughter had done well this past week. The Ma'am, her thin lips pressed tight said, "Some days the container is not so full. I think milk is slopping out the top. Your daughter needs to be careful." Srijana would look at the ground in silence, her neck and cheeks flushing red, this was not true; she would feel her father's gentle hand squeeze her shoulder softly, and he would say, "Yes, Ma'am. I am sure that this week you will have no complaints," and they would turn to continue on their rounds. 

Next they would walk to the school and meet the principal who would be sweeping out the bamboo and clay room of straw that had parted from the roofs thatching. "Namaste Dai" the principal would say, bowing with his hands together to her father who returned the same. "Good morning, Srijana." he continued.  "Good morning, Sir." Srijana would bow, her hands clasped prayer like below her face. "Has my daughter been a good student this week Dai?" the father would ask. "Dai, I could only wish all the students were like your daughter. She is serious and curious and anything I explain to her she locks into her mind. She could one day be the ma'am here. I am going to miss her after next Maghi," The principal spoke with eyes sadly twinkling.

From the school they would walk, father's hand on her shoulder, to a little tea shop and have a cup of chiya. This was their time together. Saturday evening her father would get on a bus for the city so he could work early in the morning. 

And so it was that life went on. There were no thoughts of happiness or sadness, it was just life and as such Srijana lived. She loved school, she loved the day each week alone with her father, but she missed knowing her 4 sisters. It wasn't like she knew them and they had gone away. Only one did she know a little bit. Asha was sold when Srijana was 4 or 5 and she was bought by someone not far away so she might see her once a year in winter during the Maghi festival when the girls were sold and would be taken away by bus. Srijana enjoyed the festival because her caste would make it party-like, and corn and sweet potatoes would be cooked for all the children to eat. She did not grasp the weight of separation of small girls from their families into a life suddenly alone, deprived of any social interaction, working at a home or highway restaurant from early morning to late at night. Seasons turned to years as small girls became young women, still alone.

Srijana had a mother, but her existence was more like a shadow in her life than a full-bodied mother present and reliable. She worked outside the house, and lived to the best of her understanding of responsibility, which fell a little short of being a mother to her daughters.

******

One Friday her father did not come home. Srijana waited. She had the rice ready and waited, and waited. She fell asleep on the floor when hours later a neighbor came and said, "There has been an accident and your father is dead. Go to your sister's home and tell her." With that he left. Srijana was startled and light headed, she couldn't grasp what was happening, she just started running, and walking, and running again, through the moonlit night, across rice fields silver in the light until hours later she reached the house where Asha was kept. She pounded on the door, she called out her name and when Asha opened the door, and saw her little sister, she flushed with emotions that were new to her— love, happiness, hope.

Little Srijana, seeing Asha, felt the tears come, and was quickly embraced by Asha who knew something was wrong. "You must come home now. Father has died." The family that "owned" Asha begrudgingly allowed her to go with a promise she would return quickly.

As Asha would discover their father was indeed dead. She had made a system over the years to get word to her sisters and put that into play. The next day they arrived. The sisters were together again and little Srijana watched and listened to everything they said. After three days the body arrived and was set upon a funeral pyre. Her sisters all left the next morning. Bimala, the second oldest who had been "Kamlari" for over 8 years, knelt before Srijana and promised her they would all return and live together one day, no matter what. "Just remember us and trust me," and with that she rose and quickly walked away.

A difficult year passed without her father and little to eat. Her mother worked hard and brought food for her when she could. The Maghi festival was a few months away and Srijana was concerned that this year she would be sold.

The one year "Puja" to mark the death of her father was also coming soon.

One day when Srijana returned home from school she saw the door open to the small house. She tiptoed over and peeked in, only to find Bimala, Asha, and Gita sitting on the floor by the fire. She smelled rice cooking and saw Bimala open the pot and stir the rice through the vapors. 

She went inside slowly. Seeing her, all three sisters laughed, and called her near. "We have come for the Puja," Bimala said, "tomorrow," and Srijana's sudden joy evaporated knowing they would leave the day after. But she would be wrong.

Death and the anniversary puja of a death are the only possible reasons for owners to allow their "servants" to leave, and most often both events happened without the child ever learning that they had. Bimala had spent the year working hard, staying silent, and smiling a lot, but in her thoughts, she was thinking only of the day she would find a way to leave and collect her sisters.

As the anniversary of her father's death neared she asked her "family" if she could leave for two days to attend and with her hard work all year, and smiling demeanor they allowed it. "But you must return the following day," the ma'am said, her finger wagging.

Bimala left early in the morning and went to her sister Gita's owners and begged them to allow her to attend the puja. They were disinclined to allow it, but Bimala would not leave without her and eventually they let her go. Gita, thanking them beyond need, promised a quick return.

Along the way to Asha's house Bimala shared with Gita that she heard from other Kamlari that an American man had opened two homes for Kamlari girls who could be rescued. She said, "We will get Asha and Srijana and go there and beg to be taken in." Gita could not believe such a thing could be true.  She had been six years a servant, quiet for so long she could now barely speak to anyone, but she walked along, frightened not to return to her "family," yet frightened to return. She knew if she was even late in returning she would suffer a lengthy beating.

They reached Asha's house as the sun began to set. The ma'am came out and asked why they had come. "It is the one year puja of our father's death," said Bimala, "and who is going to do all the work if I let your sister leave? She can pay her respects from here." Then Asha walked around from behind the house where she had been cleaning the cow shed. She saw her sisters and ran to them. The ma'am said to her, "Say hello quick and get back to work. Hurry up."

Bimala protested, "Ma'am, she must come. It is just for one day. She will return the next in time to cook rice for the family." But the ma'am was not in the mood to listen. "Get back to work," she told Asha.  And with that she turned to go inside. Asha went around the corner of the house in silence, and then turned to her sisters and motioned them to begin to walk away, Bimala shook her head no, but Asha insisted with a big grin, so Bimala and Gita began walking down the narrow dirt road from where they had come. When the house was faint in the distance behind them, they heard Asha yell, "Run quick!" They turned to see Asha drawing near, smiling mischievously. 

Three skinny young girls in tattered dresses running wildly to reclaim their lives. They resembled autumn leaves skittering forward on the dirt road by a firm wind lifting and pushing them into a future whose only certainty was they would be together NO MATTER WHAT.
And that is the story of how the youngest four of the five KC sisters came to NOH. Srijana has always been in the top three of her class every term of her school career. Each of these girls is kind, sweet, and caring.
Below are recent photos and the photos I took when they reached our remote home 9 + years ago.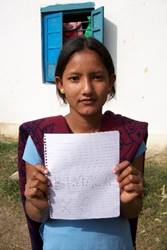 Bimala

Asha

Gita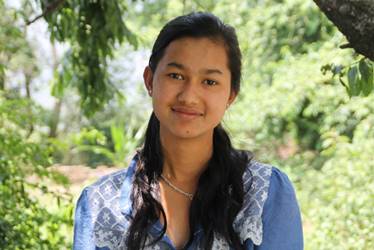 ​Srijana
And that is the update for September 2017.
Thank you,
Papa