We left you in our last update with the idea of Thanksgiving being introduced to the children. We did it and the day was a lot of fun. We served a menu unlike anything the children had previously eaten:  a vegetarian selection with garlic mashed potatoes, pearl onions, wok-fried stuffing laced with apple, mushroom gravy, candied sweet potatoes, green bean casserole and a huge array of sweet breads brought by Kathy Procanik and friends. There were several countries represented by many volunteers in the Volunteer House who had returned from placements to join us. In fact the only Americans present were Sam and me. The company was inspiring and left in mid-afternoon with both appetites and spirit sated. Our sweet-bread-bringing guest Kathy is a special friend who was instrumental in bringing us together with our daughter Hope. She had returned to Nepal in her ongoing work for Medical Mercy, the Canadian NGO headed by another great friend Elsie James. Please take a look into the incredible work they're doing at www.medicalmercycanada.org.
We learned a lot while in the kitchen preparing all of this to be simultaneously ready without ovens and using only 3 gas burners. We will build on our knowledge for next year. The kids loved the food and have asked if some of the dishes can be offered occasionally in the evening meals or Saturday tiffins, and we will.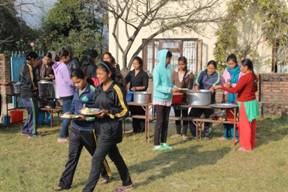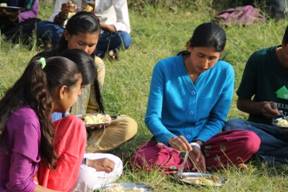 We served outside and ate picnic style, pods of children dotting the ground.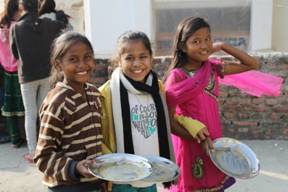 Sarmila contemplating what this might be on her fork.  Others going back for seconds.

Kathy with Naumaya and friends and with NOH volunteer teacher Maureen.

Dil Kumari and two of her children at Thanksgiving, and on moving day!
*********



A few days in the life of Priya
In the last update I wrote about Dil Kumari and our search for a new home for her. We resolved this shortly after Thanksgiving.
Dil Kumari and her children share a 2 bedroom flat with a living room, kitchen and a good size bathroom with one of our older daughters Shanti and her 2 year old son.
Shanti returned to us during the October Dashain holiday after a 2 year absence. Shanti walks Dil's children to school and back again every day and does the cooking for them all; in exchange Dil will watch Shanti's son in the late afternoon should Shanti wish to join a course at our Chelsea Education Center. We are hoping to find a vocation that Dil would be interested in so that she can learn to live independently sometime in the future.
| | |
| --- | --- |
| Together in their new home | Bottom flat is theirs |
| Dil Kumari's children | Our boys coming to move the family |
*********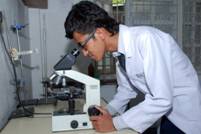 Our son Anil in his 3rd year of 5 at Kathmandu Medical College studying pharmacy
December Birthdays
| | | |
| --- | --- | --- |
| Puja, 20 (in Tailoring shop) | Deepa, 20 (Asst. Manager) | Lila, 19 (college) |
| Suman, 11 | Kanti, 12 | Gita, 20 |
| Bhumika, 13 | Jenny Rai, 13 | Alija, 17 |
| | |
| --- | --- |
| Kamal, 18 | Binita, 20 |
*********
Gita Lama has been with me almost from the beginning. She has shown her loyalty to me and the family of NOH during times of countrywide danger and confusion which fortunately have been rare, and during all the good times when opportunities for her have come around she has never flinched. Gita has always made me feel like a father to her, a role I am honored and delighted to feel truly and comfortably fits. Gita and her husband have just become the proud parents of a beautiful little baby boy who as yet, according to tradition, is unnamed.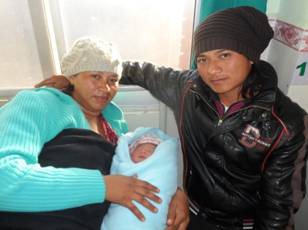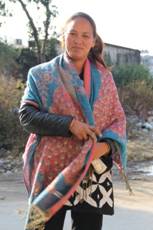 Gita has taken a 6-month paid leave and with her husband and son will stay on the small rented farm they have where they raise chickens and grow vegetables. Despite everyone's urging her to go home and prepare, Gita continued to work with us until 1 week before she gave birth.
We had several possible choices for taking over the management of the Sanctuary House, but after only a brief deliberation we asked sisters Deepa and Cila if they would like to do it.
These two girls have shown exceptional maturity and kindness. They are both in college but one has the morning shift and one the afternoon; they are adored by everyone, always willing to do anything that needs to be done without being asked and have a fun sense of humor.
Deepa and Cila have been with us for a long time. Deepa has been the big sister who always does the right thing, urging Cila, a bit more adventurous, along a path as direct as she can to accomplishment. Deepa applies this same loving guidance to their younger brother Roshan. Before the girls were asked to manage, they spent their after or before school time tutoring the girls in Anita's house and helping out at the café or taking kids to the orthodontist. We are very proud of their accomplishments and see them as perfect role models for the others.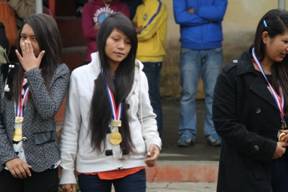 Deepa, center, and Cila on right being honored at a recent Skylark School function.
*********




Some snapshots of Davit's world
The last few months of 2014 brought many changes and all of them good. The children are getting older and evolving into their futures with joy, excitement and confidence. One of the most pleasing developments is in the care of our daughter Aakriti. For two years Aakriti has been cared for in one of our homes by a wonderful woman who gave Aakriti a lot of love and special attention. This past fall Jishnu decided that she should return to her husband and children who are quite far away. One of the older girls in our Sanctuary House where Aakriti lived has always given her a lot of attention and shared a warm comfortable relationship with Aakriti. Bipana has also suggested for some time that she wished to drop out of school as she did not see a future for herself that would be smoothed by it. Bipana was in class 9 and had, she felt, enough math to serve her well and saw no sense in the other studies. So when Jishnu announced her intentions, Bipana quickly asked if she might take on that role. She did and things have been great ever since. We enrolled Aakriti into one of three schools for the blind; this one will be for 6 months while she develops a few skills necessary for her to move into another school which is the best and oldest school for the blind in the valley. Bipana takes her every morning and remains at the school helping out until the students are dismissed in the middle of the afternoon. I went to visit one day and left so moved by the work Bipana does at the school. I found that she has become the go-to person for all the parents with questions. The teachers at the school cherish her and how she serves them, the parents and children alike. There comes a moment in every parent's life when they first see their children in the environment they have created outside the one they share with us, when we see them as others do, as young adults not as the daughter or son of us, but as equals. We watch other adults approach them and hear the respect in their voices when asking them for guidance. These are clarifying and very satisfying moments when we realize our children have grown up and maybe kept this from us by staying in the role of daughter at home when actually they are both daughter and independent young adults. I could not be any prouder of Bipana, she is exceptional by all standards, but also very typical of our children.
| | |
| --- | --- |
| Aakriti this past summer | With Bipana at tiffin early this month |
*********



Friendship
*********
The "Tharu Olympics"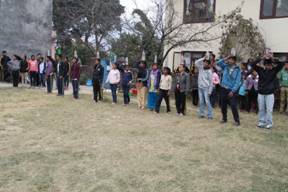 A little more than half of our children are from the Tharu ethnic group which is known to possess uncanny abilities to balance heavy and asymmetrical objects on their heads while performing whatever task is at hand. We discovered that balancing eggs in a spoon or catching them when they drop is not one of their strong suits. But they distinguished themselves on a cold Saturday by balancing various open containers of water on their heads while racing to and fro.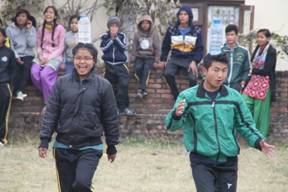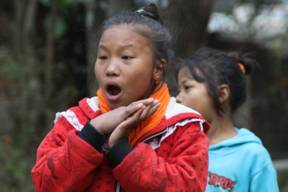 The "Tharu Olympics Two" will take place in the warmth of spring with hard boiled eggs.
*********



Here is your sandwich and chips...what else can I do for you? Whew, my turn now.
*********
Our beloved uncle Jake flew in from Australia on December 15th making Christmas a very fun and heartfelt time. On Christmas Eve we tried to show 10 years of photos of the children on a new projector. The first few photos broadcast on the side of the house brought a wave of cheers and laughter from the assembled, and then the machine turned itself off and refused to yield more than an occasional sputter of a picture.  So we turned to one another instead and by the yellow glow of candles the children mangled the verses to all the Christmas carols we could come up with.  We drank lots of hot chocolate, we basked in the warmth of being a special family together and when the chocolate was finished and the candles burnt low we walked home all together, the most distant house the first to say goodnight at their gate.  Then one by one we watched the other children enter their gates under our affectionate eyes until the last house from where we began turned to say goodnight to me and I walked alone then to sit with Hope while she fell asleep. In the early morning's light the children would find the crunchy ice brittle ground peppered with bags concealing useful and fun gifts that appeared under cover of darkness with the help of Jake and our volunteer director Eileen and several of her wonderful volunteers. 

Early Christmas morning

Children doing their secret Santa exchange
Children starting to arrive on the grounds
Jake, who towers over us all, helping to serve Christmas dinner and on the right Broadway director Scott Embler sharing his enormous talent with our choral group.  Scott came to NOH as a volunteer as he approaches the end of his around the world trip. It is awe inspiring to see what a professional can do with a group of kids who have been in a singing class for two years. He somehow opened some understanding in them that coaxed out sounds so rich and varied that it had them smiling too hard to keep singing. Scott spent several days over Christmas filming "A Day in the Life" of our kids and will edit this after he reaches home. On his way there he has a stop in Iceland to prepare for his next stop: diving in Antarctica. Scott is an amazingly kind and talented man with a huge appetite for life. 
*********
To help the children to understand the meaning behind Thanksgiving we held a writing contest in which we asked them what they felt the purpose and meaning of Thanksgiving might be. Our Volunteer Nepal director Eileen and a few volunteers spent a week carefully reading all the essays and chose the best two from each house. As it is with everything the children have written I have saved these thoughtful, touching, humorous essays for the children to have back one day. And the winners are:
| | | |
| --- | --- | --- |
| Apsara | Bhumika | Sapana |
| Purnima | Gita | Ajita |
| | |
| --- | --- |
| Ram Saran | Rabindra |

The awarding for best Thanksgiving essays, judges Eileen on left and Laura on right
*********


Sam recovering from gall bladder surgery with the medicine of love 
*********
In a year of many firsts we also decided to have the children vote on the one child who they felt had the best year and represented the character of NOH. The voting was impressively spread among many children. All three of these girls have a similar trait and that is their kindness and willingness to help anyone anytime. They are all very hard working and achievement-oriented students who take the time to tutor any of the children without hesitation.
| | |
| --- | --- |
| Anisha received the third most votes | Anupa the second most votes |
And the clear winner with the most votes: Cila, shown here wearing her award, the Tori Poynton-designed Nepal Orphans Home necklace. Some of Cila's accomplishments this past year are passing her School Leaving Exam in the first division, winning a full scholarship at Morgan College to play basketball, ending her first term number 2 in her freshman class academically, helping in the Café after school each day, tutoring the girls in Anita's house every afternoon after school, managing the budget for the college girls' house and with her equally great older sister Deepa being asked and accepting the job of co-manager of the Sanctuary House. Cila, like all our children, makes us very proud.
*********

Three countries, three individuals giving of themselves for the children:
Paulo from Portugal, Ted from the US and Hannah from Germany
We have been working hard here on creating programs to continue to challenge our children academically and vocationally and some are falling into place this month, an exciting time for everyone with many exhilarating moments when something works and a few disappointments when they don't; I tend to learn more from my failures and constantly trying things has brought me a lot of education. In the end I find the children appreciate our attempts that fail just as much as our successes as they are illustrations of our love if not our wisdom.
*********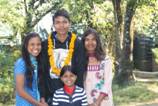 Gita is now 11 years old, she and her two sisters have been with us for 6 years. I have long suspected that she may have a growth hormone deficiency but I kept waiting to see if she would have a growth spurt in keeping with a couple of other girls that are her same age and original stature. Finally this past fall I found an endocrinologist that had been trained in Massachusetts, a really bright young man, and we started to have Gita tested. Unfortunately he was here only temporarily, and after he returned to Massachusetts, I began another search which ended blissfully with a great doctor who has trained in endocrinology in other countries. He studied her previous test results and ordered what he deemed was the definitive sequential blood test for her and the results came back showing that she was substantially below the established benchmarks for indicating a growth hormone deficiency. He suggested that she should have a good reaction to the treatments and offered growth rate expectancies which were encouraging if not exhilarating. I high fived Gita and told the doctor, let's get started on what was to be a daily regiment for several years. He then said you should carefully consider this and he wrote the name of a pharmacy rep and told me to call him directly. It turns out that the course of treatments would run us about $22 a day.
Gita is a wonderful girl, always happy and interestingly reads the Bible every night before sleeping. She has not gained much height in the time I have known her. Just now I went to school to have lunch with the children and saw Gita standing next to Juna who was the same height when we brought them both into our homes; Juna is now a foot taller than Gita.
We have always found a way to help not just our children, but other children in the neighborhood, receive what has been on two occasions lifesaving medical treatments. Gita's life is not in jeopardy, but the issues of quality of life are. The doctor said that she likely would not grow much more than she is now if we do not help her, so is her future to always be the height of a seven year old? If we help her she may attain the height of her shortest sister which is 5"3", her elder sister is 5'6" and her brother about 5'9". These are all normal heights in Nepal.
The greatest struggle that I have is that this comes down to a question of money, but I am making it a philosophical one. I have gone over the budget and examined the expenditures we have on behalf of children outside our home. If we stopped sending 20 poor children to school, stopped a five year program of feeding a hot lunch to 100 dalit (untouchables) children every school day, and quit supporting the medical and food cost of 10 blind children we could cover Gita's growth hormone.
"All for one and one for all" wrote Alexander Dumas, but what does that really mean? It sounds great, but it is best left unexamined. Does it imply that the individual is willing to sacrifice for every individual or for the benefit of all and that the group is also willing to sacrifice for the benefit of one? If so we have a stalemate.
In Nepal there is a tremendous amount of need and we are faced many times a week with decisions like this: Who can you afford to help without placing any burden upon your own children, but now it is one of our children whose help would greatly affect the lives of 130 other children who are unfortunately outside our home.
Is it her destiny to be tiny? Is this a part of a karma she is here to experience? Questions like this I try to ignore, but I have these suggestions brought to my door quite often. Meanwhile Gita waits quietly though I feel in her eyes she is wishing to hear "Tomorrow we will start your treatments;" instead I ask, "How was your day?" and wish her a goodnight's sleep and remind her of fun events coming up. 
*********




We live in a world of smiles here
2014 has been a very good year for us at Nepal Orphans Home. Our Volunteer Nepal department has brought some spectacular volunteers to our shore and they have all left their mark in wonderfully contributive ways across Nepal as well as in Dhapasi. They will always be connected by their experience with us and the ongoing help to those who touched them while here. The donors to NOH have also made what we can do for the children and others possible; there isn't a good enough way to thank them for their trust and belief and care for others.
The children are truly nothing short of amazing and in just a few more years I believe that our older children, armed with higher education and vocational skills, will in their independent lives be reaching back in support of their smaller brothers and sisters still with us.
2015 is firing on all cylinders, the programs that I mentioned above enthusiastically received and I will be reporting on them soon. Comfort should be taken in the fact that the people here to help are truly dedicated and special people whose purpose in life is all about helping others, richly talented folks opting for a year's emotionally abundant life over another year's materially abundant one. These are folks who do not mind the problems encountered with building programs as they become more energized by successfully navigating through them.
In closing I want to share a story about 20-month-old Hope that I had shared in a letter with a friend but felt it worthy of repeating.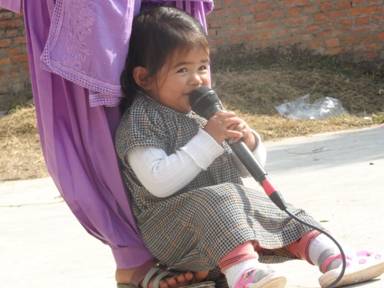 On Christmas day the children put on a program as they do every year. It is always well rehearsed with each of the four homes providing many sorts of entertainment. We had some wonderful guests with us to celebrate Christmas and I was called away at one point in the program in one of the guest's behalf. It was at this point that Hope somehow ended up on stage and was given the microphone. Hope is very observant and tends to mimic what she sees to perfection. I have only these two photos and the recollection of a few people about this with which to reconstruct it again now.
Hope took the microphone in hand and paced a little back and forth while coolly scanning the crowd of 150 or so. She did not say a word, but seemed to be in deep thought as to how to begin. People waited, smiling in nervous anticipation, and she looked and they waited some more. Feet began to shuffle and a few called out to encourage her. She paced a bit more like Steven Jobs searching for the right words to announce his latest creation before a crowd with baited breath.  Then she sat down on her mom's feet, smiling as she slowly scanned the crowd, and then she spoke, one word, like the sermon from the mount, but she had just one thing to tell the assembled before handing the microphone to her mom, one message delivered for them to ponder. Hope simply said, "Papa."
And that's my girl and the update for January the 27th, 2015.
Papa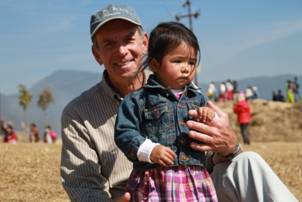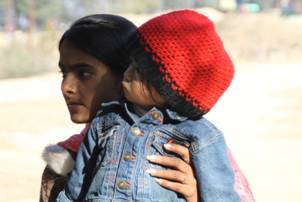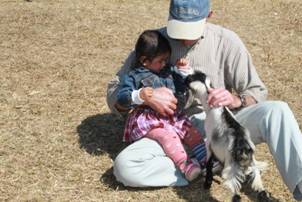 Clockwise from top left: Hope paying respects to Saraswati, the Goddess of education; calling a baby goat; Hope when the goat came to her; Hope and her mom in quiet contemplation.
​