Our children are getting older, so many of the boys have these furry little caterpillars on their upper lips appearing. One morning they are looking up to my face in our daily greetings and the next they are looking straight across as they firmly shake my hand. In about three years we will have as many in college as at Skylark. Some of my older kids were overheard a few weeks back talking to a few of their local friends who were teasingly asking them if when they go to college is Papa going to walk you there in line as he does to Skylark? I asked what did they respond and I was told, "We hope so."
College is when our children really start to exercise their independence. This year we have six more of the children beginning. As always, we had an early morning "Puja" in a light rain for them. On this day their complete uniforms had yet to arrive but their college sport shirts brightened up the darkness.
| | |
| --- | --- |
| | |
| Dawn Kumari giving "Tika" to Yeshodha | Cila on right in her Morgan College Dress |
There are many months between the children sitting for their college entrance exams and results, and then another month before the 1st semester begins. We had seven sit for the exams and 6 pass in the first division; the 7th, Deepa, missed one subject by 4 points and must retake that exam. All seven spent their time productively helping in the homes, our café, taking "bridge" courses, and teaching at a local understaffed school where our volunteers also help out.
This year's group of seven are great children; I am immensely proud of the way they would continue to rise at 5 a.m. and follow a schedule of their own making that had them walking great distances to meet all their commitments. They were always cheerful and on time and by day's end exhausted. They have certainly found relief in the opening of college.
Cila was offered a full scholarship at Morgan College to play basketball, a game she loves and excels at. Cila continues to go to Anita's House after school every day and tutor the younger girls. Deepa has just taken her make up exam and, if passing, she too has been offered to join Morgan.
Cila with MVP and Tournament Champs trophies and Deepa, number 11 in the finals.
The other five children will join their brothers and sisters already attending Herald College.
NOH children began attending Herald School in 2005, even before college level courses were added.
| | |
| --- | --- |
| | |
| Morgan College | Cila on Morgan's concrete court |
| | |
| Herald International College | Saroj, Rojina, Lila, Sushila, Yeshodha, Ashok |
**************
On June 14th we had our first day of grass cutting at Papa's House grounds. We decided to have a little fun before we began and so we scattered 150 boiled eggs with numbers on them that corresponded to a prize list in waiting. The prizes were all good, mostly edible and some top prizes included a dinner out with their house manager, or shopping trips, just them with their managers.  I was a "prize" (questionable) for two winners; one a pizza in Thamel together and the other had me cooking dinner for the winner and two friends of their choosing.
Nama winning 3 coconuts
Eagerly hoping to hear their numbers called
Bipana learning she won the dinner with two friends and our newest daughter Nargise
I had a really pleasant lunch with Himal in Thamel; we had a chance to relax and talk and for him to share his current hopes and dreams. These are all too rare treats when you have so many children and it is my biggest regret, but we are always looking for ways to spend more time alone or with small groups of the kids doing things smaller families do. One recent Friday evening Sam, Saroj and I barbecued chicken at the boys' house using a southern recipe my father enjoyed. I wish my Dad could have been handling the tongs, and I hope that the boys feel in their lives the love I felt from my father.
Then it was on with the grass cutting. Our playground is roughly 15,000 square feet. The children, some armed with small scythes and others with empty rice sacks for the cut grass, start at one end and, duck-walking while cutting away, they reach the other end of the field in about an hour's time. We dump all the fresh grass over the wall where goat and cow herders are quick to collect it. Then the children line up to walk back to their homes for tea and a bit later their morning meal.  It is not yet 6:30 with so much accomplished on a Saturday.
Even volunteers rise and meet us at 5 in order to help; that is Sharon in the green shirt.
Hope is game though falling back into sleep, here, in a dream she is a symphony conductor.
This past Saturday, August 2nd we celebrated July birthdays and results from the final term of last year. And the winners are!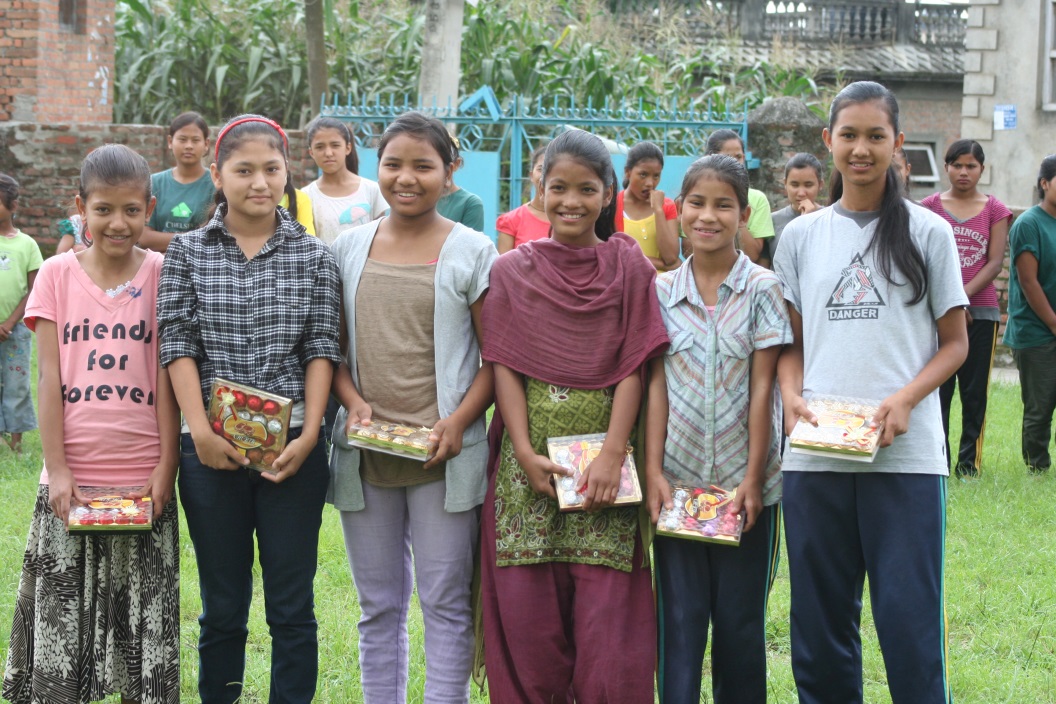 First in their class, Saraswati, Apsara, Rupa, Sandiya, Juna and Srijana KC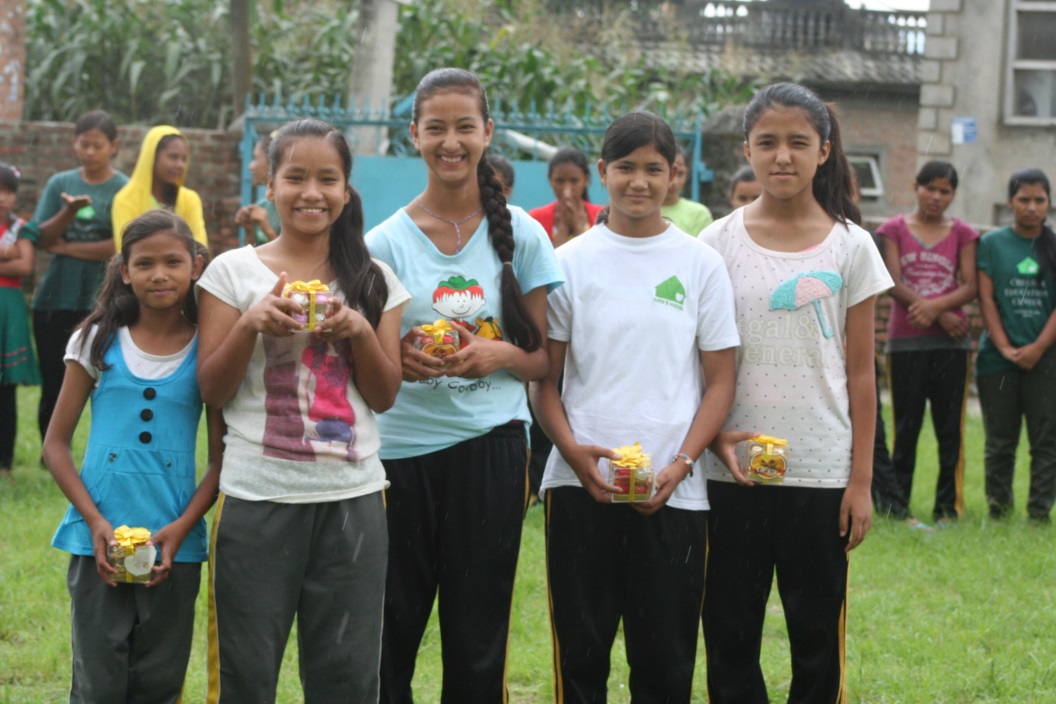 Second in their class; Pinkey, Bhumika, Yeshorda, Mary and Kusboo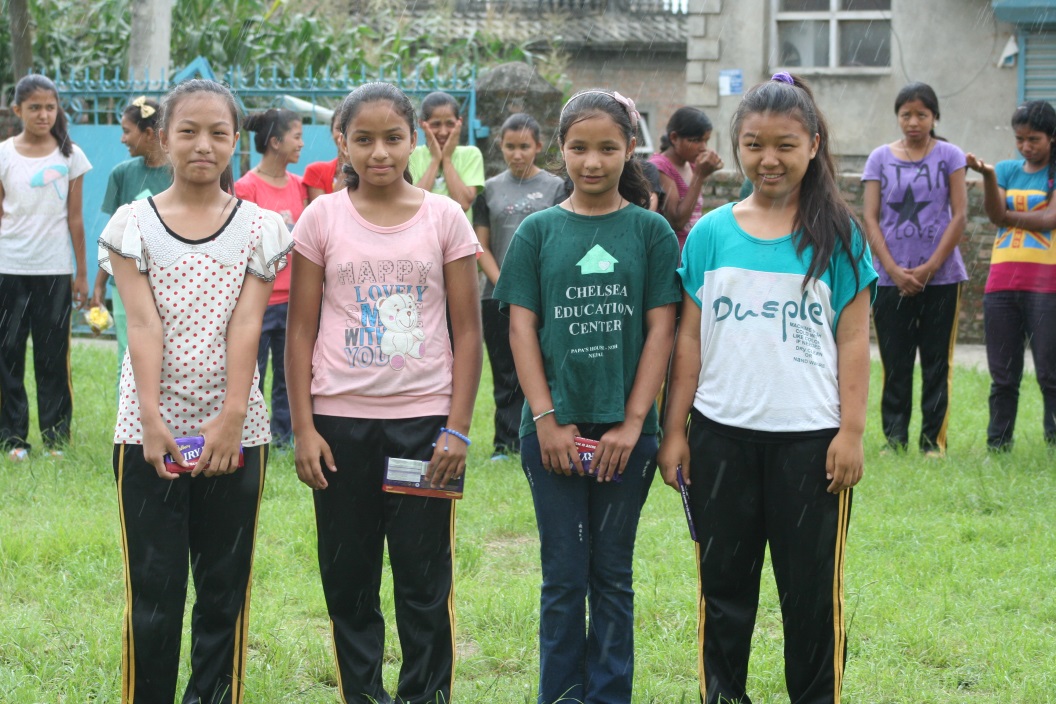 Third in their class: Gomarti, Alisha, Anita and Anupa as the rain begins
Class 8 district exams top finishers in Papa's House were left to right in order of finish Himal, Roshan, Kamal, Ishwor and Sabita as the rain grows in determination.
After a pause the sun returns while we honor children who maintained over 90%, and they are: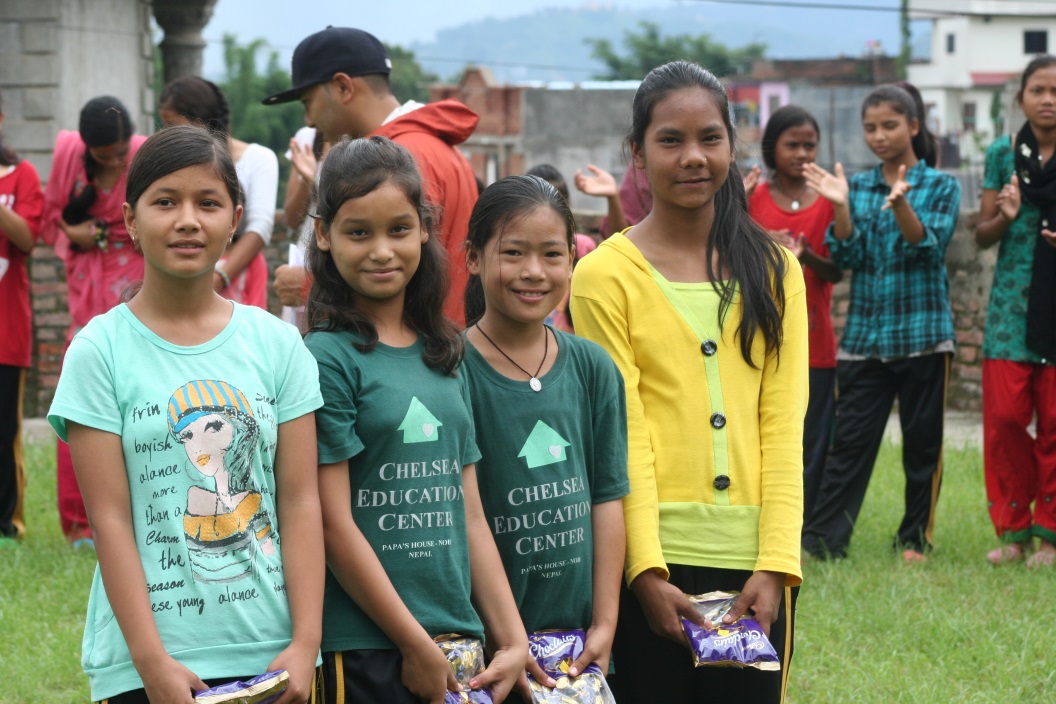 From Gita's House are Anu, Kanti, Salina and Kailashi
From Anita Mahato's House those with over 90% are left to right: 

Pushpa, Mankumari,  Asmita, Kausil, Kamana, Anisha, Prety and Asha
And from Anita Chaudhary's House those attaining 90% are from left: Asmita, Naumaya, Samira, Samjhana, Manisha, Juno and Priya with Purnima and Kalpana behind them.
From Sam's Boys' House and to a thunderous applause led by their big brothers 

Suman on left and Davit.
**************
On Saturday last we asked the children in each house to vote on a representative for them in an effort to create a Children's Council. We explained that the person they choose should be available for any child or group of children in the home to discuss any issue, happiness, need or complaint with them. Then this representative would present all issues in a meeting with the other representatives, managers and me on the last Thursday evening of every month. As a group we will discuss the issues followed by the managers and I voting on request or offering council and resolution where needed. The representatives would be learning management skills. The children will know the result of their representative's efforts in a written report the following Saturday. They then would have the weekend to consider voting in a new manager or staying the course. We plan to make the Thursday evening meetings end with a bowl of ice cream and casual talk.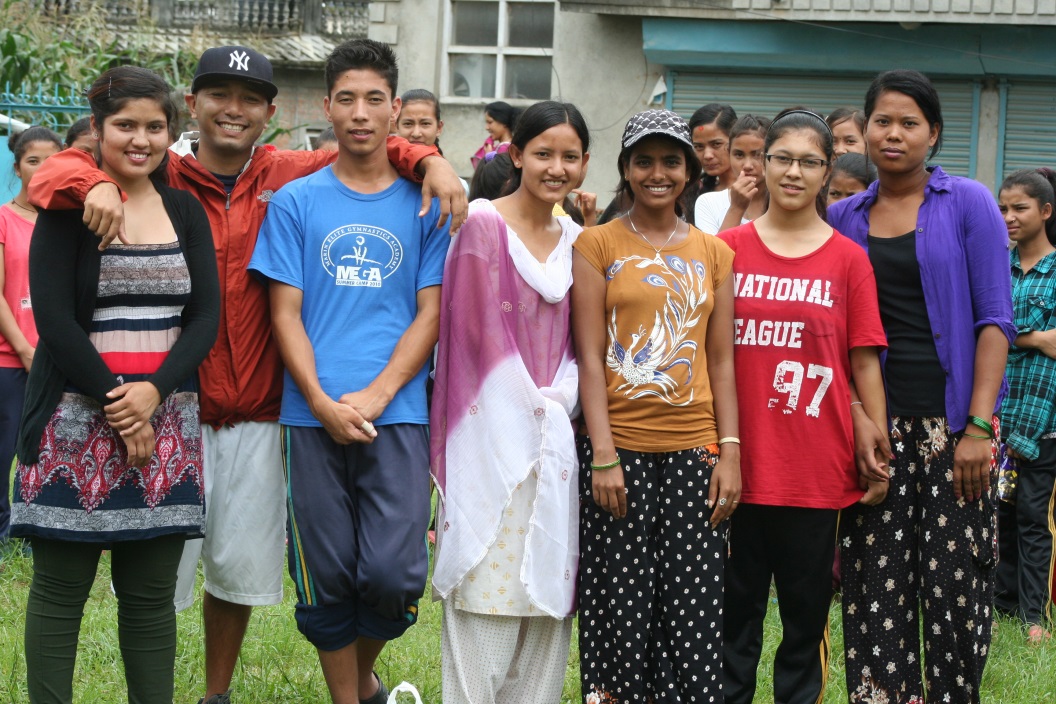 Gita is missing here but Bipana on left is her house rep. Sam and Himal; Bimala and Anita,Kabita and Anita C.
We ended our Saturday together with the birthday celebration, 14 of our children had July birthdays. Each house manager is charged with buying the gifts for their children and they do so with joy and excitement.
My favorite photos of those celebrating were of Aakriti who had turned 7; this past year has seen so much progress in her walking, music playing, hearing and speaking. She has had Jishnu to care for her one on one for a long time and she does a remarkable job along with Aakriti's teacher Shivahari.
**************
Through the effort and attention of two of our volunteers, I was inspired to visit a small home for physically or mentally disabled children known as Om's House. Om is disabled, bedridden but with two healthy siblings and loving parents. As is the case with most homes, money is always an issue, but after spending several hours in conversation with Om's mother while playing with the children I felt that they deserved the support of NOH. One of the volunteers, Tanya Pearson, a Smith College student, went home and started a fundraiser for the home as well. The other volunteer Sharon is at the home daily, scrubbing, bathing, playing, feeding, holding, and giving so much love to these children. These two volunteers really make a difference and are exceptional, not among our volunteers, but among people. Our eldest daughter Sangeeta will start volunteering there on Tuesday August 12th.
Tanya with two highly cognizant and always smiling children​
Om's Mom Ratna, center can't afford to pay more than for one part time helper, but the girl under her arm, Srijana, lives there and when not in school is helping around the house; she is a great 17 year old who is both deaf and dumb, but writes well in Nepalese and English. The little boy being held by Tanya gave me a wonderful hour in my arms.  He had suffered from encephalitis and has limited communicative or motor skills, but he snuggled into my arms and grinned at me and brought a wonderful serenity to my day. This little girl on the right is Om's charming sister.
**************
Our Café has found its rhythm under the talented and professional skills of Lachi (center on right) and assistants Saraswati on left and our own Rukmani on right. A revised menu has increased the daily volume to average 300 meals served; a few days a week they hit highs of 360 meals served. Lachi has a deft touch that teases the palette and brings smiles to students and teaching staff alike, so they return to class happy and energized. She manages to provide great nutrition at a cost less than 15 cents a day per plate, the fee we charge the staff and village students.
**************
August 10th was Brothers Day in Nepal; each year the girls spend a month in preparation to celebrate their brothers. They dance, sing and do skits, tie special threaded bracelets on each boy's wrist and apply tika to their foreheads. Lachi and staff prepare a fun lunch, hundreds of photos are taken and the grounds are busy with play and conversation. We managed to do it all before the rains came in midafternoon. Two banners were made, one exquisitely drawn by the girls in Anita Mahato's House, a collaboration of many, and the other embroidered by the girls in Anita Chaudhary's House. The embroidered one involved several girls spending countless hours. They had drawn the design on the back side and began the tedious task of embroidering, apparently mesmerized by the task. When finished, they turned it over to see the beauty of their effort only to discover it read backwards. They were crushed, but laughed it off knowing they created something more memorably fun than perfection would have.
Banners lovingly produced by the homes of the two Anitas
Kabita Basnet, MC for the day​
Boys patiently waiting for their tika
Volunteer and longtime friend Jason Stone and Michael T. receiving their blessing
Kausila on left and Sunita singing
Aakriti played the Madal, sang and danced
Our great new Boys' House didi Namita and daughter Nargisha, and Samira singing
Anisha sporting owl earrings
Chham singing
Kamali singing
Gita's House girls dancing
**************
Dhiraj is an exceptional boy in class 10 this year. He has a natural understanding of anything electronic and knows computers inside and out. He has been taking software classes for a few years and after one full year of computer hardware training, he replaced his teacher, a masters degree holder in computer science who had left for America. 
| | |
| --- | --- |
| | |
| Dhiraj at Skylark in 2007 | Dhiraj at the boys' home 2006 |
| | |
| Hari and Dhiraj spring of 2006 | Anita and Dhiraj sharing tiffin and talk 2008 |
Dhiraj is a very kind and gentle boy, soft-spoken but highly respected in class, teaching children older than himself computer hardware during the week and Photoshop on Saturdays. I interviewed him recently. He introduced himself as follows:
"I am Dhiraj Yadev. I am 16 years old and I study this year in grade 10 at the Skylark English School which is in Dhapasi, Kathmandu. I am from a small village which is in the southern part of the country near the Indian border. I am one of the kids staying at Papa's House since I was 8 years old. I love staying at Papa's House and spending my happiest days with Papa, my brothers and sisters and especially with SAM. I have got such a lucky chance to stay and live in Papa's House and enjoy my life with all the rights and happiness which I think no one could give me. I am a lucky child because more than 70% of the children in Nepal are deprived from their rights, happiness and basic needs."

Why do you think Dhiraj Yadev exists?
"I think that I exist because I was born with a great destiny. Everyone is born with a talent with which they can do goodwill for the country."

What makes people behave as they do?
"Everyone is equal according to the great people like Mother Theresa and Mahatma Gandhi. Being rude and unfriendly is part of nature, but it is our enemy. Arrogance and jealousy lead a man towards darkness; we should not be arrogant with our success or envious of others' prosperity. People leading lives without arrogance and jealousy become great people. I want to live like this and I want for all people to behave without discrimination and behave to all the same way."

Do you have a code that you live by?
"I live in a code that says DON'T QUIT. My code says that although you get failure in life you should never quit because failure is one key to success."

Should a person choose a career that makes them happy or rich?
"A person should always choose a career that makes him happy and then he will think of his job as a game and will always want to play. My career is not fixed, but I like computers."

Which person is better and why, a rich dishonest man who gives half his money to the poor or a poor honest man who helps his neighbor?
"Both. A dishonest man who gives half his money to the poor is honest in he cares for others."

Would you rather marry a beautiful woman who makes you smile sometimes or an unattractive woman who makes you laugh every day?
"I would much rather marry a woman who makes me laugh everyday."

Which is more important, Health, Wealth or Wisdom?
​"Health is very important because you can't enjoy wealth or wisdom without it. With health you can achieve wealth and wisdom."
**************
The Chelsea Education Center is firing on all cylinders. One of the classes that I wish to highlight today is our shoe-making class. We lucked out in finding a kind, gentle and gifted cobbler to teach this art to our children. We have two crowded sessions each day.
| | |
| --- | --- |
| | |
| Some completed shoes | Anita with her latest |
| | |
| --- | --- |
| | |
| Our gifted teacher Arjun | Roshan |
All of our school shoes are now made by the students. A teacher from Skylark stopped by the other day and was very impressed; he suggested that we make the shoes for all the student body as a business. We may pass on that for now in deference to our neighborhood cobbler, but we are working on marketing a shoe design that may be a money maker for our children while teaching them all about being entrepreneurs.
**************
Hope's Progress
About a month ago we were called to bring Hope to try the devices being made to help her walk. These were a work in progress, fittings really. 
| | |
| --- | --- |
| | ​ |
| The Disabled Center | Hope's first fitting |
Then on the 25th of July we were asked back to try the refined edition. We were in a crowded room of people receiving therapy all who were watching Hope out of the corners of their eyes. We slipped the devices on, the shoe part further secured by electrical tape. Hope stood and we steadied her.  Then a large therapeutic ball was brought out and I was instructed to turn Hope and place her hands on it and, after straightening her legs, to release her. The ball rolled a little forward and Hope clung tenaciously to it, stiff as a board in a 12-degree slant. The room was silent; all eyes had focused on her, waiting, waiting when she suddenly stepped forward with her right foot and then her left to standing straight again.  The room exploded in applause and cheers and Hope, blurry in my eyes, knowing I would be there, sort of jumped back into my arms. 
Hope standing at the second fitting learning to get some balance
After her first unassisted steps and a little rest the therapist worked with her some more.
On August 7th, which coincided with the day last year that Hope came home to us from the hospital, we were called to have her try the final devices. Hope is determinedly independent and insisted on trying to fit the devices herself. Once on she stood and looked around for someone to play catch with and in the far left photo she rears back for the throw.
Yesterday, August 10th: Anita taking Hope for a walk
 A few moments in our little girl's life:
"The first time ever I saw your face"
Getting to know the family
First ice cream last October
One year old, April 30th
First Christmas
Three months and smiling
Computer work last winter
With Mom — these two are always laughing

Saturday August 9th, applauding the grass cutting with her best friend Priety, and on the right, thinking about the future of the ant's journey before her.
From all the children and staff of Nepal Orphans Home,
Thank You.
Papa