Smiley:
If ever there was an example of a dog possessing supernatural powers, she would be Smiley.
One day in 2008 a young and beautiful dog appeared at our door. Her eyes were expressive, and she was gentle, quiet, and humble. There were no indications of ownership with her, indeed, watching her greet everyone and check out the surroundings I felt as if I should search for the pod that carried her to us from another planet. Once she had secured the property and received pats and kind words from us all she sat down near the gate and began eight and one half years of uncanny vigilance.
As children came into our homes, as other dogs were born to us, Smiley accepted them all under her watchful eye. Volunteers who came to know Smiley would often remark that when they would be making their way back home at night Smiley would appear out of nowhere and walk beside them to their door and then disappear into the night. We have a lot of homes and no one was ever too sure where Smiley was; we only knew we were at all times safe.
Smiley walked the line of children to school each day then would come into the school grounds and know which kids were ours. If other children were playing a little too robustly and seemed like they were running towards one of ours, Smiley would quickly place herself between our child and the other. She never missed anything; six hundred children on the open ground and she was everywhere at once.
Smiley would return at lunch time to patrol the grounds as the children ate, talked, and played, then again to receive the homeward bound children at schools end. How she knew the time was anyone's guess.
Smiley was the alpha dog; though she was somewhat small and gentle looking, all the street dogs of Dhapasi bowed down when she would pass.
In the past two years as Smiley was aging there were other dogs who, sensing her slight infirmities, wished to challenge her authority as we walked through territories ruled by gangs of street dogs. Smiley, knowing the danger to herself never once hesitated to walk us through these dog "No Trespass" zones, leaving me many times charging aggressive dogs snarling back at her.
Smiley was a dog whose very existence caused all to wonder about the relationship between man and their dogs.  Countless times over the years Smiley was the subject of tales of head scratching appearances just when they were needed the most.
Smiley was put to sleep Monday afternoon April 17th, after about a year's battle with cancer. A legend among dogs for the hundreds who knew her. She will be missed.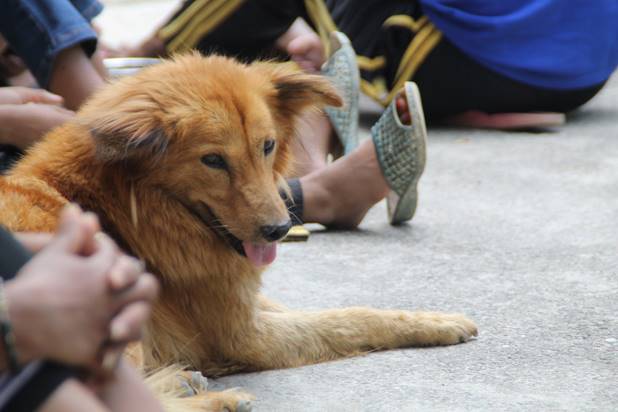 Class Ten of 2017-2018:
Another Skylark school year begins on Sunday April 23rd, and all the children are excited. This year NOH will have only 7 children in the graduating class, they are sandwiched between 20 last year and 21 next year. What they lack in numbers they make up for in individual prowess; they are the Seal Team Six of NOH at this time. House Captains, Taekwondo champions, academic leaders, and voted as leaders among their peers. We are going to enjoy watching them leave their marks this year. 

Hari, Sumi, Bimala, Rupa, Anisha, Ramita and Aliza
| | |
| --- | --- |
| | |
| Hari | Sumitra |
| | |
| --- | --- |
| | |
| Bimala | Rupa |
| | |
| --- | --- |
| | |
| Anisha | Ramita |

Aliza
Happy Holi: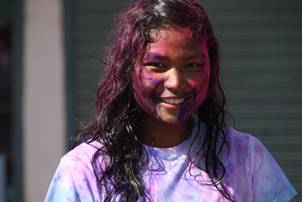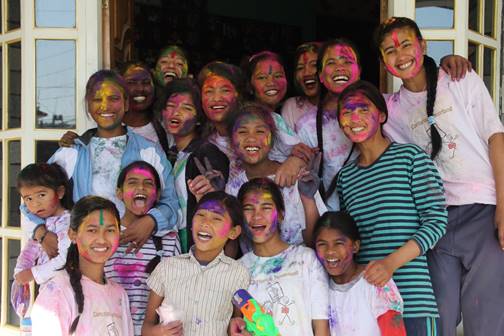 Second Annual Graduation Class Trip to Pokhara:
Board Member Carola Drosdeck with 2nd time volunteer and her son, Tyler
Hope saying goodbye to Asha
Hope at the launch pad saying goodbye to her mom

And later that same day, Fewa Lake!
| | |
| --- | --- |
| | |
| Peace Pavilion | Managers and chaperones |

Pokhara, known as the Switzerland of Nepal
Moving around:
On March 25th we moved our twenty graduates into the college/transition house in the morning, and after lunch managed to move the volunteers from their house to the old Chelsea Center and the boys to the old Volunteer House. As the evening sun began to set, everyone was in their new residence, tired but excited for their new beginning. Our children have become phenomenal at moving; imagine households of twenty or more achieving a complete move, on foot, in about 2 hours' time. Credit goes to having 100 or more participants focused on the mission.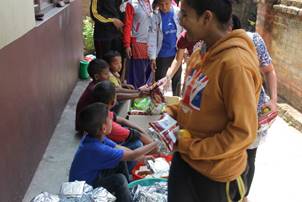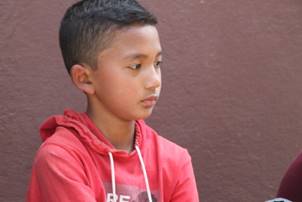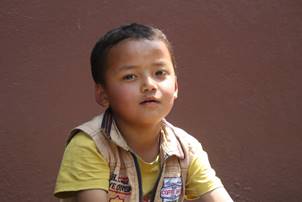 On Saturdays the younger children serve lunch to all the others.
After lunch we had a long talk with the new graduates concerning sharing a building in their separate flats, suggestions on establishing routines and people in charge of different aspects of keeping the house functioning as it should. We spoke of respect, responsibility, honoring oneself, bringing balance in one's life, finding work or volunteer opportunities and the importance of not hesitating if any problems arise in seeking advice.
The children were leaving "Papa's House," their emotional cradle, their rooms and roommates, the environment, the family, the certainty, and took their first big step into adulthood. After the talk they walked through the gates together back to their own house and crossed the threshold into their futures, a journey of 40 meters and yet a passing from youth to young adults, from innocence to self-determination. NOH continues to pay for everything in their lives, but they alone must set budgets and learn to live on their own and as a team.
By the end of the second week of April all twenty of these kids had found part time jobs. They have quickly shown that they have what it takes.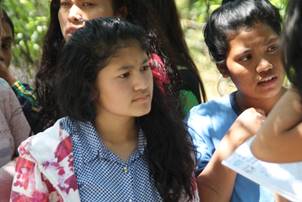 A sobering and touching moment for some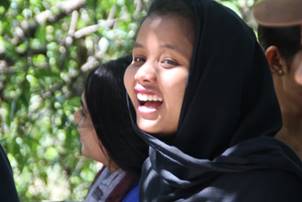 A moment of excitement for some

And a moment of tearful goodbyes for others.
School Year Ends:
On Friday, March 31st, the school year ended and a brief holiday began. Days went from rigid scheduling from 5am until bedtimes to complete flexibility. A few of those who always meet for walks or runs at 4:30 continued while others waited for dawn. School books were combed through and passed down to lower levels and children were measured for new uniforms having gone through growth spurts the year before. The sun rose and the sun set, days of rain interrupted days of bright warmth streaming together, films were watched and books were read, then out of nowhere the halfway mark came, tilting thoughts toward the beginning of school approaching.
New Year's Day, April 14th:
The beginning of the Nepali New Year is as important an event here as December 31st to other parts of the world. It is a time celebrated during the day with family and friends. We are fortunate to have a lot of both.
Anita, Sushmita, and Anisha in their finest
Our son Diraj and Cici, from the NOH Board
Chiya
Bimala and Naumaya
Enjoying picnic-style a wonderful array of great Nepali foods
Dedication of the Chelsea Center: April 22nd
| | |
| --- | --- |
| | |
| The Honorable Ineke Stoneham of the US Embassy with Peter Hess, President of NOH | Peter with Mr. Roger Biggs Consultant for the Ceres Foundation |
| | |
| Mr. Roger Biggs with Board Member Carola Drosdeck | Left: Lily and Chelsea's father Glenn |
| | |
| All the Dhapasi women dressed so well | Dedication speech by Mr. Roger Biggs |
| | |
The women in the Chelsea Centers Community Room named after Barbara "Boo" Hess for her many years of dedicated work as Treasurer of NOH and winning Charity Status for the USA.
After the rains came the ceremony had to be moved inside the new center, women of the CECC down in the meeting room and all the children and staff upstairs in the classrooms.
This was a wonderful day for Nepal Orphans Home, having been recognized by the Foundation as a charity organization with the dedication to change for the better the lives of many and validating that recognition with such an enabling grant wasn't something we ever thought would be in our future.
The Chelsea Education and Community Center will long into the future be able to carry forth our aspiration to educate and inspire individuals to recognize and achieve their dreams and by so doing to collectively improve the country of Nepal. In Chelsea's honor, this will be.
| | |
| --- | --- |
| | |
| The new Chelsea Education and Community Center | Carola in the Meditation Garden built in her honor |

A further dedication went to Carola Drosdeck, Vice President of NOH

The Chelsea Detrick Education and Community Center carved in stone
Anita Mahato's 27th Birthday:
After the Chelsea Center's Dedication Ceremony Anita was honored at her house by all the children, staff and some board members on the occasion of her 27th birthday.
| | |
| --- | --- |
| | |
| Little Manisha enjoying the moment | Anita and Hope blowing out candles |
| | |
| The answers to life's most vexing problems are usually quite simple | Hope asked Uncle Peter to help with the ceremonial cutting of the cake |
| | ​ |
Anita with some of her girls. Anita Mahato grew up quickly and despite not being so much older than many of the children of NOH has earned enormous respect, adulation, and affection from them all. The NOH family has along the way attracted the very best. Anita came to us at 16, quiet, shy and dedicated to learning and helping anyway that she could; she never rested, and by that and her innate understanding of our children has served and lived in ways many wish to pattern their lives after.
On Sunday our Hope Angel turns four. It seems quite hard to imagine. She has become, by her own words, "a big girl now". She is a girl full of ideas and the determination to see them through.
Till then, the best to you from the NOH family.
Papa
​