On Christmas Eve this year the children received their 2nd term final exam scores. The exam period is a highly competitive time when grades in the 90's may not be good enough to finish in the top three of your class.  Skylark English School has 78 children as boarders; many of these children have exemplary academic abilities and have been sent to board at Skylark by parents wanting the best for their children, so it is quite exceptional to have our children -- with the many interruptions to their education prior to joining us -- achieve the rankings that they have.
With great pride in all our children's effort I present here those who distinguished themselves by ranking in the top three of their class in an English medium school of over 600 children.
Coming in first in their respective classes, left to right from top are:
Rupa, Khusbu and Samjhana and below Kanchi, Apsara, Saraswati and Srijana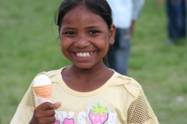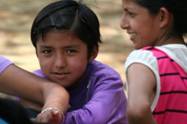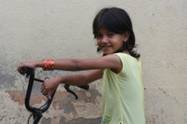 Coming in second in their respective classes, left to right:
Anu, Sangita Kumari, Sunita and Anisha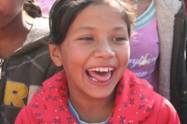 And coming in third in their respective classes, left to right: 
Ishwor, Gita Yogi, Yeshordha and Gita KC.


The averaging together of the 2nd term scores of these 15 students resulted in a 93.26% score. Congratulations to them all.
******
Christmas this year was magical.  On Christmas Eve we had a caroling in our yard, by candlelight,  and not a person present was untouched by an air charged with so much love.   Every eye you met seemed to possess a deeper spiritual understanding under the phosphorescent twinkling.  I felt that angels had descended upon us.  The feeling was unlike any I have ever experienced.
Many  former volunteers made an effort to be here for Christmas, flying in from four continents.  Bob Linscott, my little brother, arrived with 120 school bags donated from Samsonite Luggage, and Kylie Penneck from Australia with Christmas caps for all.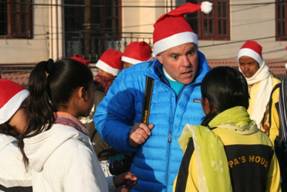 Along with the volunteers already present, they helped make the pretty large production of Christmas easy.  During the day we formed the Nepal Orphans Home Logo on the ground with bricks and placed upon it candles and after that the children who from this arrangement sang the carols.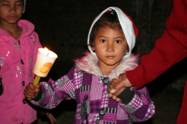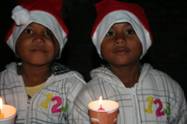 I feel that this holiday season has exceeded all others in a sense of real magic and of inexplicable occurrences.  After it was over the children, friends, volunteers and staff assembled shook their heads and stated their belief that there was something pretty powerful in the air.  After the caroling and hot chocolate, the children not living in Harmony House prepared to walk back to their respective homes, their candles still alive. They formed a long line with staff and volunteers and as they walked through the dark streets they spontaneously started singing Christmas Carols again which brought our Hindu and Buddhist neighbors to the street to watch.  The angelic voices and candle glow brought the very best out of each heart watching, who called out to them "Merry Christmas", the pronunciation of which is strange to their tongues and a phrase they learned, I think, in our honor.
The line of almost 90 children took a while to pass and as it did these children transformed our little village of Dhapasi in yet another way; they again have nudged people to understand and see from their hearts and souls.  It is readily apparent that more people than not truly care about others and wish nothing but peace and happiness for all.
Christmas Day was a long and joyous occasion with gifts to be opened, programs the children had created to perform and a special meal together.  When the day came to an end, the children retired to their rooms and spoke softly and lovingly of the many blessings they have found in their lives, while close to 30 volunteers and friends went out to eat together and raise a glass to the amazing children of NOH which had brought them all together.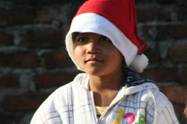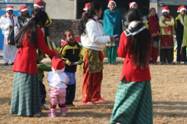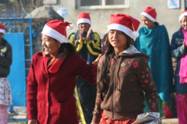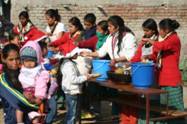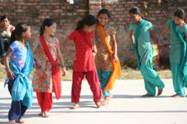 ******
At 5:00 am on Christmas morning. Papa's House Doggy Lama, Sweetie, delivered 6 beautiful puppies.  Sweetie was a Christmas gift to Dawn Kumari last year.  As of today, all the puppies have been distributed among the four homes where they eagerly see the children off to school and welcome them home each day.
******
For six years now, six days a week, Milan Bhandari, a 1st Dan Tai Kwon Do Master, has been instructing our children.  Unfortunately Nepal has limited opportunities for young people and Milan was forced to join the over 800 Nepalese who leave Nepal every single day of the week for work in other countries.  For Milan it is Malaysia. Milan is one of the finest young men I know; soft spoken and unerringly polite, Milan was always here on time to teach regardless of the weather or his own health.  He loves his country and family, but on December 18th Milan came to offer a last lesson and introduce his replacements just hours before boarding a plane. We will miss him and keep him always in our hearts.

Milan on left with his handpicked successors (brother and sister) who alternate days.
******
On New Year's Day the Skylark School held its Sports Day Competition at the Kathmandu Police Academy.  This is an event that takes place every three years with months of preparation and excitedly anticipated by all the school.  It was a very fun day with over 35 events drawing from work the parents of participants. In the company of several friends and volunteers not yet departed after Christmas, our children walked the two and a half miles from our homes to the playing fields. The children of NOH stay in good shape.  In each house a number of the children run every morning in the dark and cold, repelling whatever the weather might be. So it was not surprising when Sumitra Devkota was named the athlete of the day having won every event she was placed in.
Sumitra on left edging out her competition, and on the right Kabita, Lalita and Deepa taking 1st 2nd and 3rd in their divisions: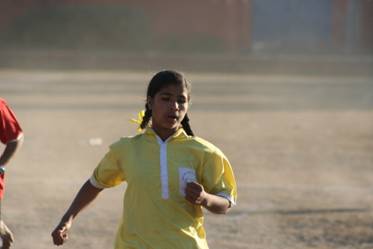 Sapana Chaudhary left winning the 800 meter and Puja Sapkota winning the 400 meter: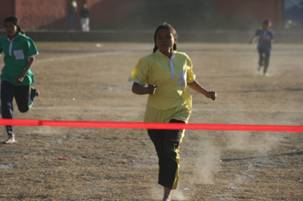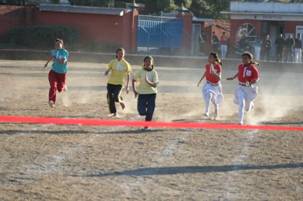 And Chham Gurung in a come from behind finish in his 3rd consecutive race: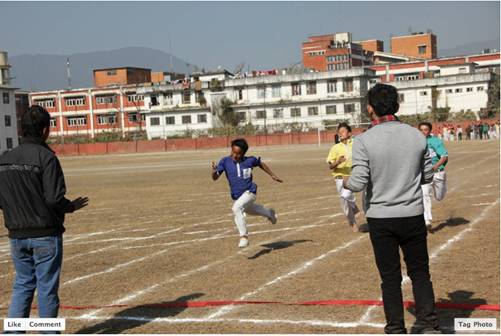 ******
Our children are born into a few different religions and in a country that recognizes the primary holy days of each religion, eastern and western, we encourage the children to learn about and participate  in or observe the rituals of each.  On January 28th the Hindu God Saraswati is celebrated. Saraswati is the Goddess of education and on this day all students, teachers and administrators offer a "puja" for her.  Anita Mahato, the Imagine House manager, likes to have our Puja at her house. She and her girls spend the evening before the holiday in the kitchen making breads and other foods from scratch to feed all the children wishing to attend.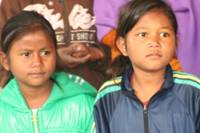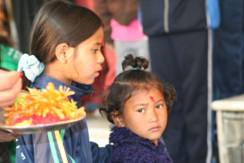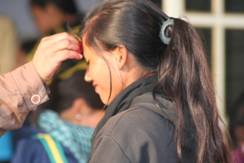 ******
With many thanks to Possible Worlds, the Canadian NGO founded by Toni Thomson, who is also a member of the NOH board of directors, we were able to celebrate Valentine's Day again this year by inviting the teachers of Skylark School and their 78 boarders.  Pratap Chettri, the Possibility Homes boys' house Dad, Gita Lama, the Sanctuary House manager, Anita Mahato, the Imagine House manager, spent the better part of three weeks planning and preparing for the event, while the children in each house worked on dance and singing performances each Saturday.
Each child attending was to make a minimum of 5 Valentine's cards -- three for friends and two unnamed which would have names added once we saw which Valentine's Day bags were a little light. Our children are prodigious card makers; amazing drawings and scissor art goes into each painstakingly created work of art, usually after their homework is finished at night and by the fading illumination of rechargeable lights.  Often, many evenings would be spent on a single card.
The program schedule had school being dismissed at 12:15 and all the students, teachers and guest arriving at 1 pm, each wearing an article of red.  On the 10th of February all the cards were collected and personal bags made up by our staff were filled with the cards, chocolates and cloth roses. Also on the tenth we collected a Superlatives voting list of 15 categories including one for the "Teacher who most inspires you."
A photo booth was set up for "Valentines" photos while the performing programs went on.
A spectacular meal was prepared by the house managers and their staff on Monday evening and on Tuesday morning our wonderful didis joined Dawn Kumari in our kitchen to cook.  Close to 500 handmade rotis were produced that morning in our 12' by 12 ' kitchen by six of our didis, while also cooking the food created the night before, and at precisely one o'clock they had everything outside on serving tables for the arriving crowd.  Unlike today (February 16th) the day was full of sun and warmth.  On the 13th we had a windy and bitter cold, rain-filled day and the 15th was like today -- windy, dark and very cold.  If you think the power of positive thinking among our family can't change the weather I offer this as pretty compelling evidence to the contrary.
The serving begins and on right Gita, Ramila, Sita and Anita eating their tiffin: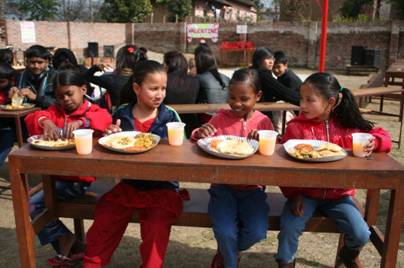 There was a pretty even distribution of Superlative awards handed out to robust applause for each; and also judging for the dance and singing performances shown below. 
Our senior girls in a traditional Nepalese dance (Lalita and Asha in front) and some of our boys in a modern dance; both choreographed by our Saturday dance instructor and the children themselves:
Little Gita and Juna in our smallest girls dance: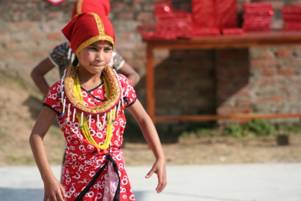 Pushpa on left and Samjhana peeking out at the crowd while awaiting their turn: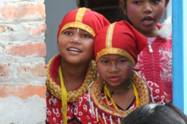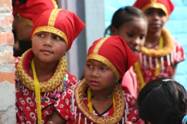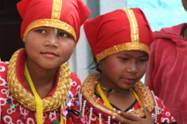 Sunita Khadka, whom I have suggested to be the reincarnation of Edith Piaf; Chham and Kamali: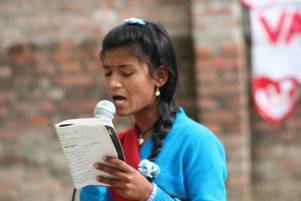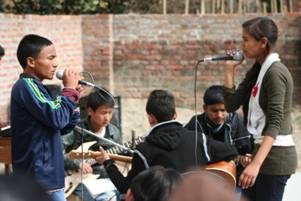 And voted top singer of the day, Sunita Thapa, accompanied by our boys:
   

         
Lalita on left and Srijana on right who was voted the individual dancer of the day: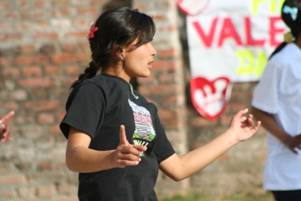 Winners in the Superlative awards presented by Anita and Gita were: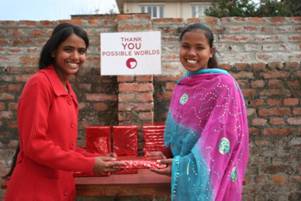 Smartest Female Student, Sapana Chaudhary        Smartest Male Student, Ishwor Shrestha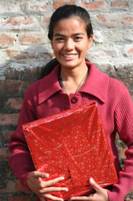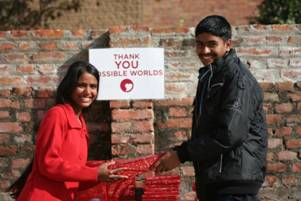 Female Most Likely to Succeed, Binita Chaudhary; Most Helpful Male, Saroj Nepali

Best Female Athlete, Sumitra Devkota                   Best Male Athlete, Chham Gurung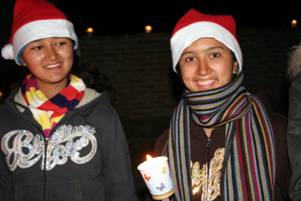 Most Inspirational Student, Susila Khadka (on right);      School Princess for 2012, Shila Regmi
And from the photo booth I leave you these: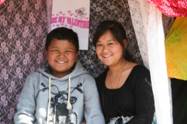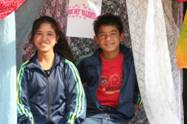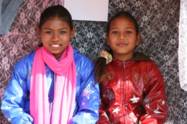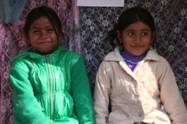 ******
Our children are dedicated to their education and can be found studying or reading all the time, even while squeezing in a little play.  My mother, who was a librarian and instilled in her children the love of reading, would be very proud of the children of NOH.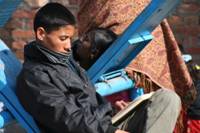 ​
Thank you,
Papa